Mistakes cost the Buckeyes another loss and tarnish a solid start by Ryan Feltner. The Bucks will try to avert a sweep Sunday with a comeback effort.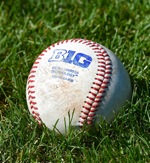 COLUMBUS – The Ohio State baseball team has met its match. It's Minnesota, a measuring stick that's found the Buckeyes a little short.
In two games, the Golden Gophers have held the Buckeyes to a total of two runs and have not permitted OSU hitters an extra-base hit.
The latest showing was Minnesota's 2-1 win Saturday afternoon at Bill Davis Stadium, a game the Golden Gophers won on a pair of unearned runs. The first came in the fourth with the help of first baseman Conner Pohl's error on a ground ball. The second came in the ninth on a double steal and catcher Jacob Barnwell's throwing error.
"The pitcher wins the battle (in the fourth)," said Buckeyes coach Greg Beals, "and we get an easy chopper (to first) that we don't handle. They score from second on a ball that got hit about 80 feet…That's got to be an out.
"Then they score on the double steal," Beals continued. "The ball hits the runner bounces out to left field and then they score ahead of the throw to the plate."
This wasn't the case of flagrant errors as has taken place earlier this season, but it was another instance of not playing good, clean baseball.
"We didn't take care of the ball in some critical spots," Beals said. "We should have put up zeros. We should have shut 'em out, 1-nothing."
Ohio State's lone run came in the first when Dom Canzone singled, took second on a sacrifice bunt, stole third and scored when Noah McGowan lifted a fly ball to right.
But Minnesota's starter and winner Patrick Fredrickson (6-0) was top shelf. He allowed eight hits in his eight innings, and managed to hold OSU in check at every turn.
After the first, only three OSU runners reached scoring position.
With the loss, OSU stands 27-13 overall and 8-6 in the Big Ten. Minnesota, ranked 21st in the country, goes into Sunday's series finale 28-11, 11-2 in conference play.
"It's frustrating," said Beals. "I think it's fair to say we found a way to lose today. This team has had a knack of finding ways to win. Today we found a way to lose…We lose 2-1 on two unearned runs and two relatively fluke-type error plays.
"Forty games into the season," he added, "we are not a good defensive team. That's a battle we have fought all year long. We have to find a way to overcome it…We are a real solid baseball team but that is our blemish."
In two games, Minnesota has proven it is capable of beating opponents with big bats or big plays in small spaces.
Friday night the Gophers pounded out 14 hits and defeated OSU, 11-1. Saturday afternoon—with the temperature hovering around 48 degrees and the wind driving to right field—they scratched out the win with nine hits and just enough help from the Bucks and that gutsy double steal call.
Wasted in all this was Ryan Feltner's impressive start. The junior right-hander turned in what was perhaps his best start of the season. He was poised and polished, unfazed by the moment and the Bucks' need to split the series.
Feltner mixed a 94 mile-an-hour fastball with a change-up and a slider, working seven innings. He allowed one run (unearned) on eight hits, struck out nine—one short of his career high—and allowed just two walks.
"Feltner was really good today," Beals said. "He has been a tough luck pitcher…He made big pitches when he had to today, and that's a huge step for him because he has had a tendency to over-reach in big pitch situations and overthrow the baseball."
"That's a good offensive team," Beals continued, "and Feltner shut 'em down today."
For his part, Feltner was humble and reserved. He seems completely unaware that big league scouts chart his every move.
"I try to build off every start," Feltner said. "Last time out (last Saturday against Indiana) I had a lot of walks (five), so today I tried to throw a lot of first pitch strikes and not beat myself…I'm getting more comfortable with men on base and know I can get out of jams. A lot of it is just having trust in my stuff and going out and throwing strikes."
As for Minnesota, Feltner found the Gophers a stiffer challenge than Indiana.
"They are definitely an old-school baseball team," he said. "They get a man with less than two outs, it's automatic—they bunt him over. They play smart, experienced and clean. They are a tough team to beat for sure. You just have to take every opportunity you can against a team like that."
Losing two in a row to the Gophers and now having lost two series in conference play (Ohio State dropped two games to Iowa, April 7-8), Feltner was all about pushing ahead.
"Overall, I was happy with my outing, but we lost," he said, "and that always leads a sour taste in your mouth."
The Bucks can salvage something from this series with a win on Sunday, but obviously that will not come easily.
"We need to find a way to win a ballgame," Beals said. "I want to see our offensive approach be better and just play cleanly and take better care of the baseball…
Beals said he felt the Buckeyes had been "defensive at the plate the last two games" and had used poor judgment at the plate in some situations.
"They have pitched in the bottom of the zone and pitched ahead of the count all weekend so far," Beals said.
"We've got to make (their pitchers) work a little more and not be so willing to hit their pitch with less than two strikes…(Starter Patrick Fredrickson) went eight innings (today) with 96 pitches. We let him roll a little bit…Obviously, I'm disappointed with our at-bats."
In Sunday's last game of the series, senior co-captain Adam Niemeyer gets the start. Niemeyer is 3-2 with a 5.79 ERA. He will face freshman Sam Thoresen, who's 1-2 with 5.02 ERA.
"We're going to need 'Nemo' to get us to the middle of that ballgame," Beals said, "and then the bullpen come in and help him out and find a way to win."