It wasn't for want of trying, but a couple of unusual plays and a line single in the bottom of the seventh to score the winning run spelled victory for Fort Recovery over rival Coldwater…the first time at home in 37 years!

Fort Recovery – Fort Recovery coach Jerry Kaup was want to admit.  Sometimes it's better to be lucky, than just good.  And actually, his Indians team was a bit of both in Thursday's 4-3 win over MAC rival Coldwater.
The 'good' part comes with the performance, once again, of starting pitcher Nick Thwaits, who threw the first six innings against Coldwater, allowing two runs on four hits.  Good also allows for the game-winning RBI single by Cade Wendel in the bottom of the seventh, snapping a 3-3 tie to drive in teammate Ethan Schoen, who had singled to open the inning.
The lucky part comes with a pair of plays in the fifth and sixth innings, respectively, as Coldwater was trying to mount rallies against Thwaits.  More on that in a moment.
It was not vintage Thwaits, notwithstanding radar guns behind home plate that had him reaching 92 and 93 miles per hour with his best fastballs of the day.  He struggled with command, threw a lot of pitches, and by the top of the seventh his pitch count exceeded that with which Kaup was comfortable.  He allowed four hits, struck out five, walked a pair, and hit a pair.
He allowed a first inning run when he hit Austin Rethman to open the game, who ultimately scored on a single by Nate Grunden.
Recovery would come back to score a pair in the second off Coldwater starter Cole Frilling when Reese Rogers walked, was sacrificed to second,  Schoen singled, and both came in to score on a base hit by Riley Post.  Cade Wendel then singled, but Post was cut down at home plate trying to score.
The Indians added a third run in the third when centerfielder Will Homan opened with a walk, moved into scoring position, and then came home on a Thwaits single.
Coldwater threatened in the fifth when catcher Jake Hartings got on via an error by third baseman Riley Post, and advanced to third on a base hit by Rethman.  But the ensuing hitter, Sam Broering, lined a shot down the third base line that Post gloved for the second out and stepped on the bag all in one motion to double off Hartings for an unassisted double play.
In the sixth Coldwater again threatened with Grunden triple and scored on a ground out to second by Jack Muhlenkamp to tie the game at 3-3.  Then Wourms walked, advanced to second on a single by Brad Giere…but was declared out trying to steal third when the ensuing hitter, Hartings, interfered with catcher Kody Shinaberry's attempt to throw to out Wourms at third.  It's not a call that you often see in high school baseball…and at that particular moment a call that Coldwater coach Brian Harlamert didn't care to ever see again.
"I didn't think it was the right call,"  he would say afterward.  "It may not have cost us a run, but it was just the wrong call.  Unfortunately, the breaks kinda' went their way.  We didn't play a very good game, and still we almost beat them."
Thwaits was done after six, relinquishing the mound in the top of the seventh to first baseman Reese Rogers, who threw about ten miles per hour less than Thwaits and had Coldwater out of synch.  After giving up a one out walk to Rethman, he gave up a hit to Jake Wenning before retiring the final out, Nate Grunden, on a ground ball to second.
In the bottom of the inning…Schoen led off with a single to center.  Riley Post put down a perfect bunt to move him to second, turning the lineup over for leadoff man Cade Wendel.  He promptly lined a ball hard to right center for his second knock of the day and the winning RBI, as Schoen came streaking in from second to score the winning run…4-3.
"Fastball, up and in,"  said Wendel, his signature hair disheveled from the post-game celebration.  "It's a great feeling to beat them because we compete with them every year, and to come out on top this year puts us on top of the MAC."
In fact, someone would add that it was the first time Recovery had beaten Coldwater at home…since 1981!
Lost in all facts was a gritty pitching performance by Coldwater's Cole Frilling, who gave up just four hits, struck out seven, and walked three.
"Cole did a great job,"  added Harlamert.  "We asked him to go out there and compete, and he did.  A couple of plays didn't go his way…they got a couple of guys on, we made a couple of mistakes, and they capitalized on us.  Our guys competed against Thwaits, we put the ball in play, and we had a chance to win at the end.  We're going to get better, and we might see them again (tournament).  We'll find out."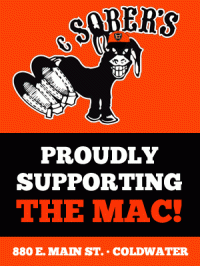 Jerry Kaup let out a long breath when it was over – after he had addressed his team.
"You know, somebody gets the breaks, and somebody doesn't.  You need a little luck, and tonight we happened to get some breaks,"  he said with a smile.  "Things happened to go our way, and we're tickled and thankful for that.  Tthe ball that Cade hit to score the winning run was a shot…but we had asked him to bunt.  Thankfully they threw another fastball to him and he was able to light it up."
And to the question of Thwaits leaving after six innings…?
"I think he was fatigued, and he was at his pitch count,"  said Kaup.  "It's a baseball 'team', and we needed to bring someone else in.  We'll rely on him (Thwaits) somewhere farther down the road."
And to Harlamert's assertion that his team will get better as the weather warms and tournament play nears, Kaup couldn't agree more.
"They're a very good and resilient baseball team, and always have been,"  he added.  "They'll repair from this and get much better.  They improve all the time and I have a lot of respect for everything that goes on over there.  They'll be back.
"But this was a big win for our program, and when we have Nick Thwaits on the mound he gives the rest of our team a lot of confidence.  When we have him we feel like we can play with most anybody.  He'll probably tell you he didn't have his best stuff today, but he's a key part to this whole thing."
Recovery's record improves to 15-4, and 6-1 in MAC play.
Coldwater record drops, slightly, to 12-2, and 5-2 in the MAC.
"We'll find out who we are from this point on,"  said Brian Harlamert as he packed to leave.
Jerry Kaup already knows. It's nice to be good…even better when you're lucky.   Wins against Coldwater have been few…and far between.