Twenty four hours after losing to Tipp on their own field, Troy rebounded Tuesday to show that what goes around, comes around, in a run-rule win over the Red Devils.
Tipp City – Baseball is a funny game.  Just ask Troy's Ty Welker, or Cole Brogan.  Or…ask Tipp City pitcher Ian Yunker.
A night after Welker's Troy Trojans had played Tipp (16-2, 9-1 GWOC North) tough for six innings, only to see things collapse in the seventh for a 5-1 loss on Tuesday, they came right back twenty four hours later to do some collapsing of their own.  Everything they could have wished for on Tuesday came to pass on Wednesday…in an 11-0 run-rule shutout win over Tipp that took just over an hour to play and 52 superbly executed pitches by Cole Brogan.
Start with Yunker, who came out in the top of the first throwing lasers, spottin' his fastball and featuring a devastating breaking pitch that had Troy catcher Keiran Williams swinging from his heels for the third out.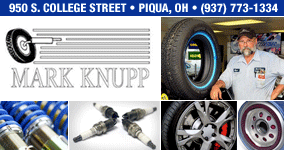 But an inning later, in the second, the dancing plate so often associated with high school baseball decided to dance with someone other than Yunker.  He couldn't buy a strike that wasn't belt high;  and in the meantime Troy allowed him to negotiate as much as possible.
He gave up three consecutive hits to start the inning, a double by Jake Adams, singles by Brogan and shortstop Austin Kendall, then a walk, a bunt for a hit and an RBI by Matt McGillvary.  He hit leadoff man Ty Blankenship with a pitch to load the bases again, and Brandon Emery singled to drive in two more.  Jake Daniel joined the hit parade with a single before Troy Powers came on to relieve him.  By the time Powers had recorded the final out – including another hit and an infield error – eight runs had crossed the plate.
They weren't done.  They came back in the top of the third to tack on three more – McGillvary hit by a pitch, a walk to Blankenship, singles by Emery and Daniel, and another double by Adams to make the score 11-0.  Troy's dugout howled with pleasure – what goes around comes around, they say.  Baseball…is a funny game!
But the one consistency for Troy this year has been the mound presence of pitchers Brogan and Derek McDonagh – McDonagh, who carried that 1-1 game into the fateful seventh on Tuesday.  On Wednesday Brogan took matters into his own hands.
Like McDonagh, the Trojan infielder/pitcher isn't very big.  In fact, Troy pitching coach Heath Murray may have the local market cornered on sub-compact pitchers.  Brogan and McDonagh look like Honda Civics – but they pitch like a Lincoln Continentals.
Brogan promptly threw a three-hit shutout, striking out five, and he didn't walk a batter.  He hit one, Cole Barhorst with two out in the third, the only inning that Tipp threatened to score, and by the end of the fifth when the game was ended by run rule, he had thrown just 52 pitches.
"I thought about sending him down to the bullpen to get in some more work,"  joked Heath Murray.  But Brogan's efficiency on the mound was no joking matter to the Red Devils.  Baseball is a funny game.
"It sure is,"  Ty Welker agreed.  "Last night we battled for six innings and the two teams played as marketed.  We had a bad seventh inning and didn't finish.  I thought about it all night and all day…what was gonna' happen today.  But we came out loose and ready to go today.  We weren't affected by last night's game.  We know that every time Cole's on the mound he's gonna' compete.  He threw a lot of strikes today, he forced the ball into play, and we made some nice plays behind him.
"It was Kendall's second game at shortstop, and it was Tomo's first start of the year at second (Nakayama).  Our third baseman's banged up, so we're trying to mix players and positions and it's that 'next up' mentality.  And the double play that Kendall and Tomo turned to end the double play had a lot to do with the way we finished the game.  They did a fine job because sometimes good defense helps to promote good offense."
They won it with 11 runs on 11 hits and played errorless baseball with that 'next up' mentality.  They improve to 10-5 overall, and 9-1 in GWOC play.
Tipp drops to 16-2, and likewise 9-1 in the GWOC…with no runs on just 3 hits while committing two errors.
There were plenty of stories – the eight-run second…and Jake Adams' three-hit game (a pair of doubles and a single…in all seven different Trojan hitters came home with a base hit.
But the most poignant story of all…was Brogan.  Nothing is more welcome than a well-pitched game when you really need one, and he delivered.
"Just tried to pound the strike zone,"  he said modestly.  "I tried to put it in there and let my defense make plays.  Austin Kendall made some great plays at short, and the double play to end the second really helped me out."
And, the disappointment of Tuesday was the farthest thing from his mind.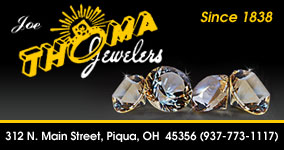 "It wasn't hard to put that behind us,"  he added.  "We used that to add fuel to the fire today.  We wanted to bounce back right away. The next two weeks are all in our hands now.  We have to finish out the league games and hopefully we can bring home the North title."
There was a long meeting between the Tipp coaches and players in left field after the game, the kind of which they haven't had to have much this year.  The Red Devils have been that good.  And on days like Wednesday there really isn't a lot to say sometimes.  The fortunes of the game can change that quickly…sometimes in the span of one inning.  Ask Ian Yunker.
Or ask Cole Brogan…Jake Adams, and the rest of the Trojans.
It can happen.  It's baseball.
A funny, funny game!