Defending champion Minster showed pitching, some hitting, and error-free defense in Tuesday's matter-of-fact win over Marion Local.
Maria Stein – The look was perceptible…the look of a champion, playing like a champion, in Minster's 7-1 win in the rain and dropping temperatures Tuesday at Marion Local.
They did with solid pitching from sophomore starter Austin Brown.
They did it with just enough offense – 7 runs on five hits.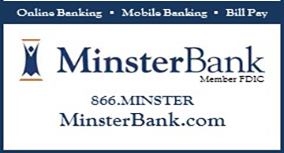 And they did it with customary Minster defense.  On a cold, wet, dreary afternoon for baseball, they played error-free baseball.
But maybe the biggest thing in Tuesday's win was…they actually got to play, despite the fact that it marked their 16th game of the season.  They're lucky;  some teams have played barely half that number because of the weather.
"It's good to be outside and hitting against live pitching,"  smiled Wildcats coach Mike Wiss.  "There's only so much you can do hitting inside in the cage…against me."
And for five innings, Marion Local and starter Adam Franck made the outdoor experience competitively relevant.  Both teams scored in the second inning, and carried that 1-1 score into the fifth inning as Franck matched Minster's Austin Brown nearly pitch for pitch.
But Franck walked the leadoff hitter, Anthony Boehnlein, to start the fifth, then failed to pick up a sac bunt attempt by Jack Olberding.  There was a wild pitch, a throwing  error by Marion catcher Darrin Hays, and in the process Boehnlien and Olbering would come around to score.  Minster led, 3-1.

But the better story was that of Brown, a talented sophomore who caught the opening touchdown pass in last December's Division VII football championship.  In a steady drizzle and falling temps, he allowed just four hits, struck out eight, and walked two.
He took that two-run lead like Secretariat took the bit in the Belmont Stakes and bolted for the finish line.  In the meantime, Franck faltered and was replaced by reliever Derek Ruhenkamp.  Ruhenkamp had some control issues in the sixth, walking a pair, there were a couple of infield errors, and with the bases loaded Austin Shinaberry launched a double to right center that chased in a pair of insurance runs.  Before the final out…they scored two more and the matter was settled.
But to validate things, Brown promptly went out in the bottom of the seventh and struck out two of the final three outs.
"Austin has begun to mature as a sophomore,"  said Wiss.  "He threw a complete game tonight, he was complete the other night against Versailles, and I'm happy with how he's come along.  He has movement on his fastball, and to his credit here lately he hasn't walked very many."
Minster won it with 7 runs on 5 hits and had no errors.  Two notables at the plate – Shinaberry's double in the sixth;  and Alex Lehmkuhl's three-hit night (all singles).  In all Lehmkuhl reached base four times.
Marion lost with 1 run on 4 hits and committed four errors.
But Wiss, in winning, was particularly pleased with the pitching and his defense.  You can win a lot of games with less than seven runs…if you have pitching and defense.
"We've let too many fastballs go by at the plate, and maybe that's because of the weather and being out of a routine,"  said Wiss.  "But I'm pleased with the pitching and defense because two of the biggest plays of the game were Austin Brown fielding a bunt off a lefty and making a bang-bang play at first – and the other one was a ball off his glove that Isaac Schmiesing had to come from shortstop to get and make a quick throw with a wet baseball to get an out.
"We're mature,"  he added.  "We've got guys who've been there.  We just need to find that recipe in May."
And the recipe in May is called warm weather…and tournament baseball.  But for now, at least for a night, they looked a lot like a winner…even a champion.  All they need is to play.
Like everyone else!