It's one of the game's oldest cliches', argued about by the respective sides.  But Indiana made its argument in Friday's series opener, that indeed…good pitching (not always, but usually) will beat good hitting.
Columbus – You're read it – you've heard it for years.  That in baseball…good pitching beats good hitting.
Not always, mind you.  There are thousands of examples of where a well-pitched game came out on the losing end of things.  Just ask the late Harvey Haddix, if you ever meet him (wow, that's awkward).  Haddix once pitched a 12-inning perfect game against the Milwaukee Braves…and lost.  The problem on that night…Braves pitcher Lew Burdette matched him almost pitch for pitch, pitching 13 innings of shutout baseball.  So actually, good pitching did eventually beat good hitting, AND good pitching!
But just for argument's sake, the Ohio State Buckeyes probably went to the clubhouse after Friday night's 4-0 loss to Indiana…wondering.  Because you see, Indiana junior Jonathan Stiever pitched a gem – seven innings of no-run, five-hit baseball – against a team (the Buckeyes) ranked 10th in the country in scoring, and won, 4-0.
Actually, they're two teams, Indiana and OSU, that compare very favorably in the record books.
For instance, Indiana enters this weekend with a record of 28-6 and team batting average of .296.  Ohio State has played to a 25-10 record and is hitting .299 as a team.
But where Indiana has the slightest of advantage is on the mound.  The Hoosiers have pitched better, overall.  Their team earned run average is a sparkling  is 2.33, and opposing teams have hit just .234 against them.
Conversely, Ohio State has pitched at a 3.67 clip in terms of ERA;  and opposing teams are hitting .263 against them.
Now, you say, one game is a pretty small sample size, and at least for the sake of Friday night it's not a valid argument.  And I agree.  But in this case Friday night is not the issue.  It's the other 34 games leading into Friday night where Indiana has shown its clear advantage in making the argument.  Clearly, the Hoosiers have pitched thus far, through 2/3rds of the season, at a rate of 1.5 runs better per ballgame.
Some substance?
"We left eight men on base through the first five innings," Beals said. "We have been really, really good with our two-out (hit) production. We just didn't get them tonight."
Of course Jonathan Stiever had something to do with that.  The Buckeyes had their scoring opportunities in the first seven innings – they left nine men on base for want of a scoring base hit.  Stiever, by the way, has a personal ERA of 2.41 (and a now 6-1 record), and opposing teams are hitting just .244 against him.  So there is precedent for the argument in his case.
But something has to be said for Connor Curlis, as well…the Buckeyes' starting pitcher.  Curlis (5-2, 3.09 ERA) held a team hitting .296 to just four runs on seven hits – a team that's scored 241 runs this year, an average of about seven (6.88) per game, so he (and reliever Austin Woodby, 3 innings, 1 unearned run) held them to 42% under their usual production.  Curlis has been good this year – very good – and against anything less than him the Hoosiers have racked up some very impressive numbers.  So, if good pitching didn't win in making the case for Curlis, it certainly have him (and his team) a chance.
"They played like a top-10 team is supposed to play," said Ohio State coach Greg Beals of Indiana. "They didn't make spectacular plays, but they made the plays that have to be made."
Ah, and therein lies the difference, perhaps, in Friday's game one outcome.  Indiana played a more "complete" game around their pitcher, an issue that has plagued the Buckeyes throughout the year.  Indiana played errorless baseball.  Ohio State committed three fielding miscues, although none of those miscues made a significant difference in the final score (there was one unearned run against Woodby).
"He (Stiever) just had us back on our heels,"  said OSU first baseball Conner Pohl.  "He stayed down and away, and he stayed strong.  He had us in defensive mode, and that doesn't happen very often."
And again, consider that the Buckeyes had their chances…four times during the game with two men on base and unable to score because Stiever was able to beat the bats with a quality pitch when he needed it.
So if the axiom is true, that good pitching beats good hitting, the two teams will go after it again on Saturday to again try the case.  Junior Ryan Feltner will take the mound for the Buckeyes looking to square things in this pivotal Big Ten series.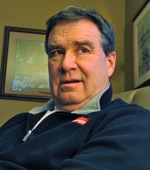 The good news in plaintiff versus the defense…?
Well, through 35 games there's a fine line of difference between these two teams in terms of offense;  and the Buckeyes have proven capable of busting out against anyone less than…Jonathan Stiever, I guess, in Friday's case.
The question is…who's pitching will be better come Saturday?
Hmmmmmm!