No. 8 Indiana played clean baseball, got solid pitching and help from the Buckeyes to take the series opener at Bill Davis Stadium Friday night. The Bucks were not "straight-up beaten", in the words of starting pitcher Connor Curlis, but they lost nonetheless and need to square things today.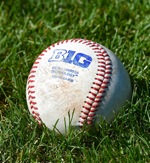 COLUMBUS – Indiana came as advertised—solid all the way around, and Friday in the opener of a pivotal Big Ten series the Hoosiers took Ohio State, 4-0.
It was the first time all season Ohio State was shutout. The loss dropped the Buckeyes to 6-4 in the Big Ten and 25-11 overall.
Indiana, ranked eighth in the country, is on an impressive roll. The win was their ninth straight and their 20th in the last 22 games. They are 7-2 in Big Ten play and 29-6 overall.
"They played like a top-10 team is supposed to play," said Ohio State coach Greg Beals. "They didn't make spectacular plays, but they made the plays that have to be made."
Indiana had seven base hits, left six men on base and played errorless baseball. Ohio State had five hits, left nine men on base, committed three errors and a wild pitch.
"We left eight men on base through the first five innings," Beals said. "We have been really, really good with our two-out (hit) production. We just didn't get them tonight."
While it might appear that Ohio State's loss was just another notch in Indiana's growing reputation, the Buckeyes had their shots. Unlike Indiana, however, they did not capitalize on their opportunities.
"A lot of the credit goes to (Indiana starter) Jonathan Stiever," Beals said. "He was as good as touted. He pitched really, really well."
And long.
Stiever took the game into the eighth inning, throwing 116 pitches. He left the game after Noah McGowan, who had two of OSU's five hits, singled to start the eighth, but by that time he had done a pretty good number on the Bucks.
Stiever gave up back-to-back two-out hits in the first, but struck out Dillon Dingler to end the inning. In the second he walked two, but got out of the inning on a deep fly ball to left.
In the third, he walked McGowan with one out but Conner Pohl grounded into an inning-ending double play ball.
In the fourth with one down, Tyler Cowles legged-out an infield single, but the next two hitters—Brady Cherry and Jacob Barnwell—grounded out to short.
In the fifth with one down Dom Canzone doubled off the fence in right. Kobie Foppe followed and was hit by a pitch, but McGowan grounded to third for a force. Pohl drew a walk, but Dingler grounded out to end the inning.
In the sixth through the ninth, Indiana pitchers faced one batter over the minimum.
"Stiever stayed down and away a lot," said Pohl, who extended his hit streak to 16 games. "He was tough—no doubt. He had a legit three-pitch mix…He stayed strong all night and he had us kinda back on our heels. That doesn't happen to us very often…He started strong and then we kind of went into a defensive mode."
Stiever was followed by lefty B.J. Sabol and Cal Krueger, who together did not allow a hit or walk a batter.
But Ohio State's problems extended beyond their offense, which entered the game ranked 13th in the nation in scoring. Pitching and defense was also a problem.
"We fueled their run production," Beals said. "We could have played cleaner."
It's an old refrain, but one that hasn't surfaced in the five game win streak that came to an end Friday night.
Indiana took a 2-0 lead in the third after Buckeyes' starter Connor Curlis was forced to throw 45 pitches to get through the first and second innings.
"They are a gritty bunch," Curlis said. "They just kept fouling pitches off. (Indiana fouled off 12 two-strike pitches in the first two innings). They just kept it up…That just shows you why their team batting average just Second baseman Kobie Foppe covers first-base to record an Indiana out.keeps going up. They don't give up on anything."
In the third, Indiana struck for two runs. Logan Kaletha opened the inning with a walk and went to third when Curlis' pick-off attempt was wild. He scored on Matt Gorski's infield single to put IU on the board. Two hits and a wild pitch led to another run.
The Hoosiers made it 3-0 in the sixth. Ryan Fineman opened the inning with a single to left-center. A sac bunt moved him to second and a wild pitch put him on third.
Next came DH Drew Ashley who laid down a nice squeeze bunt against a drawn in infield and that scored Fineman.
Indiana's final run was also the result of an error in the eighth. With Gorski at first following a single to left, Logan Sowers hit a ground ball to third. McGowan threw wildly past first and Gorski came home to score. Sowers ended up at third. Sowers was was out at the plate on a fielder's choice and OSU escaped the inning without another run, but enough damage was already done.
"We helped them," Pohl said. "But our outlook is no different. We can still win this series."
"They won this game," Curlis said. "They didn't straight-up beat us. Take away a couple of those errors away and it's a different game."
They will hope for a different game and different outcome tomorrow when the series contines at Bill Davis Stadium. Game time is 3:05 p.m. Ryan Feltner (4-2, 4.50) goes for Ohio State. Lefty Cam Beauchamp (4-0, 2.70) starts for the Hoosiers.