The best-laid plans, or so they say.  But none of them went right for Fort Loramie Friday, as rival Russia closed them out in discount fashion, 11-1.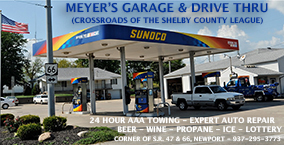 Fort Loramie – In Shelby County League baseball it's something you just have seen very often over the past 15 years – a run-rule game at Fort Loramie with the Redskins on the frowning side of the scoreboard, as Reds broadcaster George Grande likes to say.
But it happened Friday, as the rival Russia Raiders (8-2, 3-1 in SCL) scored early, and often – three in the first, two in the second, four in the fifth, and two more in the sixth inning – to close out Loramie in run-rule fashion on what can only be qualified as…a frustrating day.
Pitching, again, was the issue.  Just one day removed from walking nine in Thursday's loss to Anna, the combination of starter C.J. Billing, Nate Raterman, and Ethan Pleiman walked seven Russia hitters Friday – and hit three – fueling a fire that was already burning hot for the Raiders.  Russia parlayed those walks, along with 10 hits, into a quick, but painful, exhibition of how not to get ahead for first year coach Jeff Sanders and the Redskins for the second day in a row.
Trailing 3-0 after the top of the first, Loramie, for a time, fought to keep pace, scoring a single run in the bottom of the inning on a lead-off walk, a passed ball, a stolen base, and a sacrifice fly by Dylan Albers.  But that was the sum total of runs scored…and there weren't many hits, just three for the game.
Leading 5-1 entering the fifth, Russia stretched its advantage with a bases-loaded double by Dion Puthoff that put them up 8-1, and Puthoff would later score on a wild pitch to make it 9-1.
They finished things up an inning later on four singles and a walk to plate the final two runs that put the run-rule finish in play.   Loramie went quietly in the bottom of the inning to make it official.
"It was a good win because it was a big league game, and, we got a complete game out of our pitcher (Daniel Kearns),"  said Russia coach Kevin Phlipot, a former long-time assistant at Loramie under Bill Sturwold.
"The debate in the dugout was about Daniel's pitch count, and do you want to get someone in the game, the run rule wasn't  certain because it was an 8-run lead but one big inning and you can have a different game.  So it was nice to get those two runs in the sixth inning and finish."
And, it was an even better league game to win because it was…Loramie, respected for its legacy of great baseball, two state titles, and not an easy place to win for visiting teams.
"Actually, with one loss in the league, the next league game is the biggest game of the year,"  smiled Phlipot.  "But we had a lot of good at bats in the first five innings.  We scored the three runs in the first, a couple in the second and those four in the fifth, and we did it by going one through nine (in the batting order).  That was the most impressive thing."
Russia won it with 11 runs on 10 hits, and they committed just one error.  Daniel Kearns got the win, allowing three hits while striking out four.  He walked three.
Loramie lost it with 1 run on 3 hits, and they committed two errors…at least officially.  Sanders' biggest concern in talking about the game afterwards was simply the error in not executing from the mound.
"We talked about it after the game," Sanders said.  "We hit the #9 hitter twice, we had three for the game, we walked seven…and you just can't pitch like that against a good team and expect to win.  And I told them we can't go out and throw it for them.  Hitters are going to crowd the plate to force you to make better pitches, so you have to do that.  We have to execute better with our pitching.  We can't make mistakes 0-2 in the count like we did today.
"We've only given up ten hits in the last two games, so the walks have been the issue.  It's not that we're not a talented team, because we are.  But against a team like Russia you can't walk the leadoff man, then hit the next hitter, and expect to get out of the first inning without them scoring.  We have to figure it out, and we will."
And hopefully between Friday night and Saturday, when Loramie hosts its annual invitation weekend with Elida and Minster coming in.  With Friday's loss the 'Skins fall to 7-3, (3-2 in SCL)…and in a manner not familiar to Loramie baseball – a manner Jeff Sanders would prefer not to see again.
Russia has a Saturday date with Fort Recovery.