In a game dictated by walks, and errors, and men left on base, Ft. Loramie drops its first SCL game of the season – to Anna – and the Rockets were in just the right mood to take it.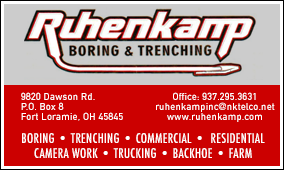 Fort Loramie – Had Fort Loramie coach Jeff Sanders been in a talking mood following Thursday's 10-9 Shelby County League loss to Anna – and I can't blame him if he wasn't – he might have said something like:  Today wasn't the kind of Loramie baseball your dad remembers, not by a long shot.
And, he would have had good reason.  It wasn't your average Loramie-Anna baseball game.
The Redskins (7-2, 3-1 in SCL) committed five errors (and maybe six, just sayin'), walked nine Anna hitters while allowing only four hits, and left 12 of their own men on base.  And more, of those errors mentioned no fewer than three were pop flies to the outfield that no one seemed to want to catch.  Without question Sanders could have easily said, "That ain't the way Dad would have done it."
And to punctuate how strange a day it was (50 degrees, and it was still cold), junior lefthander Jared Middendorf had one of those days – the kind where you just can't throw strikes or command the strike zone.  Strange for him, as he lasted only into the third inning before giving way on the mound to teammate Mason Kemper.  It was, in two words…advantage Anna…and the Rockets were more than willing to take it.
They scored one in the first when Loramie leftfielder Ben Barhorst misplayed the first putout chance of the game on a fly ball that he over-ran.  Anna's Derek Coverstone would eventually score because of it, an unearned run.
But Loramie would answer in the bottom of the first when Anna pitcher Zach White hit a batter, then gave up three consecutive hits – to Middendorf, Eli Rosengarten, and Nate Raterman – to tie it at 1-1.
Loramie would add a single run in the second on a base hit, a walk, and an RBI triple by Dylan Albers (2-1, Loramie), and everyone probably thought that would be all that was necessary for Middendorf to take the bit in his mouth and race for the finish.  It didn't work out that way.
Home plate started dancing on the 'Skins lefthander in the top of the third…when leadoff man Caleb Kauffman doubled to open, Middendorf then walked three, there were three errors, and before you knew it Anna had plated five runs;  and Mason Kemper had taken take his spot on the mound.  It was 7-2, Anna, as Loramie came to bat in the third.
They scored, and scored quickly off White…on a double by Rosengarten, a single by Raterman, a base hit by Shane Hilgefort, and another single by Ben Barhorst.  Just that quickly 7-2 became 7-4.
White righted himself, pitching a scoreless fourth.  But in the bottom of the fifth the attributes of this young, but experienced Loramie team (a team that played six freshman last year and won 20 games) emerged.  They hit, and they put the ball in play off White with a base hit, a walk, and a throwing error by catcher Aiden Endsley that allowed Derek Albers to streak for home and around the tag attempt by Endsley.  He was safe, and the scored was tied at 7-7.
In the meantime, Carter Elliott would relieve White on the mound for Anna and hold serve for a couple of innings, striking out a pair and walking a pair.
And Eli Rosengarten would go to the mound for the 'Skins in the sixth, but he had trouble finding the plate, as well.  He walked three, struck out two, and with two outs…gave up a booming double to the gap in left center to Andrew Scully that emptied the bases and gave the Rockets another lead, 10-7.
The temperatures began to drop with the setting sun, but not Loramie's resolve for one last comeback.  Aiden Endsley took off the catcher's gear and exchanged it for the closer's role, going to the mound for the bottom of the seventh.  He walked the leadoff man.  Carter Mescher got a base hit.  He struck out Dylan Albers, and then hit C.J. Billing to load the bases.  Middendorf punched a hit to left to score two and cut the deficit to 10-9.  It suddenly got really cold in the Anna dugout.
But Endsley, a dependable performer in the Rockets backfield on so many of those MAC football Fridays, told himself to be calm, throw strikes, and take a chance on the defense making a couple of plays…and it did.  Eli Rosengarten struck out for the second out;  and Nate Raterman grounded out to Jared Seigel at first for the final out.
"That wasn't easy," said Anna coach Kristian Aulthauser.  "We've played in weather like this all spring, but it's like pre-season over and over.  You play a couple of games, then you have five days off, then you try to play again…so I think tonight showed a little bit of rust, as much as anything."
They scored 10 runs, yes, but on just 4 hits, magnifying the impact of the 9 Loramie walks…and the errors.  But of their four hits, two were particularly big…from Andrew Scully and Caleb Kauffman.
"Scully and Kauffman both had big hits when we needed them, and scored big runs,"  said Aulthauser.  "And our speed helped.  We had fast guys on base and we were able to clear the bases on Scully's hit in the sixth."
The won it with 10 runs, 4 hits, they had 4 errors and left 9 on base.
Loramie lost it with 9 runs, 12 hits, had the 5 errors, and left 12 on base…for like of a hit at the right time like Andrew Scully's, or Caleb Kauffman's.
But hey, two of the best teams in the SCL will both warm up with the weather;  and Anna already has a warm feeling about their 5-0 record in league play.  Loramie falls to 3-1, but again…like everyone else, they need to play.
Jeff Sanders was kinda' busy after the game, with more things on his mind than talking with the media.  He had his team running sprints in the outfield.  Dad would have approved, no doubt, because running is a powerful reminder of what to have to do if you want to win baseball games.
Throws strikes…catch the baseball…and don't leave twelve men on base!