If you think this was all about Bryan Price, think again.  His firing was the culmination of bungled priorities, tired cliches', bad pitching, bad hitting, and bad base running.  And fans, with or without Price, get used to more of it.
CINCINNATI — Bryan Price, a.k.a. Colt Seavers, the lead character on the old television series, 'The Fall Guy,' took one for the team Thursday, although the team isn't his team any longer.
The Cincinnati Reds shoved manager Bryan Price out the back door of the clubhouse, in effect making him 'The Fall Guy' for the team's abysmal 3-and-15 start.
When pressed by a question, general manager Dick Williams admitted that Price isn't a scapegoat and that the entire organization, including him, is at fault for what is happening in Great American Ball Park, which has more and more empty seats as this so-called rebuild continues.
In addition, pitching coach Mack Jenkins was pushed out the door right behind Price after Jenkins served the last 32 years of his life to the Reds organization.
Price was replaced by his bench coach, Jim Riggleman, on an interim basis and Jenkins was replaced by Class AA pitching coach Danny Darwin.
And to replace Riggleman as bench coach the Reds plucked Class AAA Louisville manager Pat Kelly, a man with a long string of managerial successes throughout the Reds system.
One move and one no-move is curious.
Why did the Reds name Darwin as pitching coach. Why not Reds assistant pitching coach Ted Power, a highly-regarded coach who worked with many of the young pitchers when Power was pitching coach at Louisville.
And why was Jenkins fired and hitting coach Don Long retained? True, the Reds pitching staff has a 5.42 earned run average, 29th worst of the 30 major league teams.

But before Price's firing, the Reds lost two straight games via shutouts in Milwaukee, both by 2-0 and both in which they gathered three hits. And the Reds have been outscored in 18 games by 47 total runs, the most in the majors.
Price, of course, made some bad decisions, but even the best managers make bad decisions now-and-then. But he never had a chance.
The team began its so-called rebuild in 2015, trading away most of its star players for prospects. The goal was to be competitive by 2018, but those accumulated prospects have not panned out. And for the last four seasons Price has had a long list of disabled players sitting out a lot of those losses.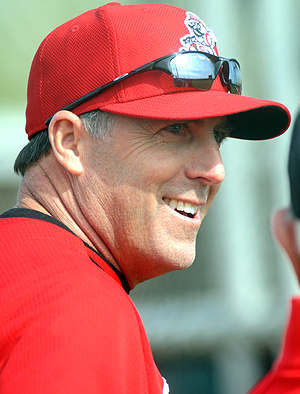 So after three straight last place finishes and a 3-and-15 start this season, Price was fired after managing his 666th game for the Reds. 666? How apropos.
Making this move is applying a Band-aid to a gaping wound. Not much is going to change, even with a veteran presence like Riggleman running the show. He has managed the San Diego Padres, the Seattle Mariners, the Chicago Cubs and the Washington Nationals.
Said Williams, "We all need to take our share of the blame for what has happened. We are not making Price and Jenkins scapegoats. But this change had to be made, we need a sense of urgency. And we'll hit the ground running right away."
A share? Williams and his predecessor, Walt Jocketty (who is still around as an advisor) and the rest of the staff has to take more than a share of the blame.
They've traded away the stars — Johnny Cueto, Todd Frazier, Aroldis Chapman, Jay Bruce, Brandon Phillips and they permitted Zack Cozart to walk away via free agency when he wanted to stay.
Where is the accountability in all this? What hope is this organization giving the fans? Who wants to pay big bucks to watch a glorified Triple-A team, something they've had to watch for four years now with the promise of better things to come.
Giving away bobbleheads and adding more and more eating joins in the ball park is nice, but only one thing draws fans in droves and that's win, win, win.
Price's contract was extended one year late last season and Williams said the hope was that the team would show improvement this season. Instead it has been as big of a disaster as can happen in baseball — no pitching, no hitting, bad defense, bad base running.
"We had hoped to start better, show improvement, but it's not there and we decided to act now," said Williams. "We didn't want our team to get comfortable with this start."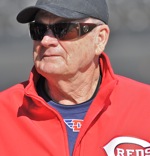 And about firing the pitching coach and not the hitting coach, Williams said, "We are most focused on pitching during this rebuild and we want our young pitchers to develop and get better."
Here is a novel idea. Bob Castellini and his partners purchased the Reds for $275 million and it is now reportedly worth $1 billion. That's a $725 million profit. How about investing some of that profit in high-level free agents and making some trades for established stars instead of trading away stars for prospects/suspects?
With or without Price and Jenkins, not much is going to change over the next two or three years. It's the fourth year of the so-called rebuild and the 2018 team is worse than the 2015 team.
Unfortunately, fans, you better get used to it.