Troy's 5-9 hurler overpowers Butler to win first game of doubleheader.
Vandalia – In two of his first four games, Troy High School senior Derek McDonagh tossed a six-inning perfect game and a one-hit shutout.
And against host Butler in a key Greater Western Ohio Conference game Wednesday night McDonagh was again dealing. McDonagh has joined the ranks among the GWOC's top hurlers, even if the opposition doesn't exactly see it that way.
" I don't think anyone really sees me as a threat," said the 5-foot-9, 160-pound McDonagh. "I think I'm a little underrated, to be honest. Kids see me pitch out there and they're like he's not throwing very hard. They're not worried about it until they get up there."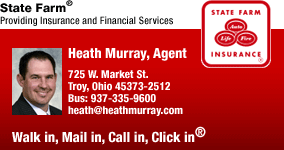 McDonagh and Troy held Butler in check for six innings Wednesday before escaping a bases-loaded jam in the seventh to preserve the Trojans' 3-2 GWOC American North victory. The win was the first of a doubleheader after postponements on both Monday and Tuesday.
McDonagh allowed two hits, walked three, struck out eight and hit one batter in the complete game. All three of those walks came in a tense seventh inning where his spot-on control was a bit off.
"He has a couple pitches he throws for strikes," Troy coach Ty Welker said. "He tries to get ahead of batters which he's done a pretty good job at. He pounds the strike zone. He's probably not overpowering, but he throws a lot of strikes. He wants to be on the mound. He wants the ball and he's a competitor."
Troy led 3-1 entering Butler's final at-bat. Up to that point the Aviators had managed three base runners on a dropped third strike, single and a hit batter. McDonagh walked Dolen Fults and Joe Jackson, the Aviators' No. 3 and No. 4 hitters. Preston Tofstad then reached on a bunt single to pull Butler to 3-2.
After a groundout, Troy intentionally walked Jacob DeMoss to load the bases for a force out at any base. Turns out McDonagh didn't need it. He struck out Evan McKinney and got Caiden Serrer looking to end the game.
"We couldn't put the ball in play at the end. We had the bases loaded and you have to make contact," Butler coach Trent Dues said. "You can't be striking out. Give their guy credit. He did a nice job. … It comes down to the little things and they did more little things right than we did."
Butler starter Braedon Norman (3-1) held Troy in check for the most part until Cole Brogan's bases-loaded, two-out, two-run double in the fifth inning. Brogan, hitting .519 on the season, ripped a drive toward the corner in left field. Butler's Boston Smith nearly chased it down after a long run and just got a glove on it before the ball fell to the ground to score Tyler Brandenburg and Jake Daniel.
"He's been clutch all season for us putting the ball in play," Welker said. "We left a few out there but to come back after them tying it up was a real nice outing for us."
Troy (8-3 overall, 7-0 GWOC) took a 1-0 lead in the first inning on Jacob Adams' two-out RBI single. Butler (8-6 overall, 5-1 GWOC) answered in the third when McKinney reached first after a dropped third strike. Smith tied it 1-1 with a two-out RBI single.
Troy had six hits and left 10 runners on base. Butler had two hits and stranded four, including three in the seventh inning.
"This was probably one of the most exciting games I've been a part of all year. Especially that last inning, which was full of emotions," McDonagh said.
"Some emotions were coming out but I had to stay focused and I had to keep my pitcher's mentality. One pitch at a time. After I walked the first guy I tried to calm myself and say it was okay. I walked the second guy and told myself to slow down. I just tried to go out and pitch my game. … I knew I didn't want to walk in any free bases and I knew I had to put it in the zone. I just let my team play for me and hoped I didn't give up any hits in the gap."
Adams and Brogan both went 2-for-3 to lead the Trojans. Brogan had two RBIs and Brandenburg scored a pair of runs.
Norman gave up six hits, walked four and struck out seven. Unofficially, he threw 100 pitches with 63 for strikes. He struggled in the first inning with a 23-pitch start, including 11 of those throws that were out of the strike zone.
"We put some pressure on Norman. He threw a lot of pitches under stress," Welker said. "He got up in the pitch count and we extended some innings. Besides one inning I think the offense as a whole did a nice job."
McDonagh threw 91 pitches, 61 for strikes. He threw five or less balls in six of his seven innings.
"It was just hitting my spots," McDonagh said. "My curve ball wasn't working I kept throwing it in the dirt. I couldn't throw it for a strike. My fastball was definitely working for me and I was hitting my spots. And  I was having them hit it to my defenders.

"To me, my team is like … I don't even know how to explain it. We're just all really close friends this year. When I'm on the mound I feel like my buddies that I've been growing up with since the second grade are all out there behind me. I have a lot of trust in them to make plays."
McDonagh faced 27 batters and got Butler into 12 groundouts. He also picked off a runner in the sixth inning. Welker had a pitcher warming up in the seventh but admitted that might have been more bluff than anything.
"That was more motivational (for McDonagh)," Welker said, smiling.