UD receiver Ryan Skibinski hauls in pair of TD passes from Will Bobek moments before Spring Game ends due to weather.
Dayton – A steady, drenching rain eventually won out at the Dayton Flyers' football Spring Game, putting a premature end to the annual scrimmage held at Welcome Stadium on Sunday afternoon.
But before that happened thunder struck. Twice.
Sophomore receiver Ryan Skibinski hauled in a pair of touchdown passes from redshirt-sophomore Will Bobek in the final 36 seconds of the second quarter – the final one as time expired – to give the Red team a 14-13 halftime lead. That lead became final when UD coach Rick Chamberlin called the game because of the weather.
"I was hoping we could get in at least a half," Chamberlin said of the decision to end the game. "With the conditions I thought the ball was getting very wet and it looked like it was starting to rain a little harder. We got 53 plays in and I believe almost everybody got to play. So for player safety and for the fans we decided to call it short."
The decision to end the game came 11 seconds too late for White honorary coach Bill Sahnd, who played center on UD's first Division III playoff team in 1978. Leading 13-0 and facing fourth down on their own 33-yard line, Sahnd elected to go for it after three straight incomplete passes. The Red defense came up with the key stop.
One play later Bobek hit a wide-open Skibinski on a cross pattern at the 20. Skibinski barely beat safety Drake Yinger to the corner of the end zone and stretched the ball over the goal line as Yinger tried to push him out of bounds.
"Coach called a great play," Skibinski said of Ed Plasphol, a linebacker on that 1978 playoff team. "The corner cleared out and Bobek threw a great ball to me. I just had a little bit of running room. I went for the corner of the end zone to try and outrun the safeties and it ended up working out.
"I felt like I was in. Some people didn't think I was in. The (White team) is going to argue differently. … It feels good. I think we have momentum rolling in and the offense is clicking. We have a lot of guys coming back so we have experience there. The defense is coming along, too. We're all pushing each other to get better."
Plasphol lined up next to fellow linebacker Chamberlin on the 1978 team. But Chamberlin distanced himself from his former teammate after the game … all in good fun, of course … when Chamberlin was asked if he would have punted on fourth down.
"Yes!" Chamberlin said emphatically followed by a grin. "I told Bill – the (honorary coaches) made the decision – Bill, you were an offensive guy. You know this! But it's fun for the guys. But yes, most definitely."
The White team led 7-0 with 5:33 left in the first quarter on red-shirt freshman running back Tyler Vincent's 1-yard run. The touchdown was set up by red-shirt junior quarterback Alex Jeske's 23-yard pass to freshman Kevin Bickett to the 1-yard line.
Jeske put the White team up 13-0 one drive later with a methodical performance, completing five of seven passes. The final one found freshman Steve Fleming alone in the back of the end zone for a 9-yard score.
"Ryan Fleming, he's one of our fastest players, he just had to be a college receiver. He's done that," Chamberlin said.
In a twist that only the scrimmage format could provide, red-shirt sophomore kicker Joseph Bruni missed the extra point. Soon after he provided the Red team with the winning PAT since the kickers and punters played for both teams.

Freshman linebacker Andrew Holderer made a diving interception off a tipped pass to set up the White team's first TD. Red-shirt freshman safety Matt Clifford intercepted a pass to set up the Red team's first score.
The Flyers' defense logged several sacks overall. That was a good sign for Chamberlin. The defense managed four sacks in 11 games last season which ranked them No. 10 in the 11-team Pioneer Football League. By comparison, San Diego led the PFL with 33 sacks.
"That was one of our weaknesses," Chamberlin said of last season's defensive push up front. "We still have some growth to do but I think we took some good steps."
Chamberlin cited red-shirt sophomore defensive tackles Isaac Sexton and Andrew Lynn and red-shirt freshman DT Jaxon Mills as standing out in spring practices. Freshman safety Brandon Easterling has also excelled.
Last season the Flyers finished second in the PFL in scoring defense allowing 19.7 points per game and eighth in total defense allowing 398.9 yards per game.
On the other side of the ball, Dayton finished eighth in scoring offense (21.6) and 10th in total offense (345.4).
Dayton returns 17 starters from last season's team that finished 5-6 overall and tied four fourth at 4-4 in the PFL. It was Dayton's first losing season since going 4-6 in 2006 under Mike Kelly. Chamberlin enters his 11th season with a 79-33 record as UD's head coach.
"In the spring we saw some men like (freshman running back) Richie Warfield step up and really show us he can get into a game and play. I thought (red-shirt freshman strong safety) Andrew Lutgens matured as a football player," Chamberlin said. "And I thought our offense really started moving late in the spring. It showed today. I thought our offense was very efficient, came up with some good plays. Some big plays that we needed. And just like our saying is this year – Making Plays – the winning Red team came up with making plays when they needed."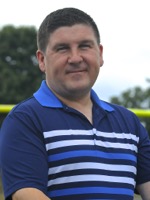 Prior to the game Dayton announced senior offensive tackle Ben Gautheir and red-shirt senior defensive end Nick Surges were named 2018 team captains. The captains were voted on by the team following the final spring practice and kept secret until Sunday.
Gautheir was UD's Stan Kurdziel Most Valuable Lineman award in 2017. Surges earned UD's Emil Karas Award for inspirational leadership last season.
Also announced Sunday, the UD coaches chose senior long snapper Matt Tunnacliffe as the special teams captain. Tunnacliffe won the Lt. Andy Zulli Trophy for character and the A.J. Cohen Flyer of the Year award for attitude last season.
Dayton opens the season against Robert Morris at Welcome Stadium on Saturday, Sept. 1.