Pitching depth has Tippecanoe as contender in the GWOC and beyond. On Friday it was Mason McClurg's turn to throw teams for a loss.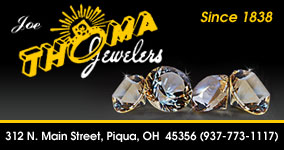 Tipp City – On most other teams, as his stats suggest, senior pitcher Mason McClurg has potential as a No. 1 or No. 2 starter. But these days the Tippecanoe Red Devils are, well, strong armed and dangerous.
McClurg, who is tied for ninth in the Greater Western Ohio Conference in both wins (2) and strikeouts (20), shut down West Carrollton with a stellar effort on Friday. He tossed a three-hit gem with 12 strikeouts in Tipp's 10-2 win at Clawson Field.
Not bad for a No. 4 starter, who will drop to No. 5 when open-enrollment transfer Kenten Egbert becomes eligible to play after the Red Devils' 13th (and next) game this season. So will McClurg lobby Tipp coach Bruce Cahill for more starts after improving to 2-0 with a 1.87 earned-run average?
"Maybe," McClurg said, smiling. "It's the best pitcher who needs to throw. (Egbert is) going to be in the top three, definitely."
Tipp (11-1 overall, 5-0 in the GWOC American North Division) has quality starters in senior Zach Losey and junior Ian Yunker. Losey is 3-1 with a 1.15 ERA and 23 strikeouts in 18.1 innings. Yunker is 3-0 with a 0.46 ERA and 23 strikeouts in 15.1 innings pitched.
Senior Seth Clayton, the team's regular shortstop, is an equally impressive 3-0 with a 0.42 ERA in 16.2 innings. Cahill said he doesn't throw hard as his six strikeouts attest, but he "locates the ball like crazy" for ground ball outs. Fellow senior Troy Powers has pitched in 6.2 innings of spot duty with an ERA of 5.26 and eight strikeouts.
And then there's Egbert, who came over to Tipp from Bethel.
"He's going to help us a lot. He's real good," Cahill said. "It's going to be like a Christmas present. It gives us one more arm. When you play those four, five, six games a week you need all the arms you can get."
On Friday all they needed was McClurg. He struck out eight of the first 10 batters he faced. The Pirates (2-7 overall, 2-2 GWOC American South Division) were held without a hit until the fourth inning. They connected for back-to-back singles and scored their two runs with the help of a hit batter, a couple of errors and a walk.
"I didn't really need to use that much off speed," McClurg said. "Locating the fastball was working pretty well."
The fourth inning was the only blemish on McClurg's otherwise spot-on performance.
"He's probably our No. 4 guy so it's nice a kid like him can come in and strike out 12," Cahill said. "He's a senior and it's good to see him get another win."
Tipp pounded out 11 hits of West Carrollton pitching, including starter Tyler Hunt (0-1, 8.66 ERA). The Pirates helped the Red Devils with 10 walks, too.
Seniors Miles McClurg and Josh Riebe and sophomore Cade Beam had two hit each. Riebe, Losey and junior Brad Dettwiller all knocked in two runs for the Red Devils. Eight different players scored including twice each by Cole Barhorst and Mason McClurg.
Senior Clay Barhorst had the defensive play of the game when he laid out head first for a diving catch to end the fifth inning with a runner on base.
"It's just something I've always done," Barhorst said of his aggressive defense. "I've always had a good sense tracking fly balls and I have good range. I didn't know if I was going to get to it for sure. I just dove for it and it hung up enough for me to get under it."

The win was a shot in the arm, so to speak, for Tipp following Thursday night's 11-1 loss to Chaminade Julienne (2-3). The loss was especially rough on Barhorst and his brother Cole – their uncle Mike Barhorst is the Eagles' head coach.
"I've been heckling him a lot," Clay Barhorst said of the lead-up to the game. "They came out hot and we weren't as good defensively as we have been. We started out leading 1-0 and they came right at us. They had us on our heels and we weren't ready for it. … He's probably going to wait until the next family dinner before I hear about it."
"(Thursday night) was brutal," Cahill said. "We had so many mental errors and physical errors and things I haven't seen us do in a long time. It just snowballed. … It was a good eye opener for us. We really needed a wake-up call."
On Friday, Tipp led 1-0 in the first against West Carrollton and didn't stop. The Red Devils also led 1-0 against CJ before falling. This time the Red Devils kept rounding the bases with two runs in the third, one in the fourth and three more in both the fifth and sixth innings. They stranded 10 runners overall including leaving the bases loaded in the fourth and fifth innings.
Tipp sits tied with Butler (8-4 overall, 5-0 GWOC) for second in the American North. Both are one game back of Troy (7-3, 6-0). Troy and Butler play a big two-game series Monday and Tuesday. Tipp, meanwhile, doesn't face Troy until April 23-24 and Butler until April 30 and May 1.
"It'll definitely give us an idea where we are," Cahill said. "But we have to come out better against those two teams better than we did against CJ. … It was nice we could bounce back and win."