Sixth-inning rally sends Minster to confidence-boosting win over previously undefeated Fort Loramie.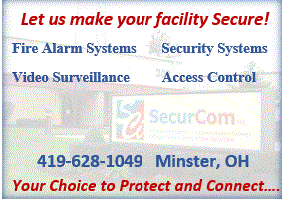 Minster – It's one of the perks, if you want to call it that, of being the Division IV baseball defending state champions.
"Other teams throw their No. 1 (pitchers) at us more. That's probably the biggest thing," Minster senior Isaac Schmiesing said of having opponents circle the Wildcats on the schedule this season.
And on a cold, but finally sunny afternoon – the first-pitch temperature was 35 degrees – that's exactly what the Wildcats got from Fort Loramie. Redskins junior left-hander Jared Middendorf kept the Wildcats off balance with his high-arcing 70-mph curveball and his 80-mph fastball through five scoreless innings.
His counterpart, junior Jack Heitbrink, nearly matched Middendorf's effort with four innings of one-run ball.
"He's a great pitcher. I knew I was going to have to pitch pretty well coming in because of how good he is," Heitbrink said following Minster's 6-2 late-inning victory. "I wasn't really looking for strikeouts because I have a great defense behind me. I knew I had to keep it low because they can hit the ball."
Fort Loramie entered the game with all eight position players hitting .300 or better. Heitbrink, who ran into trouble in the second inning before leaving the bases loaded, did his part to limit the damage to a 2-0 deficit through five innings.
Then Minster's offense – highlighted by five returning starters from the D-IV state championship game – finally reached Middendorf. The lefty had allowed three hits and no runs through the first five innings. But in the sixth the Wildcats put their first six batters on base against him.
Alex Lehmkuhl led off with a single past second base and reached third base on a pair of pitches in the dirt. Jared Huelsman was hit by a pitch. August Boehnlein placed a slow bunt down the first-base line. Both Middendorf and first baseman CJ Billing charged the ball hit perfectly between them. And by the time Billing fielded the ball Boehnlein had already sprinted past leaving the Redskins with no play, allowing Lehmkuhl to score.
"It all started with Alex Lehmkuhl getting that big hit. First man on," Schmiesing said. "We started putting the ball in play and we hit hard grounders. It was hard to make those plays. Hitting is contagious so we kept adding on."
Heitbrink  walked to load the bases. Austin Shinaberry singled to right field to tie the game at 2-2. Adam Knapke, with the Fort Loramie infield playing in, hit a hard grounder that handcuffed the third baseman making it 3-2.
Eli Rosengarten relieved Middendorf and struck out the first batter he faced looking. But Jack Olberding followed with another infield single that couldn't be backhanded at second base and the 4-2 lead.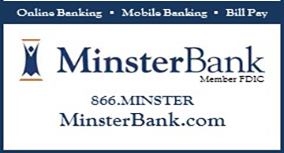 "We didn't make those plays and we needed to do it. They're tough plays," Sanders said. "When we're on our heels with the bases loaded that puts us in a tough situation. Those are plays if we want to be one of the better teams in the state, those are the plays you make."
Schmiesing provided the final two runs with single to center field.
"I didn't ask for much," Wiss said of trailing 2-1 and with Loramie's infield drawn in. "I just asked for them to get three hits in a row. Middendorf was spot on for five plus. He has his loopy curve ball that's always for strikes. He has his fastball at the knees. Then you have to catch up to it above your hands. He was good today. He really was. He had some of our younger batters turning their minds because of how he was throwing."
Middendorf allowed six runs on seven hits through four innings. He struck out nine, walked two and hit two batters. He threw 104 pitches, including 63 for strikes.
"He's a good pitcher. He's going to keep improving," Schmiesing said. "He's a hard lefty and that was key to get him out of there."
When Minster loaded the bases with no outs, Fort Loramie coach Jeff Sanders said Middendorf gave the Redskins the best chance to escape the jam.
"When I went out to visit him in that inning he said he felt strong. I felt like he gave us a best chance to get an out with the bases loaded instead of bringing in a reliever with no margin for error," the first-year coach said. "I just felt like Jared was going to get us an out there. … That was a crucial point in the game and I knew he had enough left in the tank. It just didn't work out."

Fort Loramie took a 1-0 lead in the second inning on Devin Wehrman's two-out single that scored Carter Mescher. The Redskins led 2-0 in the fifth when Mescher's fly ball was dropped after the Wildcats' right and center fielders nearly collided to score Dylan Albers.
Heitbrink – who pitched to the first two batters in the fifth – allowed four hits and two runs in four innings. He struck out one, walked two and hit a batter. He threw 51 of his 85 pitches for strikes.
"I thought we should have hit the ball a little better off him. We had too many fly outs," Sanders said. "If we were fundamentally trying to hit the ball back through the middle we might have had more success. He's a good pitcher. He was mixing it up. He was unpredictable at times on his pitches. He stayed composed and did a good job."
Noah Enneking relieved Heitbrink and recorded three straight outs on grounders. He allowed a one-out double to Mescher in the sixth before striking out two to end the inning. Lehmkuhl pitched an efficient six-pitch seventh inning to end it.

"You saw it today," Heitbrink said of Minster's pitching depth. "We have three or four more guys that can come off the bench and do what they did. They pitched great and picked me up. Knowing I can have guys come in right after me is pretty helpful."
The win moved Minster to 5-1. The loss was Fort Loramie's first of the season at 4-1.
"For us to be 5-1 and to get a victory over a very good Loramie team this time of the year, I'm pleased," Wiss said. "Two good teams. Let's see where we're at early in the year. I know we got the victory but both teams learned about themselves today. … Loramie is really good. Loramie has a lot more wins coming."