Two vestiges of the Jack Nicholson's line this week (We can't handle the truth)…and why no one seems to mind until some millennial's feelings are hurt.

They say the "truth" will set you free.
But those that say that typically don't mention the truths that come back to haunt them – or the unpopular ones.
But there are two vestiges of the truth this week that bear your consideration, if you're one of those "truth" people – someone other than what actor Jack Nicholson talked about in the old movie, A Few Good Men.
One, former UCLA football coach Jim Mora…who now famously said last month that his quarterback at UCLA, Josh Rosen, might not be "all in" as an NFL prospect.  The draft comes up in a month and Rosen will be one of the three prime quarterback candidates.  Mora said that Rosen "needs to be challenged intellectually," a characteristic the coach attributed to Rosen being "a millennial."
You can read a lot into those words, of course.  One, that Rosen is easily distracted.  Two, that he's competitively soft.  Three, that he's never been that committed to football, just gifted.  From Mora's standpoint – the truth – because who knows a quarterback over the course of four years than his coach, who recruited, coached, and suffered the facts of the record?  Josh Rosen missed a lot of games at UCLA because of injury;  and played in some few hard-to-explain losses where teams like Texas A&M (last year) overcame longs odds (and long deficits) to come back and beat the Bruins.
Or, could it just be sour grapes…because Rosen didn't take Mora to the pinnacle of college football in Los Angeles?  Like Sam Darnold did at USC.
Anyway, whatever Mora meant by what he said…he's on the defensive this week, saying his comments were misinterpreted.  Suddenly he's the bad guy for saying what he believes over what he has obviously witnessed – what we all witnessed.
But God forbid, even in professional football, that you speak your mind – offend somebody.  Better to hope for the best than confront the truth.  Welcome to the age of 'millenials'.
————————————
Here's another pretty obvious truth, borne out by the miserable weather of the last two weeks.  It's my favorite spring rant, if you're a reader of this site – that if you're a kid who wants to play spring baseball or softball in Ohio, your odds aren't very good.  Which is unfortunate, and sad…for the sake of the truth.
What's more unfortunate is this.  To the average school administrator, and the governing body for high school sports, there's no inclination to change by starting  the season later in the spring, after the blowing snow and frigid winds.  I've written about this – talked about this – for years, only to have people write back and tell me, "It's not that big a deal."
Well it would be a big deal if it was football or basketball, because those are revenue-producing sports – more popular and more profiled.  And football comes at the beginning of the school year;  when you get ten weeks to get in ten games.  Baseball, compared, comes at the end of the school year when you're lucky to get six weeks (because of weather) to get in 26 games…and oh, yeah, you gotta' work it around 'prom', among other end-of-the-year activities.
Remember now…that we're doing all of this for the kids' sake, which includes those kids who train and dream all year about playing baseball, or softball.  And yet, now that the season has been effectively suspended for two weeks because of the snow and rain, there's never anyone who wrings their hands over the schedule being backed up – or games cancelled.
Imagine if this was football, and someone said…"Well, there just isn't time to make those first two games up, and besides that, we've got 'prom' to think about."
Imagine if this was basketball, and someone suggested that the games be played outside in the middle of January, because we play baseball in weather like this.
Unthinkable.
To the OHSAA's credit, there was a recent poll, apparently, among school administrators over consideration to start the baseball season one week later.  It was turned down because of….graduation.  Now graduation has been a community tradition forever, but in millennial consideration, just one more thing to sit through, and one more speech.  I remember.  I sat through my own and I still see that same look in kids' eyes today.  Some would rather be playing baseball.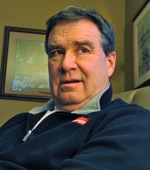 Some would argue that we do graduation for the sake of the parents and kids – that to many it's the first, most important milestone of their lives, the reward for twelve years of learning and preparation for adulthood.  That's true, in fact.
But graduation could easily be held in the morning, or on a Sunday night, when it didn't conflict with baseball.  And truth be known, it's not just done for the sake of parents and kids – but as window dressing for the school district.
I will not bring this up again – not this year.  But I continue to bang the drum to OHSSA baseball czar Jerry Snodgrass (who's very aware) and whoever replaces Dan Ross as commissioner (and it might be Snodgrass)…that if fairness is for all sports and all kids, baseball and softball are just as important to some as football and basketball is to others.
Surely someone out there can handle that truth.