(Ed. Note:  Former Dayton baseball coach Tony Vittorio joins Press Pros this week to share his passion for the outdoors.  An avid hunter and fisherman, Vittorio accompanied his son Nick on the occasion of harvesting his first whitetail deer on my property four years ago.  He shares the experience in this week's outdoors column, sponsored by Olde English Outfitters, in Tipp City.)
By Tony Vittorio
My name is Tony Vittorio…and I was honored to be the head baseball coach the past 18 years at The University of Dayton – involved in college baseball for the past 32 years.
At the conclusion of last baseball season I stepped down as the baseball coach at The University of Dayton. While at Dayton, my assistant coaches and baseball staff, along with several players and myself, took great pride in building a competitive program that became known as a championship program at one time. I thank the hard work, loyalty, and passion that each and every member of our baseball program has given throughout the course of my time as the baseball coach at the University of Dayton. I am and always will be a Flyer.
I want to let you know that when I was a young adult I wrote down five goals that I wanted to achieve, and these goals are still tucked in my wallet. My passions in life have revolved around the great game of baseball as well as the outdoors, and specifically, two of my goals pertain to the outdoors.
Those goals consist of being a good father;  and to buy a house on a lake because of my passion for fishing that I gained from my father. I also have a passion for reading and writing. So, another goal is to write a book. I thank Press Pro Magazine for giving me this opportunity to write.
During my time as the baseball coach at Dayton, I had the opportunity to meet the publisher, and editor, of Press Pro Magazine, Sonny Fulks. We share a love for the game of baseball as well as the outdoors, and for the last several years Sonny has allowed my son Nick and me to hunt behind his house. Although Sonny's property was somewhat open, at the back end of his property he had what seemed to be the perfect spot to set up a deer stand – a perfect view of a tree line with a creek that ran through it to our right, a corn field in front of us, a hayfield to our left, and an alfalfa field behind us.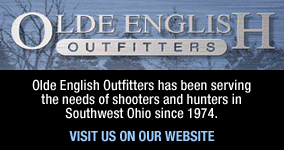 Nick has been out in the woods and fields in Robinson, Illinois (Crawford County) with his grandfather and uncle since he was three years old. He's developed a passion for hunting, especially deer, for such a young age – so much so that at 15 he swears he's going to make a deer hunting his profession.  I explain to him to continue to work on baseball, because I don't know a professional baseball player that can't afford to own his own hunting and fishing land. I guess that we can both dream. Actually, where can you get in life without dreams? Dreams can turn into goals.
Well, on a perfect October afternoon three years ago, after picking my son up from school, we went to our house to put on camo, grab our bows, and make the trek to Sonny's to get in an afternoon hunt. You see, part of my job of being a good father is to get my son to the deer stand…at least until he gets his driver's license. On the drive to Sonny's, Nick found some camo makeup in the glove compartment of my truck. I told him to paint his face up good for this hunt…just for good luck. You see, he had yet to bag his first deer.
When we got there we quietly walked along the side of the hayfield and reached our stand. At the time, I was battling some psyatic nerve issues in my back, probably assisted by the many baseball bus trips and fungos hit throughout the years. But, sore back or no, there was no way that I was going to miss this hunt. My son was doing some filming while patiently sitting in the stand. A car door slammed a quarter mile away, and spooked a pair of does that Nick point to…feeding in the corner of the corn field next to the creek, about 100 yards away. They soon disappeared.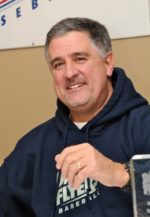 A few minutes later, we noticed the same two does through the trees and across the creek, making their way toward us, and about 30 yards away. We picked up our bows, anticipating they would come through the creek and right under our stand.  If they did they would be about ten yards away from us.
Within 30 seconds, both does crossed the creek and then slowly made their way through the tree line. They were ten yards away when I heard my son whisper "Shoot, Dad." Before I could pull the trigger on my crossbow, I heard and saw an arrow go through the second doe. My son just taken his first deer . We watched it fall over about 50 yards away in the middle of the cornfield.
The excitement was unbelievable. We were also excited to share this experience with Sonny, especially since my bad back preventing me from carrying and loading the deer in our truck.  He had the equipment, and the back, to get the job done.  I owe him.
But more importantly, he was kind enough to allow us the privilege of hunting and creating memories. And like any baseball superstition, this could mean an investment in camo makeup for all future hunts.
And I can tell you since…that Nick's dream of becoming a deer professional has only gotten bigger, and better.
Our comprehensive selection includes over 1500 guns, a full line archery "Pro Shop", shooting & hunting clothing, boots, ammunition, reloading equipment, gun cases, holsters and a multitude of other shooting & hunting accessories.
Olde English Outfitters meets the needs of serious sportsmen and casual enthusiast alike. This is truly a store for all your shooting and hunting needs.
Open this year's hunting season with a trip to Olde English, proud to sponsor outdoors columnist Jim Morris on Press Pros Magazine.com!