18-8 through their first 26 games, Greg Beals' culture of hard work and trust simply has the Buckeyes in a better place.  Others are waiting, watching…and see the difference.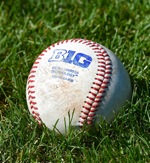 Columbus – They're in a better place than they were a year ago.
Yes, that's obvious for the fact of their 18-8 record…and the battling spirit shown through their first Big Ten series this weekend with the University of Nebraska.  After dropping a disappointing 7-3 decision in the series opener on Friday the Buckeyes came back to even things Saturday with a 7-4 win, an impressive outing by starting pitcher Ryan Feltner, and multiple hits by an array of Bucks hitters –  another impressive performance by the bullpen.
It's a team that feasting off the offensive metamorphosis of Noah McGowan (.425 – up 200 points from last year), Tyle Cowles ( .322 – up 130 points from last year), Jacob Barnwell, Brady Cherry and newcomer, Kobie Foppe.
But it's also a team that's benefiting from what coach Greg Beals so often refers to as "the culture" of Buckeye baseball:  That is…do your work, believe in yourself and your teammates, and good things are going to happen within "the brotherhood".
An example?
Two hours following Saturday's win, freshman Aaron Hughes (Tipp City, Ohio) walked out of the Buckeyes' clubhouse bound for the parking lot.  Hughes, a third baseman and utility player, "walked on" back in fall practice, made a favorable impression, but did not make the Buckeyes' active roster for 2018.  He is, what you call in college sports…a "red shirt".  He's working, putting in his time and commitment, believing in the culture…that he will one day play for the Buckeyes, sometime down the road.
Hughes is an engineering student, accustomed to tough curriculum, hard work, and a commitment to the future.
"Whatta' been doing?"  I asked.
"Just getting in some hitting,"  Hughes said, smiling…his hair still wet and slicked back from a post-work shower.  "Doin' my work."
Doin' my work!
Work is a big part of the culture at Ohio State – with Greg Beals – like dreaming, belief, and confidence in the commitment to each other.  Following last year's train wreck season, Noah McGowan, Tyler Cowles, Connor Curlis, Ryan Feltner, and Brady Cherry…they all went home and did some work.
"I was embarrassed,"  said Cowles of his .191 2017 average.  "I'd never played baseball like that.  I'd never been that bad before."
Likewise, McGowan, Feltner, and Curlis, all of whom went out to reassess themselves first, and then what they could accomplish collectively.  The turnaround, starting with fall baseball, has been telling – contagious, rewarding, and inviting.
Aaron Hughes, and others, want to be a part of that.
"It would be a dream come true,"  he said back in fall practice, where he made a favorable impression on the Buckeyes coaching staff.
"The thing about Aaron Hughes is that there's so much more there than just a baseball player," said Beals then, considering the Tipp City Red Devil's future.
What he meant was…Hughes is one of the few that the Marine Corps seeks, those willing to consider what it takes to win, to be successful – commitment, hard work, and planning.  Engineering (electrical, civil, or mechanical) ain't for everybody.
And there are others, like Hughes, that you never see.  But they're there…working.
He doesn't dress.  He doesn't travel.  He's had no part in the Buckeyes early success this spring.  But still, Aaron Hughes waits and prepares, his day yet to come.  The 'culture', the 'brotherhood', is benefiting him as he sees what its done for Noah McGowan and Tyler Cowles…a year after it seemed that things couldn't get worse.
To thy own self be true.  Good things do come later.
The Buckeyes' fast start has been no fluke!