Basketball wraps up for another year, as spring sports are set to arrive.  Your comments on hoops, those who coach hoops, Sarah Schulze, Dan Ross…and attitudes towards the state tournament on the latest edition of 'The Reader Speaks'.
If you're an area basketball fan there were, of course, a lot of reasons to enjoy the recent basketball season – a Division IV girls state title in Minster, a runner-up bid by Versailles;  and Marion Local surprised everyone in Columbus with their thrilling double-overtime win over favored Cornerstone Christian for that Division IV title.
And, readership of our coverage of the recent tournaments eclipsed all-time highs for both events.
Some of that had to do with related articles on former Anna star Sarah Schulze, and her new chosen path for life.  And our column on the retirement of OHSAA commissioner Dan Ross brought an unexpected, and surprising response on his tenure and body of work.  As well, a number of 'tried-and-trues' wrote to express their opinion about the state tournament, itself;  and why more teams that should be there…aren't.
It all makes for an interesting read.
On the subject of the tournament, itself:
"In your article with Dan Ross he mentioned 'haves' and 'have nots'.  He's right.  There's a lot of teams that used to go to the state tournament that I'll never see again in my lifetime.  And the reason is the public schools have lost the battle for families and kids who can afford to play. Economics and the average family income has altered the look of basketball in Ohio.   I've attended every state tournament since 1980, and when you look at the makeup of recent tournaments you see more Cornerstone Christians, Wellingtons, VASJs and Akron St. Vincent-St. Marys, and fewer Portsmouths, Middletowns, and Newarks.  When the jobs and factories left those towns  families and the athletes left with them to find different ways of life and different schools.  It has become, as Ross says, a state of the 'haves' and 'have nots'.  It's a different tournament now.  It may be better, or it may be worse.  I don't know.  But it doesn't represent the state as it once did.  In another ten years there will be NO 'have nots' – none – at the state tournament."  –  Ken Marco  (Guernsey County)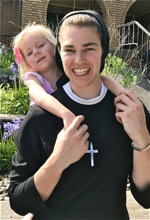 Our story on former Anna sports standout brought a positive response from readers near and far:
"Great story.  It thrilled my heart to read about her."  –  Robt. Henneman
"Thank you for publishing this.  Very inspiring, and hopeful."  –  Mary Ellen Estep (Ft. Gay, W.Va.)
"Very different, and a surprising twist to contemporary attitudes about faith and service to mankind.  Sarah (Sister Mary) is a ray of hope."  –  Joe B (Siesta Key, Fla)
"This was so good, and I'm glad it's out there for the world to read.  First time reader.  Very inspiring."  –  Dean Thomas  (Columbus)
The state tournament story with Commissioner Dan Ross brought a cross section of comments about a cross section of thought regarding high school sports in Ohio:
"Interesting that he didn't say more about the competitive balance thing.  He's right.  It's far from perfect, but hats off to him for trying."  –  Tom Vosburg
"I hate to go to the state tournament and see half the arena empty.  And this has happened under Dan Ross's watch.  It would be much better for everyone (especially the kids) if they charged one price and let people in all day…#tooexpensive."  –  Brad DeTomassio  (via Facebook)
"Dan Ross might be concerned about what's best for kids, but he can't fight city hall. What's best for kids is a strong public education system that's going broke because of politics and Betsy DeVos.  And nothing reflects that more than the state tournament."  –  Tom Killilea (Columbus)
"For all they talk about respecting the game and the videos about sportsmanship, I wonder if Dan Ross hears some of the trash that comes out of the student cheering sections.  Respect yourself first?"  –  Jerry (Urbana)
"Sorry to hear about his health issues, but wish him the best.  That's tougher than competitive balance."  –  Pat (Via Facebook)

Finally, our annual announcement of area coaching recognition on Press Pros – and state tournament coverage –  is always appreciated:
"Great choice, and obvious choices, for your coaching honors.  Congratulations to both Marion Local and Minster."  –  Tim Kearn
"Your story on Marion Local's win was so good it should be in the OHSAA record book…with a star.  They DO always seem to win."  –  Don Starner
(Ed. Note:  It just seems that way.  Marion actually lost in the semi-final round of the tournament in 2005, I believe.  And they blew a sizeable halftime lead in the 2015 state football finals.  They still remember that one, believe me.)
"Great coverage, and great photos of the tournaments.  I would also point out that your coverage of both girls and boys shows no bias.  Very cool that you do each with equal respect."  –  Alex Frantz