At the one-third mark of their season, the first grades of the 2018 Buckeyes are in stark contrast to the those of 2017.  The question, of course…what about the next 32 games?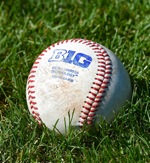 Columbus – When I was a student at Ohio State University forty years ago we were on the quarter system, as opposed to the semester system that they have now.
And, you were tested in your classes periodically – a first and second mid-term exam – to gauge your progress leading up to the final exam for the quarter.
From a baseball perspective, forty years later, it's easy to look now at the 2018 baseball Buckeyes after 24 games and gauge their progress (now 17 wins and 7 losses), particularly in contrast to the horrible start they had just one year ago.
People who read Press Pros write to ask if their early success so far is real…against the likes of teams like Wisconsin-Milwaukee, Canisius, UNC-Wilmington, Nicholls State, and Toledo.  (Note:  They never say anything about Southern Mississippi or Coastal Carolina)
They ask, never having seen them play, why the sudden turnaround;  and, what will it mean when the heavy lifting starts this weekend with Big Ten play?  The Nebraska Cornhuskers come to Bill Davis Stadium with a 13-12 record, but a reputation for big arms on the mound, pesky hitters at the plate, and a competitive spirit as big as that foam cowboy hat their mascot wears.
Well in baseball, like Biology 101 was back in the day, the numbers don't lie.  For instance….
As a team the Buckeyes are hitting currently .298.  A year ago, cumulatively, they hit .260 as a team.  Currently, they have five hitters with average .300 or better – Noah McGowan (.404), Dom Canzone (.365), Tyler Cowles (.344), Kobe Foppe (.333), and Conner Pohl (.325). At this time last year the only one of those five even near .300 was Canzone.
A year ago, pitching-wise, the Buckeyes for the season pitched at a 5.32 earned run average, while opponents threw a 4.45 ERA back at them.  Currently, they're improved to a stunning 3.85 mark, while the opposition is throwing at 6.92!  If you want an even more graphic picture of that comparison…consider that OSU has scored thus far 184 runs on the season, while opponents have plated just 126.  You math majors get out your calculators and do the numbers and you'll find that in terms of "earned" runs, the Buckeyes are doubling up opponents, two to one!
A year ago Greg Beals was pulling what hair he had out in clumps over the lack of a two-out base hits with runners in scoring position – or a base hit any time when there was a runner on second or third.  Not anymore.
Through 24 games the Buckeyes have driven in 174 runs.  For the entire season in 2017 they drove in just 249.  So they're already at 70% of last year's total…with the entire Big Ten schedule remaining to play!
And, they're spreading it around.  Last year Jalen Washington led the team for the season with 38 RBIs.   Canzone, as a freshman, had 36.  Currently, McGowan has 32.  Cowles has 25. Pohl has 24.  Canzone has 21, and Foppe, hitting out of the two hole, has a respectable 10.  This, with 57% of their season yet to play.
As a bonus, at this time last year Brady Cherry was hitting .220, and finished the year with a .260 average and 26 RBIs.  Currently, he's hitting .280…with 19 runs batted in.
The one issue that has not improved substantively…is their fielding.  In 2017, for the season, the Buckeyes committed 77 errors for a .963 fielding average.  Currently, they've booted 41 chances…for a .955 average, and at the current rate they'll eclipse last year's mark, an ignominious increase.
So to those who ask…yes, their early success is justified from the point of view about which we wrote about in February.  IF this team's pitching holds opponents to under a 5.00 ERA the offense is going to score more than five runs per game.  Mathematically, it's easy to forecast that the Buckeyes should finish with a mark of about 40-16…if they hold to form.
But, there are no Nicholls States and Milwaukees now, starting this weekend.
Now it's the known tension of playing for the conference crown against teams that want it just as badly as you do, and with just as much on the line…starting with Nebraska.
The Huskers come in with a 13-12 record, and hitting .260 as a team.  Opponents, by the way, are hitting at a .284 clip.
They're pitching at a 4.62 mark, led by veteran Luis Alvarado, more than likely their Friday night starter at Bill Davis.  Opponents are giving up almost a run more per nine innings.
They've scored 149 runs, while giving up 138…and opponents are hitting .283 against them as a team.  Hence, they giving up almost as much as they're getting, and the record of one game over .500 is pretty much justified.
So, to anyone who wonders…what comes in the next 32 games?  It'll be a definitively different dynamic in terms of competition and incentive;  and, the Buckeyes, unlike 2017 have been injury-free.
"It's Big Ten time now,"  said Greg Beals following Wednesday's win over Toledo, which only inflated their gaudy, league-leading offensive numbers.  Only Minnesota (.302) has outhit the Buckeyes, and they stand, impressively, fourth in league pitching, behind Indiana, Minnesota and Purdue.
"But we have a lot of respect for Nebraska,"  he added.  "Don't let the record deceive you…they'll come in here ready to fight.  We have to continue to play good, solid, Ohio State baseball."
Which reminds me a bit of back in the day when professors would meet with you privately to discuss your first mid-term score.  And every one of them would tell you, "The first mid-term is just a picture of where you're at in the class right now.  It's going to get tougher between now and the final."
Sound a bit like Greg Beals – like Biology 101.  I remember it well.
That "final" was a b—-h!