The weather was cool and wet.  The Buckeyes' bats were on fire.  They tuned up for the weekend and Nebraska with a romp over the Toledo Rockets.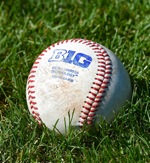 Columbus – In truth, it was probably just what the doctor, or Greg Beals, ordered – a mid-week game with the Toledo Rockets (6-14), that in Beals' words on Sunday, kept all his regulars in tune;  their bats hot, and looking forward to the Big Ten opener this weekend with the Nebraska Cornhuskers.
Mission accomplished, as the Buckeyes made a miserable night for baseball – cold, intermittent rain with a threat of fog – into a red-hot hit parade, scoring 19 runs on 13 hits in a 19-4 shellacking of the visiting Rockets out of the Mid-American Conference.  It was their largest home margin of victory since March 28, 2008 – ten years ago – in a 15-0 win over Penn State!
Sophomore Jake Vance got the start on the mound, pitching into the fifth, and got all the run support he needed after surrendering a run on two hits in the top of the first.
The Buckeyes (17-7) promptly plated three in the bottom of the second off Delphos St. John alum, Jacob Youngpeter, making his only his first collegiate start.  It went well for a while.  He retired the side in order in the first, but the second opened with a double by Noah McGowan, a hit batter, a walk, and a one-out single by Nate Romans that scored McGowan and Conner Pohl.  After a Ridge Winand walk, Dominic Canzone lifted a sac fly to left that scored Dillon Dingler and the Bucks led, 3-1.
They added a single run in the third, then exploded for six in the fourth, on three walks and five hits…highlighted by Conner Pohl's fourth home run of the year, a three-run shot to right field.  It was game, set, match…and bring on the Huskers.
But the Bucks bats were hardly done.  They added five more in the fifth and four more in the sixth.
Youngpeter was on a limited pitch count and left after the second inning (3 runs on 2 hits), surrendering to a shell-shocked bullpen that would give up 16 runs on 11 hits.  And worse, the Rockets walked 13…and balked in a run.
Vance, making his first start of the year, pitched 4.1 innings on a controlled start outing – 1 run on 4 hits – to gain his second win (2-1) of 2018.  Freshman Griffan Smith retired the final two outs in the fifth, and Yianni Pavlopoulos pitched a scoreless sixth.    Thomas Waning retired the side in the seventh, striking out two.
Toledo would not score again until the top of the eighth, when they scratched three runs off the combined offerings off Andrew Magno and Curtiss Irving.
Austin Woodby pitched the top of the ninth, closing out the game with a pair of fly balls and a ground ball to first.
"The theme of the night was to get everyone in the right frame of mind for the weekend,"  said Beals in his post-game comments.  "Going into conference play it was really important for us to have a good game tonight.  We knew it was going to rain, but I told them that the rain was going to clear, so be ready to play.
"The other thing that's always important to us in games like this is defending Ohio.  When we play the other 'state' schools we want to take care of business.  And, it was nice to get the bench guys into the game offensively, get them some at bats…and to get our bullpen some work."
Of particular note, it was a big night offensively for Conner Pohl, as the Arcanum sophomore appeared to have thrown off a recent slump.  Entering the game with a .289 average, he went three for three with a home run and 6 RBIs, a career game-high.  By night's end he was hitting .312!
"No doubt we wanted to get Conner back in a good frame of mind because he's in a critical place in our lineup, hitting fifth behind Canzone, Foppe, Cherry and Noah McGowan,"  added Beals.  "We want to keep things productive and it was good for him to come out and have a feel-good day today."
No one was happier about a feel-good than Pohl, himself.
"I changed my mind and my approach in batting cage yesterday when I hit a couple of balls hard right back through the middle,"  said Conner.  "Beals told me the best thing about both balls was there wasn't any fence out there to hit them over – that I should go back to just hitting line drives.  Basically, what he told me was to go back to what I did last year – try to hit the ball hard and try to hit holes (in the field)."
There were some others among those 13 hits that hit some open holes on Wednesday.
Noah McGowan continued his bashing of the baseball (.404) with three more hits and a pair of RBIs – to singles and a double (his ninth).
Freshman catcher Dillon Dingler had a hit and three RBIs.
Canzone, Foppe, Cherry, Cowles, and Malik Jones (off the bench) all contributed to the hit total.
The winning line:  19 runs on 13 hits, they played error-free baseball and left just seven men on base.
Toledo had 4 runs on 8 hits, committed one error, and likewise left seven on base.
It sets up the Big Ten opener on Friday night with a Nebraska team that's just above .500, record-wise, but has good arms on the mound…and in Beals' words, will come in ready for a fight.
"Well, they're 13-12 coming in, but they're the defending Big Ten champs from last year,"  said Beals.  "They've got a real hard-thrower for Friday night, and they have our respect.  We have to continue to play good Ohio State baseball.  Pitching-wise, we'll go with Curlis on Friday, Feltner on Saturday to either square the series or take a 2-0 advantage…and come back with Niemeyer on Sunday."
If it sounds like a man who knows his team after 24 games, Beals is confident in their ability to be "a pretty good offensive team", as we've written all spring.
Now, it's up to Connor Curlis, Ryan Feltner, and Adam Niemeyer – the pitching.  The chips are on the table.
"We want to prove that we're better than the record we had last year,"  said Conner Pohl before leaving Wednesday.
And that time is nigh.  The Huskers are coming to town!