Maybe not the longest odds at the season's start of area teams favored to win a state title (but definitely not the favorite, either),  Marion Local's Kurt Goettemoeller and the Flyers bested them all to win the OHSAA Division IV championship.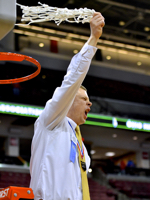 If you'll remember back in December…much of the conversation regarding local boys basketball was squarely centered on the Versailles Tigers and Ohio State recruit Justin Ahrens.  Could they – would they – get through the district again this year and on through the Cincinnati teams in the regional to finally challenge for the Division III title?
And somewhere in the conversation back then there were those who also mentioned…the Marion Local Flyers, and not to overlook them as a team that could emerge to challenge favored Fort Loramie in the southwest region, and ultimately, someone – anyone – in the regional tournament.
Well, Versailles and Ahrens had a fine year, without question, Ahrens garnering multiple honors as he became the Midwest Athletic Conference's all-time leading scorer back in January.  But they also seemed to be a team that peaked early.
Marion Local, on the other hand, took an opposite course.
Coming off another state title in Division VI football, the Flyers came out of the gate capably, but decidedly the underdog to Versailles to not only win the league, but for post-season tournament honors.  They lost back-to-back games to Lima Shawnee and Coldwater in December, and a week later…to Anna.  They were 5-3 entering the second week of January.
But from that point on they rattled off 20 wins in 21 games (their only loss coming at Fort Loramie on February 3), and 13 games in a row to end the season.  They caught, and passed Versailles with an undefeated record in the league, and took the league title.  They swept through the sectional and district round of the tournament;  and beat Loramie in a rematch to claim the regional title.  And last Saturday defied all the odds makers by beating highly-favored Cornerstone Christian in the Division IV championship game…in double overtime!
At the center of all this was head coach Kurt Goettemoeller, who without question works in the shadows at Marion Local, where basketball is secondary to football in profile, and where coach Tim Goodwin has won six of the last seven state titles in Division VI and VII.  The basketball Flyers were respected, yes, but with an asterisk.  Ten of their twelve top roster players played football, as well.
Hardly anyone expected that much football talent to equate, under Goettemoeller, to a title in basketball – eclipsing Versailles, St. Henry, Minster and Ft. Loramie….and ultimately Cornerstone Christian, a team with one of the state's most dynamic players in all divisions, Michael Bothwell.
But Goettemoeller was masterful in his patience throughout, believing that as the season progressed his team would grow during the process.
"They're very competitive,"  he said throughout.  They played to win!
And after last weekend's ultimate win over Cornerstone, Goettemoeller shared another, and unexpected, revelation.
"I know we're known as a football school,"  he said in the post-game press conference.  "But these guys (Tyler Mescher, Nate Bruns, Tyler Prenger, Collin Everman, Matt Rethman, Nick Tangeman, Justin Albers, (et.al.), love basketball, too."
He was masterful in his preparation throughout the year, knowing the collective and individual attributes of his players, principally Mescher, Bruns…and Prenger down the stretch, who proved to be an unexpected outside threat.  Goettemoeller played his hand, and he played it courageously!
"He had us so well prepared,"  said Prenger, following last Saturday's trophy presentation.  And indeed, in his seventh season at Marion Goettemoeller has no doubt seen it all, coaching against the best that west-central Ohio has to offer, including the Division III Coach of The Year, Nate Barhorst (Anna).
There is so much irony in all this, you see.  Kurt Goettemoeller actually teaches (math) at Minster, yet coaches at Marion.  And Minster just won the Division IV girls crown.
Tim Goodwin, with his 10 state titles in football at Marion, is by trade…a math teacher.
And Jack Albers, who formerly coach Marion Local to 290 wins over 18 seasons – and 14 consecutive sectional titles – was a math teacher, as well.
Goettemoeller made the right calculations, pushed all the right buttons, beat the odds, and brought the Flyers their third boys title in basketball, all-time.
"He deserves to be someone's coach of the year,"  added Prenger on Saturday.
We agree, Tyler, and proudly recognize your coach, Kurt Goettemoeller, as our 2018 Press Pros Magazine honoree…Coach of The Year, in area boys basketball!