It's not like he's a flash in the pan…he's been around for a long time.  But with three titles in a different sport already in his pocket, Minster Mike Wiss proved more than versatile in guiding the Lady 'Cats to the 2018 Division IV state championship in basketball.
In a way, it's obvious.  But…not so fast!
Our pick for the 2018 area Coach of The Year in girls basketball is not without a lot of factors, and consideration.
One, consider the job Jim Meyer did at Covington, guiding the surprise Lady Buccs to a 20-7 record, and a berth in the regional round of the tournament.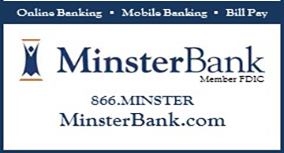 Two, never – ever – leave out Fort Loramie's Carla Siegel, who even with a pair of state tournament title previously might have delivered her best 'coaching' performance in 2018.  With a floor full of freshmen and sophomores Siegel still won 22 games, a Shelby County League title, and pushed her 'kids' to the regional final…again!
Russia, and Anna, likewise of the SCAL, had great years under coaches Andy Timmerman (20-6) and Jeff Mauer (19-7).
Three, Tri-Village and Franklin-Monroe, two more Cross County Conference teams, both won 20 games under coaches Brad Gray (21-4) and Abbey Moore (21-6), respectively.
Four, consider, too, that the MAC literally boiled over with contending teams in 2018 – with Ft. Recovery (Brian Patch), New Bremen (Chris Burden) and Coldwater (Connie May).  Each won 19 games (19-6).
And finally, another MAC school and the state's #1 team in Division III was anchored by another two-time state champion, Jacki Stonebraker, who took the Tigers (28-2) to the title game for a second year in a row before losing, this time, to Columbus Africentric.
But in the end…it's hard to deny a deserving champion, and Minster's Mike Wiss garnered that honor by taking the Wildcats to the state's #4 ranking in the state, and Division IV championship, in only his second year as head coach.
Not that he's a flash in the pan.  He's been on the Minster bench for 20 years, serving nearly that long as the near-legend Nann Stechschulte's JV coach.
And, doubling as the school's baseball coach, he took that program to the Division IV title in 2011, '12, and '17.  So you see, Mike Wiss is accustomed to winning.
But hardly anyone matches him in 'cool', the ability to assess other team's strengths and weaknesses, as well as his own, and calmly make adjustments on the fly.  One writer from out of the area remarked at the recent state finals, "He doesn't miss a thing, and he looks like he's always a step ahead."
No one's better at handling adversity, or a loss…or at wrenching some kind of positive from a negative experience.  While ranked #1 in Division IV back in January, Wiss lost to league rival Versailles (also ranked #1 in Division III), in a grueling effort that saw his team play below expectations.  Asked about it afterwards, he deadpanned, "No one died here tonight.  Tomorrow we'll go to the gym and get back to work."
He handles success, and victory, with similar aplomb.  He won the Division IV championship game with a pair for freshmen guards, that he's trained in his own competitive image.  Wiss, you see, trusts his players…and always, always respects an opponent.
"The 'sweet' part of it is that to do it we had to beat some damned good basketball teams along the way," he said after the title win over Ottoville. "When you beat a Fort Loramie in the regional , and a Waterford in the semis on Thursday, it makes the accomplishment of a championship all the more satisfying. That's says a lot about the culture of Minster basketball."
And there's no one that can argue…that Mike Wiss has had a lot to do with the culture of Minster basketball for a long, long time.  Congratulations to the 2018 state champ, and our Press Pros Magazine…Coach of The Year!