It took ten innings, and eight innings of frustration, but the Buckeyes' bats came alive late to salvage a win, and the series, against Georgetown.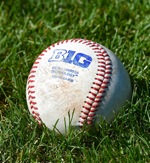 Columbus – Ultimately they won, 5-4.  But for the first eight innings of Sunday's series finale with Georgetown (6-16), it was simply "cold" baseball.
Not just temperature (38 degrees), mind you, but cold offensively, as well.
The Ohio State Buckeyes had left twelve men on base, including 10 in scoring position for lack of a two-out hit, and had made three Georgetown pitchers – Jack Cushing, Nick Morreale, and Jimmy Swad – look like Nolan Ryan, Cy Young, and Grover Cleveland Alexander.
"They didn't play like a 6-16 team,"  said OSU coach Greg Beals.  "They played – they pitched and they played defense – with a lot of energy.  Everyone who comes in here to play Ohio State comes in with that mindset."
The Buckeyes left 16 men on base through the first nine innings, and to add to the chill Georgetown plated a pair of earned runs against starter Adam Niemeyer that, for a time, looked as insurmountable as Mt. Rushmore.
OSU answered in the bottom of the fifth with a single run on a Brady Cherry double, a Noah McGowan walk, another walk to Conner Pohl, and a sac fly to left by Tyler Cowles.  But Nate Romans and Ridge Winand left the bases loaded with a pair of strikeouts, leaving OSU trailing, 2-1.
Niemeyer left after five and Yianni Pavlopoulos came on to pitch a scoreless sixth, striking out two.
But the offense was stymied by reliever Hoyas Nick Morreale, who threw hard and spotted an effective slider for 2.2 innings.
Seth Kinker, the 'hammer', came on in the seventh for the Buckeyes and retired the side in order.  He came out in the eighth and promptly gave up a single to left by second baseman Jake Bernstein that Tyler Cowles played into a two-base error, leaving McCabe on third with no outs.  With one out first baseman Fred Achecar hit a slug bunt that no one could handle…that actually stopped on the third base line for an RBI hit.  It made the score 3-1, Georgetown.
To add to the cold, there was a northeast wind blowing across the outfield that had disarmed several hard-hit fly balls by the Buckeyes.  But the wind had shifted by the eighth inning, and by the time Tyler Cowles came to the plate in the bottom of the ninth with one on (Brady Cherry, on his second double of the game), the breeze had freshened and changed direction, blowing out to left field.
Reliever Jimmy Swad hung a breaking pitch, a changeup on the inside of the plate, making Cowles get out ahead of the pitch and he lifted a majestic fly ball to left, and down the line.  It found the jet stream and trailed out of the park for a two-run homer, his third of the year, and the score was tied, 3-3.
Kinker was still on the mound, and came out for the top of the tenth as he'd entered in the seventh, throwing strikes.  But Bernstein opened with his third hit of the game and ultimately scored the go-ahead run on a two-out single to right by James Gaber:  Georgetown 5, OSU 4.
In the bottom of the tenth, Dom Canzone opened with a four-pitch walk from Matt Randolph, the Hoyas' fourth pitcher of the game.  Kobie Fopped sacrificed him to second before Brady Cherry hit a laser into the gap in left for his third double of the game.  It tied the score and brought Noah McGowan to the plate.  McGowan promptly hit a three-hopper between short and third and into left for his second hit of the day…and Cherry came storming home from second with the winning run.
"I just wanted to put a ball in play and give Brady a chance to score,"  said McGowan.  "He'd just drove a ball to left to tie the game and I wanted to pick him up by giving him a ball he could score on."
It broke the chill, and the prospects of losing a series to a 6-16 team before next week's Big Ten opener with Nebraska.
"Yeah, they threw the ball well,"  added McGowan.  "You tip your cap to them because their guys (pitchers) hit their spots and mixed things up.  They threw the ball well and they played good defense.  They didn't look like a 6-16 team."
Tyler Cowles' home run didn't win the game, but it was the offensive highlight of the game.  His third of the year, and his 23rd and 24th RBI of the season, he too, like McGowan was just trying to put the ball in play.
"I wasn't aware of the wind, or anything,"  said the Bucks' left fielder.  "I was just trying to hit the ball up the middle.  It was a 'next man up' mentality, just trying to get a hit, and he hung a changeup and I got the barrel on it and it went out with the wind."
Good enough, and better late than never, they say.
"Yeah, because the thing that stands out to me is the sixteen men left on base leading up to the 10th inning,"  said Greg Beals.  "We had talked in the dugout throughout the game – just keep going, we're going to get one, even after we left all those men on the base in the first five innings.  We just couldn't get the big hit when we needed one."
But Cowles, Cherry, and McGowan's walk-off heroics in the final two innings were a warming reminder of the offense that has rampaged through the first 23 games of the season.
"Our approach was a little off.  We were missing some fastballs,"  said Beals.  "Their staff mixed it up a lot and that confuses hitters.  We train our guys to stay on your pitch, and look for what you want to hit.  We came off that a little bit, but the last three innings I thought we had great at bats."
Highlights:  Brady Cherry, for one, whose three doubles raised his season's average to .267.  And Noah McGowan…had a pair of hits that kept him at .384, and now with an even 30 runs batted in.  Conner Pohl had a single in the ninth to help sustain his confidence, and a .291 average.  And Tyler Cowles, who more than any other Division I hitter, has alterred his swing and his stats, had another three hits on the day…his average now sitting a .349, with 25 runs batted in.
Pitching-wise, Seth Kinker worked for innings of 2-run, 2-hit baseball to gain his fourth win of the year…to go with his four saves. Adam Niemeyer gave up two earned runs on five hits in his starting performance.
The Buckeyes won it with 5 runs, 9 hits, and errors.  They left a season-high 16 on base.
Georgetown lost it with 4 runs, 8 hits, and one error.  They left 6 on base.
Now, a mid-week game with Toledo on Wednesday, and then the Big Ten opener with Nebraska next weekend.
"Obviously we wanted to win this series, because I felt like there was some times this weekend we played not to lose against a team we should beat,"  added Beals.  "We want to get started well next week, so you don't want to go in having lost two of three to a team you should beat.  It's Big Ten time and we've learned a lot about our ball club in the pre-season.  We're 23 games in, and there's some spirit in this group.
"Now it's time to put our chips on the table and go play, and we're going to play according to who we know we are, according to our foundation, and our blueprint.  But we only do that if we keep playing the way we've been playing."
Which on Sunday, the coldest day of the season so far, meant an agonizing spell of 'cold' baseball before things warmed in the ninth and tenth.
But like we opened with…better late, than never!