A game for the ages – breathtaking, a thrill a minute, drama, and a little dancing on the end of the bench.  But in the end, a not-so-unfamiliar ending.  Marion Local beats the odds, and Cornerstone Christian, for the Division IV title.
(Ed. Note:  It's been two years, give or take a day, since Marion Local did what Marion does best.  They won the Division IV boys title in basketball and beat the odds in doing it.  In the absence of a boys tournament this year, we present an encore presentation of our Press Pros game story for that day, March 24, 2018.  Enjoy!)
Columbus – There's no reason to write about Saturday's Division IV final between Marion Local and Cornerstone Christian in play-by-play details – stats!
The reason?
Everyone from Maria Stein, Ohio, 45860 zip code, was there to see it in person;  and, there'll be a ga-zillion copies of the video bought in the community, just for the archives.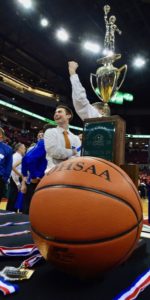 But the fact of the matter is this…the Flyers won their third state boys basketball title in the history of the school, 52-51, in double-overtime.  And, they did it over a highly-favored team that looked more like the Sacramento Kings than the average state tournament Division IV basketball opponent.  Cornerstone was big, talented, and featured one of the state's best players in point guard Michael Bothwell, a 24-point per game scorer –   called 'money' by one particular member of student cheering section.
And, he didn't disappoint.  Bothwell scored 23 points Saturday and kept Marion Local partisans on the edge of their seat throughout the game, his impact was that compelling.
But once again Marion flashed some of that old whatever it is, that magic – that ability to execute and perform under pressure when a title is on the line.  They've done it in football six of the last seven years, and 10 of the last 19.  You don't expect it in basketball, though, but sonuva' gun…they did it!
How close was this double-overtime game?
Well, by quarters, 14-13 (Cornerstone) at the end of the first quarter.  It was 24-22 (Marion) at the half.  It was 33-30 (Cornerstone) at the end of three;  and 39-39 at the end of regulation.
Close?  It was 44-44 at the end of the first overtime;  and Marion bested Cornerstone 8-7 in the second overtime to take the title.
How did they do it?
Typical of Marion, they played TOUGH.  Football tough, in the words of one Cornerstone fan who'd read up on the Flyers.  More about that in a bit.
They played Marion defense, holding Cornerstone to 39% shooting for the game – 31% from the three-point line.
Offensively, the Flyers were opportunistic, as always.  They made big shots when big shots were needed.  Senior Tyler Prenger hit three HUGE three-pointers at critical points of the game, each coming as an answer after Cornerstone had made a shot on their end…to demand an answer!
Junior Nathan Bruns made a pair of huge threes, one in regulation and one in the first overtime, to keep his team close…in Kurt Goettemoeller vernacular, to give them a chance.

And Tyler Mescher…that big china shop bull who just scores and scores, and gives opposing coaches headaches, stood at the foul line with 2.6 seconds remaining in the second overtime and coolly knocked down a pair of free throws that won the game.
And how he got to the line was so typical of Mescher and Marion basketball.  He grabbed an offensive rebound from a missed shot by Justin Albers and tried to put it back in the rim through Cornerstone defender Kendall Saunders.  Saunders fouled him and sent Mescher to the line to become another chapter of Marion legend.
"I don't know much about #32,"  said Cornerstone coach Dan Selle of Mescher afterwards.  "But up where we play you don't see many 6'1″ guys that weigh 240 pounds and plays like him.  He's tough.  He competes, and he's relentless.  That guy eats meat for breakfast, for sure."
They won it with their composure, calm under pressure on the state's biggest stage.  Accustomed to such football success, the Flyers came out without nerves and played their game – compete and share the basketball.  They were so cool that the reserves on the end of the bench – Max Albers, Alex Eyink, Kyle Francis, and Sam Huelsman, danced during timeouts, the Marion version of the Los Angeles Lakers 'Laker Girls'.
But they also won it with a masterful coaching job by Kurt Goettemoeller, who in his seventh year seemed to borrow something from every one of the outstanding coaches in west central Ohio against whom he coaches.  They had the right play at the right time on offense, while leaning on their tried-and-true man defense, mixing in some box-and-one and 1-3-1 for variety.
Win or lose, with their 2-point win over Pandora in the semi-final, and the wrenching double overtime win to take the title…Kurt Goettemoeller takes his place among the very best of them all.
"He had us so well prepared,"  said Tyler Prenger in the hallway outside the winning locker room.  "He deserves recognition as someone's coach of the year."
Finally, they did it by the element of surprise, if that's possible.  Everyone expects Marion to win it in football – not so much, however, in basketball.  Except for one Cornerstone fan who knew, who'd read the record books, and calmly explained to a tearful youngster after the second overtime.
"That team usually wins when they play for a championship,"  he said, trying to calm.  "They win at everything!"
"It just a tribute to our kids, our seniors, and a group that loves basketball,"  said Goettemoeller in his post-game comments.  "We start late every year because of football, but these guys come in and do the work to get up to speed as fast as possible because they love basketball."
Nate Bruns seconded that emotion.
"People don't expect it from us because of our success in football,"  he added.  "But we work all summer, we even shoot during football.  No one recognizes us for basketball, but we can compete in that, too.  This is awesome."
But it all came down to a little of that Marion magic at the end – of knowing how to compete.  Of not unraveling under pressure.  Of wanting that opportunity to win – giving themselves a chance – as Goettemoeller so often says.  And when opportunity knocked, they made the most of it.
"It was a dream come true to be able to shoot those free throws,"  said Tyler Mescher.  "When you're a kid that's your dream, to shoot two free throws at the end of the game to win a state championship."
It was expected, actually, as both Nate Bruns and Tyler Prenger walked up to Mescher as he stood on the line before the winning shots and assured him with their confidence.
"Tyler Prenger said, 'You got this', "  added Mescher with broad smile.  "He called them 'easy shots."
But they didn't look easy.  Mescher's first did a complete 360 around the rim before dropping through.  And the second saw its share of iron, as well, before falling through the net.
"I had Aaron Rose's obituary in my pocket,"  said Goettemoeller, referring to the death of Fort Loramie coach and Marion resident Rose, who died in a car crash last week.  "I kept saying, C'mon Aaron, C'mon Aaron, and watched as those two free throws rolled in."
The actual numbers, for posterity?
Marion Local shot 41% from the field, 28% from three-point range, and hit 5 of 7 from the foul line (71.4%).  And officially, Prenger and Bruns were a combined 5 of 12 from behind the arc (42%).  And characteristically for this team, they leaned on the 'meat eaters' for points.  Bruns and Mescher each had 18 points, while Prenger joined them in double figures with 10 points.  Nick Tangeman had 4 points, and Collin Everman had 2.
For Cornerstone, they shot 39% from the floor and 31% from three point range.  Excellent at the foul line, they canned 11 of their 13 opportunities.  Michael Bothwell led them with 23 points, and was as classy as they come after the game.
"Some people can't even walk,"  said Bothwell, who'll play at Furman University next year.  "But I've gotten to play basketball with my friends since grade school, compete for a state championship, and live to play another day.  Marion Local was a great team.  They never gave up, they just kept playing.  Hats off to them, but I'm blessed to just be here."
But those equally blessed were the 9,620 (officially) who showed up to watch it.
"They got their money's worth," said OHSAA staffer Jim Wharton.
And then some, as the miracle never gets old with Marion Local.  Parents and community members stood in tears as the championship trophy was presented.  They hugged, slapped high-fives, and used up a zillion mega-bites of cell phone data for videos.
Somewhere watching was Keith Westrick and Treva Fortkamp, the last Marion coaches to win a title in basketball, back-to-back, in 2003.  And Irv Besecker, who coached the 1975 state champions.
Jack Albers, who coached the Flyers for 19 years, watched his grandsons compete for their latest title on Saturday.  "Holy smokes," he probably said (at least).
And all those founders of the MAC, back in 1972, were smiling approvingly as another title came back to the state's winningest tradition, now numbering 127 championships, all-time.
No, it never grows old.  The miracle just rolls on and on, gets passed down, and every few years shows up with basketball just to remind…that they can win at that, too.
A team that never seems to lose when they play for a championship, as the man said.  They win at everything!