After an athletic career that saw her achieve records and fame, Anna's Sarah Schulze now focuses on a life of faith and servitude to a far greater coach and master.
Anna – Sarah Schulze had her share of meaningful experiences as a three-sport athlete at Anna High School and basketball standout at Ohio State University.
There was an individual state cross country championship. An individual state track championship and, at one point, the holder of six track records in six different running events. She helped the Rockets to three Division III regional basketball appearances in a basketball-crazy community. And she won three Big Ten championships with the Buckeyes while also being Academic All-Big Ten for three seasons.
Those basketball accomplishments alone are enough to consider her a basketball legend in Anna, which sits almost in the heart of the Shelby County Athletic League.
So, which of those – in addition to her other academic, athletic and personal achievements – does she consider her greatest? None of the above.
"I think my greatest accomplishment is still a work in progress," said Schulze, who now goes by Sister Mary Xavier. "Now I'm striving for my greatest accomplishment of becoming who I'm supposed to be."
Since 2012, Sister Xavier has served Jesus Christ with the Sisters of St. Francis of the Martyr St. George in Alton, Ill. It's a calling she felt as early as a college freshman when she was reading the writings of Mother Theresa.
"I read a book, the personal writings of Mother Theresa. When I read that I just knew I was supposed to do what Mother Theresa did," Sister Xavier said. "It was an 'aha' moment, but it was not anything I had been thinking about.
"It was her desire to quench the thirst of Jesus for souls. She was overcome by the Lord's love and wanted to give everything back to him and bring as many people as she could. It was her overwhelming determination and desire to do anything for the Lord."
Last Sunday, Sister Xavier returned to Shelby County to share her experiences both as an athlete and as a sister. A question-and-answer session followed her talk. The event was presented by St. Remy Church and Craig Fiessinger of Fish Report, an online news and sports site based in Russia, and was hosted in the gymnasium at Russia High School.
Sister Xavier honed her basketball skills in the Shelby County Athletic League and surrounding gyms. She played on some of the NCAA's biggest stages with three Big Ten championships and a pair of trips to the NCAA Tournament's Sweet 16 with Ohio State, where the 6-foot-1 forward served as a team captain in 2010-2011.
Sunday was one of the few times Sister Xavier confessed to being nervous on a basketball court.
"It's very exciting. A little nerve wracking," Sister Xavier said, laughing and undoubtedly flashing that trademark warm and friendly smile of hers during a recent phone interview. "I only get home about one time year, so not that often. This is like a bonus trip."
Sister Xavier said her talk centers around her vocation and how she found the path to serving Jesus. She's currently working on her master's degree in Theology with a specialization in Catechesis – "studying how you hand on the faith. It's learning how to teach like God teaches," Sister Xavier said – at Franciscan University at Steubenville.
She looks forward to being at home when she can, of course. In addition to the familiar faces one of the things Sister Xavier misses most about home is the wide open spaces. For Sister Xavier – who spend spent as much time outdoors as she did in the gym while growing up – home truly is God's country.
"I do love the country and the peace that comes with being in the country. I love the open spaces, the corn fields," said Sister Xavier, who is the daughter of Mark and Jill Schulze. "It's very nice. You feel like your soul can breathe."
She attended Sacred Heart of Jesus Church in Anna, but admits back then athletics was her main priority. With a blend of power and speed she excelled in sprint and distance events.
In the spring of 2004, then a sophomore, she won the 800-meter run at the Division III state championships and was runner-up in the 1,600 meters. At one point in track she held the school records in the 100, 200, 400, 800, 1,600 and 3,200 events. She still holds the 100, 200, 1,600 and 3,200 records.
She won the Division III cross country state championship as a sophomore in 2004 and was runner-up in both 2003 and 2006. She finished fourth her junior year.
In basketball she's third in career points (1,569) and second in rebounds (880). She also led the Rockets to three district championships in 2004, 2005 and 2007.

Sports helped prepare Sister Xavier for her vocation with dedication and a commitment to excellence. But Sister Xavier admits her drive for perfection put too much pressure on herself at times.
"Yeah, there was a lot of pressure. I think part of my story was learning that the pressure the world puts on you to be excellent, in a worldly sense to succeed at sports or whatever it is in life, learning that is not really what matters," she said.
"That took me a really long time to learn. It wasn't until I tore my second ACL in college that I was really able to learn that lesson. Sports, in general, through the struggles and different things come with being an athlete, I learned how to stay with something. How to ride out the storm and persevere. And definitely just different virtues. It really did lay a foundation for me to follow the Lord later in life."
Had it not been for injuries, Sister Xavier sometimes wonders where she might be today.
"Sometimes I even think had I not torn both my ACLs I would be on my way to hell right now. I don't know where I'd be or what I'd be doing, but I know I wouldn't be where I am," she said. "To me the injuries were one of the best things to ever happen to me, even though at the time they were not fun."
As the boys high school state basketball championships play out in Columbus this weekend, Sister Xavier hopes her message resonates with today's athletes who perform under pressure from coaches, teammates, parents, their community and even themselves.
"God doesn't call us to be perfect. He calls us to be faithful. I think that's one thing I never really learned in sports," she said. "Now I'm starting to learn more and more in my faith that it doesn't really matter if I succeed. It just matters that I've been faithful to what the Lord has asked of me. I would say one thing that has very much helped me is having learned the virtue of determination and hard work, learning to never give up no matter how hard it is or if there are doubts, that definitely has helped in my faith journey as well.
"(Sports can) make you feel that if you don't succeed then you have failed. And that's not true. … You know what's funny, I don't even remember my stats. I don't remember how many times I did this or that. People will ask me (about my athletic career) and I don't remember. At the time it was the most important thing in my life. Now it's like, looking back, there are a lot of things that just don't matter."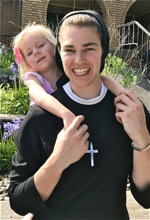 Sister Xavier still plays basketball these days. As the pastoral associate for the women's team at Steubenville, part of her position involves taking on the role of a big sister and also guiding physical activity. That sometimes means basketball. Following her discussion and Q&A session on Sunday, Sister Xavier went one-on-one with Father Martin Fox of St. Remy in a free throw shooting contest.
Unlike her high school and college days, there wasn't any pressure.
She feels the same about the life she's chosen to serve Jesus. She hopes to teach or instruct after she takes her final vows in about three years.
"I've always loved adventures. For me it this was like, 'Wow, I get to give my whole life to God and I have no idea what that's going to entail.' For me that was really exciting," Sister Xavier said.
"The more I learned about the faith and the more I encountered Jesus … it was really in the Eucharist I feel in love. I encountered His presence there and knowing He is always there waiting. That is what overwhelms me with His love."