They survived a shaky start, and calmed in time to play "their" game.  Minster shuts out Ottoville for the last 2:39 to capture the Division IV title.
Columbus – Back in January, when the Minster Wildcats suffered one of their three regular season losses, at Versailles, the coolest 'Cat' in the gym afterwards was head coach Mike Wiss.
Ranked #1 in the state at that time, in Division IV…and playing the state's #1 team in Division III, Wiss was asked the inevitable question over the impact of losing in the league – to a fierce MAC rival – and what it said about what lay ahead for his team.
Without cracking a smile he coolly said.  "Well, nobody died here tonight.   Tomorrow we'll get back in the gym and go back to work."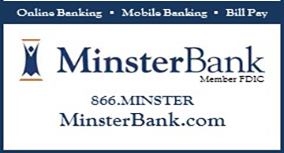 That might have been an omen.  It might have been in the back of his mind, actually, at the start of Saturday's Division IV title game with Ottoville.  The Lady Green immediately jumped out to a 10-2 lead after the opening tip.  Wiss, and his team, never flinched.  Nobody died.
Instead, they came back to outscore Ottoville 61-38 over the next 28 minutes of the game and claim their FOURTH school title over the calendar year.  63-48…and they did it like Minster always seems to do it.  They did it with DEFENSE!
It's ironic, in fact, that they scored 63 points, because as Wiss would later observe, "We hadn't scored 63 points in tournament game yet."

But Wiss, as a coach with now four state titles to his credit (three in baseball and one in basketball), has that certain 'it' factor that allows some, and not all, to occasionally grab victory from the jaws of defeat.  And Saturday, that's what it looked like for the first 4:12 of the game.
How they did it is academic, actually.  They shot 47% from from the floor, despite being miserable from three-point range (16.5%).  But once they got over their early signs of rigor mortis, they began to get high percentage shots in the post…from senior Taylor Kogge (12 points) and Courtney Prenger (17 points).
But more importantly, they sprung the surprise element of having two freshman guards, Ivy Wolf and Janae Hoying, who between them scored 30 points;  and Hoying scored her 15 off the bench.  They handled the ball against the bigger size of Ottoville, they seized the moment, to use that tired old phrase…and they seemed to relish the chance to play so far beyond their years and experience.
Wolf, who dazzled in Thursday's semi-final win, was even better in the championship round, scoring 15, dishing out 4 assists, she grabbed 6 rebounds, and she had a steal.
Hoying, who came off the bench to play 23 minutes, had her 15 points, three rebounds, and cabbaged a pair of clutch steals in the second half that turned the momentum, and the game, decidedly in Minster's favor.
They actually trailed 14-9 at the end of the first quarter;  and fought back, possession by possession, to close that margin to 24-20 at the half.
When the third quarter opened, they immediately seized upon taking the momentum and the lead.  Wiss called for defensive pressure, and the 'Cats responded, turning Ottoville 17 times (for the game), and just minutes into the second half they tied the score at 29-29 on a Hoying bucket.
From that point…it was back and forth.  Overall, there was 8 ties in the game;  there were 12 lead changes.  That's how tight it was.
Minster led 31-30 at the end of the third quarter, and just seconds into the fourth Ottoville's Bridget Landin, who would score 13 points, got tangled up in the paint and fell heavily to the floor, cracking her head either on the floor, or someone's knee while going down.  No one seemed sure.  What was sure, though, was Landin was done for the game.  Minster took advantage.
They amped the pressure, and Ottoville suddenly played like a rudderless ship.  At the 2:39 mark of the fourth quarter Minster led 49-48…and subsequently forced the Lady Green to turn the ball over on four consecutive possession – and five of six – while the Wildcats turned four of those possessions into points at the other end.  They increased their lead to 7, then 9 points, and Ottoveille would never score again.
Lady Green coach Dave Klemen lamented the loss of Landin.
"It was a shame to lose her like that, and 20 years ago she would have probably sat out for a few minutes, gathered herself, and came back in the game.  But we don't play the game that way anymore, and that's a good thing.  You don't want to take chances with a player's health.  But…I would have like to seen the outcome of things had Bridget been able to finish the game."
He also knew that his early lead would eventually be in jeopardy.  The two schools know each other well.  They're just 41 miles apart on route 66…and much closer than that basketball-wise.
"We knew they'd make their run,"  said Klemen.  "And we knew that in all three of their losses this year Minster had gotten down early by too many points to come back from.  Today they were able to come back."

Courtney Prenger led all scorers with her 17 points, while Wolf and Hoying added 15 each, and Taylor Kogge kicked in her 12.  Alli Fischer, one of the few seniors on this team had 2, and Demaris Wolf had 2.
For Ottoville, Landin had her 13 points before having to leave the game, Amber Miller had 13, and Kasey Knippen had 13 of her own.  But beyond those three, only teammate C.J. Kemper would score in support…with 9 points.
Minster's defense, their stock in trade, held Ottoville to 46% for the game, but more importantly…in the fourth quarter, when they did their heavy damage, they limited the Lady Green to just 18%.
For Wiss's part, he handled victory like he handles losing…with class, and perspective.
"It was a big deal to cut the deficit to four points by halftime,"  he said.  "And then to come out like we did in the first four minutes of the third quarter.  I told the girls that the first four minutes of the second half would go a long way about determining how the game would go.
"They were able to score some points with Landin and Knippen there at the end of the third quarter, but once we made some defensive adjustments – and who was guarding who – we made a run of our own and our run was hard to stop.

In fact…they outscored Ottoville 14-0 over the final 2:38, with Wolf and Hoying, the two guards on the court, being 'money' from the foul line.  Ottoville had to foul, and Wiss's two freshmen didn't let him, or their teammates, down.
Ironically, Hoying spent much of her season playing JV ball, a point that Dave Klemen acknowledged in his comments about her play on Saturday.
"I saw her playing JV when we played them in January,"  said Klemen.  "She was quick, she was good, and I asked Mike then why he had her playing down.  'I said Mike, give our JVs a chance,'"
Of course, this all bodes well for the future of Minster basketball, since Prenger, a commit to play college basketball at Xavier, Hoying and Wolf, will all return to play next season.
And it says a lot about the kind of year that Minster High School has had in fulfilling the championship legacy of the Midwest Athletic Conference.  They have now won a team title since June…in baseball, in girls cross country, in football, and now in girls basketball.  Their title Saturday, overall, is the 126th in the history of the league since its inception in 1972.  It marked Minster's 33rd title…in OHSAA championship competition.
"The 'sweet' part of it is that to do it we had to beat some damned good basketball teams along the way,"  said Wiss.  "When you beat a Fort Loramie in the regional , and a Waterford in the semis on Thursday, it makes the accomplishment of a championship all the more satisfying.  That's says a lot about the culture of Minster basketball."
As does the fact of having freshmen like Janae Hoying and Ivy Wolf play to a large part in winning that championship.  Asked if she was the best Hoying yet to play at Minster, she responded, naively, "I might be the only Hoying.  I don't know."
It was almost Biblical in nature, and in truth…by the way it played out.  In the Old Testament it reads about how a child shall lead.  Ironic, of course, because the prophet Isaiah never dreamed of a day when a pair of freshmen like Ivy Wolf and Janae Hoying would lead in such a demonstrative, and competitive fashion.
And no, nobody died back in January.  Mike Wiss knew then…what Mike Wiss still knows.  One loss does not deter a champion!