Two teams seeking to end long state tournament droughts met in the Division IV Regional final Friday night; and an in-game drought proved to be decisive.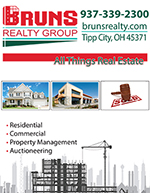 Kettering – Heading into Friday night's Division IV regional final, the Fort Loramie Redskins had the Marion Local Flyers' number.
The Redskins had swept the last three meetings between the teams, including a 47-35 decision on February 3rd, during which the Redskins shut out the Flyers in the third period.
Marion Local hadn't lost since, and the Midwest Athletic Conference champions were determined to finally get to Columbus after losing in the regional three times in the last 4 years.
This time, it was the Redskins who couldn't score.
Fort Loramie went the first 12 minutes of the game without a field goal, and Marion senior Tyler Prenger had the game of his life, scoring a game-high 23 points as the Flyers advanced to the state final-four for the first time in 14 years with a 62-47 win in front of a packed house at Trent Arena.
"It's just an awesome feeling after losing here three times in the last four years," said the hero of the night. "We have worked our tails off to get here. It's great to finally get over the hump, and great to beat Fort Loramie after losing to them earlier."
Prenger hit back to back threes to get the Flyers off to an 8-2 lead, and Collin Everman connected from the left corner at the first quarter buzzer to put the Flyers up 15-4 after one.
"Those two early threes gave me a boost of confidence," Prenger said with a smile. "Coaches are always telling me to keep shooting, no matter what. Tonight it worked out."
"We had a great scouting report and our kids just really prepared well," said an ecstatic Marion head coach Kurt Goettemoeller. "We knew everything they wanted to run and were really locked into their tendencies. They were missing a lot of in-close shots, and we rebounded really well. We didn't give up a lot of second shots."
Eli Rosengarten finally hit a shot for Loramie, a three from the top of the key with four minutes left in the half. Evan Berning added a couple of field goals before the half, but Loramie trailed 26-13 at the break after making just 3 of 21 shots.
"They came out and really took it to us," said Loramie head coach Corey Britton. "We never got into a flow or responded very well. A ton of credit to Marion Local. They were ready to go and we just couldn't get a shot to go down. That's your worst nightmare in a tournament game when the ball doesn't go in the hole.
"I thought we got good shots. We missed four or five point-blank shots at the rim and we just couldn't finish. Our kids battled all night but Marion Local really played well."

Nathan Bruns scored 2 of his 17 points to start the third period, and Prenger buried another three to give Marion a 31-13 advantage, their largest of the night. Loramie chipped away the rest of the quarter but was still on the short end of a 35-24 count heading into the fourth.
The Redskins hadn't lost to a Division four team all season (both losses were to D-III Anna) and didn't go down quietly. Dillon Braun, who scored 15 fourth quarter points, drained a three, and Nick Brandewie did the same on the next possession. Suddenly, it was 44-37 with 4 minutes left. TIME OUT, MARION LOCAL!
"We told the kids, hey we know they're a great basketball team, and they are going to make a run," Goettemoeller said of that timeout. "If you had told someone we would be up 7 with 4 minutes to go, would you take it? Of course you would. It didn't matter how we got to that point. All that mattered was how we finished. And we did a great job of finishing."
The Flyers responded, going on an 8-2 run that opened the lead back to 13. Marion then went to the free throw line and closed the door, making 14 fourth quarter free throws to keep the Redskins at bay.
Prenger, who came into the game averaging 5 points a night, finished with those 23 points for the Flyers, including 5 threes and 6 made free throws down the stretch. Bruns had 17 and Matt Rethman scored 7 in the final quarter to finish with 10.
"Just a great night for a senior," Goettemoeller praised. "We said before the game that someone would have to step up besides Nathan and Ty (Mescher). Tyler Prenger sure did for us tonight."
For Loramie, Braun finished his stellar career with 18 points, while Evan Berning scored 10 and Tyler Siegel added 7.
A couple of statistics stand out. Loramie never got going offensively, finishing 14 of 46 for 30%. If not for five made threes in the fourth quarter (four by Braun), the score and percentage would have been much worse.
When the teams met six weeks ago, Loramie won the rebounding battle. Not the case this time, as the Flyers held a commanding 32-20 advantage on the glass. Plus, Marion held a 19-7 scoring advantage from the free throw line.
"Our free throw shooting was pretty darn good," agreed Goettemoeller. "It's amazing what a little confidence does for you. Once one guy starts to make them, it seems like everyone does. It wasn't perfect, but it was certainly good enough."
Despite the loss, Britton was proud of the season the Redskins put together.
"25-3, Shelby County League champions, District championship, set the school record for wins in a season with 25. We talked about it in the locker room. It's no consolation, but if someone had told us before the season that we would be here tonight, we all would have signed on the dotted line. I'm very proud of them. We just picked a bad night to have a bad night.
"This is my first group. They believed in us and what we wanted to do when we came in here four years ago. They were a great group to coach. They made it fun every day. I can't thank them enough. This group will always have a special place in my heart."
The Flyers will make their first state appearance in 14 years Thursday afternoon, facing 26-1 Pandora-Gilboa, a 70-58 winner over Crestview Friday night. Game time is 2pm at Value City Arena.
"To finally kick the door in and go to state, I think it's big because I think you take steps," explained Goettemoeller. "Teams that haven't been to a regional, you have to get through the district level. When you haven't been to state, you have to get through this level. Now that we have kicked the door in, maybe this opens the way for future groups to know this is possible. We haven't been there since 2004, and I know there will be four good teams there, but I really believe this group has a chance to win it all. If we play the way we played tonight, I like our chances."