Minster played its trump card and kept Waterford to its lowest point total of the year. The Wildcats beat the former champs to advance to the Saturday's championship round.
Columbus – Nobody said it officially, but Minster coach Mike Wiss couldn't disagree, that although freshman point guard Ivy Wolf only scored 8 points in Thursday's 46-31 Wildcats win over former state champion Waterford…it had to be the biggest 8 points of the year.
Wolf, the freshman whirlwind that gets better and better with each varsity game she plays, scored exactly that Thursday, but her overall impact on the game's outcome was far greater than 8 points.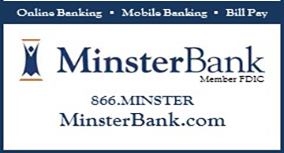 Playing 27 of the game's 32 minutes, Wolf scored 8, dished out 5 assists, and had 3 steals. But bigger than those numbers…she had her hands on the ball constantly, handling Waterford's pressure, milking the clock in the second half, and generally keeping the basketball out of harm's way.
"She does so much more than what her point totals usually indicate," said Wiss afterwards. "She usually scores about 8, 9, occasionally 10 points. Nor does she have a boatload of assists all the time. But she handles the basketball like we haven't had a girl handle the basketball in a long, long time. Today, with what she did against a very good basketball team, Ivy Wolf proved that she can play on the biggest stage. She's not a freshman anymore."
But what Minster did as a team was the perfect backdrop for Wolf's overall floor game. Against a talented offensive team that can run and score, Wiss's defense, their trump card, held the 'other Wildcats' (Waterford's nickname, as well) to just 31 points, their lowest total of the year, and just 27% shooting for the game.
"We did a good job of staying low to the floor and keep our hands high," smiled Wiss, appreciatively. "Our goal was to keep them in front of us. We knew they were good when they could put the ball on the floor. We wanted to take away some of their outside shooting."
Mission accomplished.
Minster held Waterford (ranked #1 in the state) to just 22% from behind the three-point arc (2 of 9)…and didn't give them many opportunities, even in the second half when they trailed by as many as 15 points and had no choice but to force shots from three-point range.
Offensively, Minster did what Minster always does. They established their ability to score in the paint early, and then proceeded to spread the wealth among their five starters. The scored with balance. Courtney Prenger led them with a game-high 13 points. Taylor Kogge had 10. Wolf had her 8. And Demaris Wolf and All Fischer added three points each.
Minster shot 44.7% (17 of 38) from the floor, 3 of 10 from three point range (30%), and 69% from the foul line (9 of 13).
"We did what the Minster offense does," said Prenger matter-of-factly. "We like to score inside, we play inside-out, and we were able to execute that today."
The coup de gras…was their rebounding. They allowed a good Waterford team just three offensive rebounds all game. And more impressively, they grabbed a combined total of 32 rebounds, overall, to just 17 for the team from Washington County, over on the Ohio River.
"I'm tickled with that," added Wiss. "Because the last game they played Ali Kern had 17 points and 19 rebounds. That was our goal – keep them off the boards because of how hard they crash. And we rebounded the dickens out of the ball. We did that and we got to a bunch of 50-50 balls. We tipped a bunch of balls that showed up as turnovers (18). We played Minster basketball. That's seems to be our 'MO', rebounding and defense. I'm proud of 'em."
But the ever-present play of Ivy Wolf seemed to set it all up. In big games you need to take care of the basketball. And Wolf proved beyond a shadow of a doubt that she's on her way to being one of Ohio's top point guards over the next three years. She shot 40% from the floor, had 4 rebounds, and had 4 turnovers…but only because of the constant double-teams and buffeting she received from a desperate Waterford defense.
Ali Kern led Waterford with 13 points, their only player to reach double figures. Megan Ball and Hayley Duff each added 6, Rachael Adams had 5, and Hannah Duff had 1.
Of course, Thursday's win was the penultimate challenge in the mind of Wiss and his team. They'll move on to Saturday's championship round to face Ottoville, a team they beat in January, 55-54, for the Division IV title. Ottoville only lost two games all year…and one of them was that game with Minster.
"When we left after that January game there were people in Ottoville who said they'd like to meet that team (Minster) again," said Wiss. "And there's only one place they can do that. We have nothing but respect for what (coach) Dave Kleman. They do a great job and they have a nice team. Kasey Knippen and Emily Landin are great players. They're very worthy of being here, believe me."

But if defense really does win championships, the Ottoville staff got an eyeful as they sat and watched from the stands. Minster's 'MO' (modus operandi) – defense and rebounding – was on full display. Against the likes of Ali Kern and Megan Ball…suffocating.
Minster will seek its third state title all-time, while Ottoville will be playing for its first.
And for added incentive…Minster will be seeking its third state title in the past twelve months: baseball (last June), and football (in December). A third time?
Charming!
(Ed. Note:  Upon further review, Minster will actually be seeking its fourth team title in the past twelve months, the girls cross country team having won the Division III title last November, their 10th in the history of the school.)