Pitching, timely hitting, and a combination of all the parts bring the Buckeyes a sweep at UNC-Wilmington, and home with an 11-6 mark.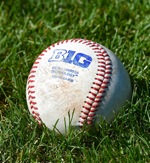 Wilmington, N.C.—Ohio State made a clean sweep of matters here Wednesday, defeating UNC-Wilmington, 8-1 and taking a second straight game from the Seahawks, a third straight win on this road trip.
The Buckeyes came out punching and taking advantage of every opening the Seahawks provided.
"The growth and maturity of this team is showing," Buckeyes coach Greg Beals said. "We're handling situations and getting hits when we need to."
They are proving themselves to be an opportunistic bunch that can also add some sting along the way.
Opportunistic?
Of Ohio State's eight runs, five were the result of a free base: three who scored reached on a walk, one via an error and one as the result of a hit batsman.
Of course, there was a rip in the Bucks' first that sent a message.
"Canzone. He set the tone and tempo today," Beals said. "Leading off the game. Two strikes. He pokes a ball down the third base line for a double…It says, 'We're here to play again today.' It says, 'The Buckeyes are here.'"
For a second straight game, Ohio State was out-hit. The Seahawks had eight hits, while the Buckeyes had six, but they were pieced together nicely and added up to a 3-run first, a 2-run second and a 2-run fifth.
Not coincidentally, Jake Vance, making his first start of the season, had a nice little hold on the Seahawks. The sophomore right-hander worked four innings allowing one run, and that run should not have scored.
"Essentially, our pitchers threw a shutout," Beals said with a laugh. "We pitched a shutout, but we didn't get a shutout."
Vance gave up a single to start the fourth—the first by UNCW since the first inning—but he proceeded to retire the next two hitters.
Cole Weiss followed and lifted a high fly ball to left-center. Winds were steady at 15 mph with gusts reaching 20-mph running hard and out to left field.
Center fielder Malik Jones, who had made two diving catches, and Tyler Cowles in left appeared to have it in their sights and under control, but something went wrong and the ball fell squarely between the two. Mason Berne scored all the way from first and Vance was charged with an earned run.
"No excuses," Beals said. "There was a communication issue. One thought he heard something from the other…The ball falls. I would like my center fielder to take charge in that situation and just make the catch. But, honestly, the wind was blowing so hard at times I'm sure it was hard to hear and I can imagine that it contributed to the communication problem…At times the Flag had an upward tilt."
Vance was not fazed by the misplay. Of course, he was working with a cushion that provided some ease and it showed. He got out of the inning on a routine fly ball in the infield.
Ohio State was up 6-1 at that point and those who followed Vance—Andrew Magno, Yianni Pavlopoulos, Kyle Michalik, Thomas Waning and Seth Kinker—kept a tight hold on UNCW.
Only Pavlopoulos was threatened—bases were loaded with one out—but the senior pitched out of the jam, striking out Kep Brown and closing the inning on a routine fly ball to left.
"I was pleased with all the guys out of the pen," Beals said. "Yianni was not sharp, but his maturity and his comfort in competition allowed him, helped him, to get out of the inning."
Beals has seen his team grow in this recent stretch. For a third straight game, the Buckeyes have shown the ability to turn opportunity into offense.
"We're close," Canzone said, at Coastal Carolina. "We're beginning to put the pieces together on offense…That's what it's about. Getting that hit when you need it, creating opportunity and making the most of it. We are getting there."
"It's starting to come together," Conner Pohl said following Tuesday's 8-3 win over UNCW. "When we do, when we start stringing together a hit there and a walk here and a ground ball to the right side—doing all that consistently—that's what leads to crooked numbers on the scoreboard.
"We're getting there," he continued. "We know our roles and we know what it takes to get the job done. The thing is we're still learning and growing."
That assertion showed throughout Wednesday's game.
Canzone, who was 3-for-5 with a home run and two RBI, started things in the first with the double. Noah West followed with a single and Brady Cherry's walk loaded the bases.
Noah McGowan hit a sacrifice fly to right to score the first run of the game. Pohl's single made it 2-0 and then Beals pushed the envelope. With runners at first and third, he called for a double steal.
It caught the Seahawks napping and Cherry scored ahead of the throw home.
Two more scored in the second. Dillon Dingler reached on an infield error—one of four by the Seahawks—and Jones moved him to second with a sac bunt.
Canzone followed with his third home run of the season, a shot that got up in the wind like a Jordan Spieth eight-iron and took a nice ride out of the park.
The fifth was yet another example of Ohio State taking advantage of mistakes. With one down, Cowles was hit by a pitch. He took second on a wild pitch. Nate Roman's right side ground out moved Cowles to third and he scored on Jones' single up the middle. It was textbook baseball. They earned another run on an error and it was 8-1 Ohio State.
After what some would consider Phase One of the season—17 games on the road and an 11-6 record—the Bucks head home for their season opener at Bill Davis Stadium, a weekend set against Cal State Northridge.
Some would also say an 11-6 mark is worth notice. It may be, but Beals isn't buying.
"We left some games behind," he said. "We should have beaten Oregon State in the first game. We let it get away. We should have won both games against Coastal Carolina (they split a pair last weekend.) We should be going home 13-4.
"That said, I've seen growth. But I am not satisfied or content by any means…We can play better defense in the infield. We can have better at-bats up and down the line-up.
"But here's what I'm excited about," Beals continued. "We're not all the way there yet. We can play a lot better. There is better baseball ahead for this team."
NOTES: The Buckeyes home opener is scheduled for 5:05 p.m. Friday. Saturday's game is a 3:05 start and Sunday's finale is at 1:05…The forecast for Columbus – COLD!