Fort Loramie pulled off one of sport's toughest long shots…they beat Russia for the third time in three months in Tuesday's regional semi-final, and now meets Marion Local for a trip to the Columbus and the Final Four.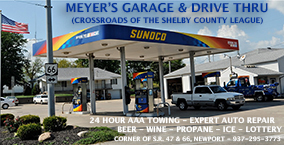 Kettering – Here's how odd, or ironic, it is when Fort Loramie and Russia meet in basketball…or even backgammon, for that matter.
The two communities are ten miles apart, populated by a lot of the same families, same names…cousins, aunts and uncles.  Outside of high school sporting events, everything's fine.  They get along.  Russia cheerleaders date Loramie basketball players, it turns out.
But when it is basketball, as that turns out, it gets very, very serious.  And nothing is more serious than one besting the other when a lot is on the line.
For instance, the two schools split the Shelby County League title this year…and even split it with Anna – the oddest of three-ways.  The ultimate 'kissing your sister' if you know your Shelby County basketball.
And, Loramie won both of the regular season meetings between the two this year, one in January and one in February.  Very serious, if you're a 'Russian'.
And then…they met for the third time on Tuesday night with as much as you can have on the line.  One, a chance for Russia to get off the 'schneid', simply for pride.  And two, it was the regional semi-final game, and the winner would meet Marion Local on Friday night for a shot at next week's state Final Four in Columbus.  Marion had punched its ticket earlier in the evening with a convincing 55-33 win over Springfield Catholic Central to move on.
They say it's one of the toughest things you can do in sports – beat a team for a third time in a season – and perhaps its an omen that Loramie (25-2) did just that Tuesday night at Trent Arena, besting Russia (16-9) for the third time in 2017-18, 48-45.
It was passionate basketball, if you can understand it in those terms.
There was tradition, even a little nostaligia – lots of old names and faces turned out to see such a significant game.  Dan Hegemier, who coached Loramie to a pair of state championships a quarter century ago, was there.
And, it was physical…as was to be expected when you're trying not to get beat for a third time.  Russia, not as talented as in previous years, or as big as Loramie…by its own admission…left it all on the court.  At one point Russia's Mason Dapore ran headlong into Loramie's Evan Berning going for a loose ball and both went sprawling, and stayed there, prostrate on the floor.
It had been a problem throughout the season for the Raiders.  They didn't make shots early in the game, and dug themselves a deficit – trailing 12-6 at the end of the first quarter, and 20-14 at the half.
"It was a great battle, everything you could have asked for between two Shelby County League teams," said Loramie coach Corey Britton.  "Russia never quit playing, we never quit playing…they hit big shots, and we hit big shots."
But not for a while, until Loramie came out in the second half and got into a better rhythm offensively.  They extended their halftime lead to 34-25 at the end of the third quarter, as senior Dillon Braun picked up where he left off with his ten points in the first half.  He had help.
Center Tyler Siegel, quiet in the first half, came to life and scored 10 of his 12 points for the game in the second half.
But Russia, like so many times prior this year, suddenly found a way of their own.  Jordan York scored 11 of his 15 points in the final 16 minutes.  Jack Dapore hit a pair of huge three-pointers to erode the Loramie lead.  Daniel Kearns quietly scored 10 of his 13 points for the game in the final minutes.  And all the time Russia's defense was closing the noose, pressuring Loramie into that most familiar of feelings that come with Shelby County League basketball.  Games are never over…until they are, in fact, over!
They cut the lead to five points – twice.  And when Dapore hit the second of his fourth quarter three-pointers with under a minute to play, they actually cut the lead to two.  Loramie went to the foul line with under ten seconds to go and hit one of two to extend the margin to three, but it was still a one-possession game…and it was Russia's possession!
Corey Britton called a timeout, of course, to set his defense.  And whatever play Russia's Spencer Cordonnier mapped out never got legs, as Loramie hurried the Raiders into taking a wild three-point shot at the buzzer that was never close.  48-45…the final!
Loramie, as they had all year, shared the wealth in winning.  Braun, one of the great clutch players in the last twenty five years of Shelby County basketball, led all scorers with 17 points.  Siegel, with his ten in the second half, finished with 12.  Sophomore Nick Brandewie had 10.  Evan Berning had 5, and Eli Rosengarten, off the bench, had 4.
Russia, as it had all year…simply started too late, in Cordonnier's words.  But still, the Raiders found the balance in the second half to almost pull it off.  Like Loramie, only five players scored, led by York's team-high 15 points.  Kearns added 13, Jack Dapore had 10, Mason Dapore had 5, and Evan Monnier had 2.
"You just can't dig that big a hole and expect to win in a game like this,"  said Spencer Cordonnier.  "It was pretty much the same thing most of the year.   You gotta' make shots, and in the first half we didn't make shots.  We had some problems being organized, and games like this that can't happen.  It just came down to making shots early.
"Still,"  he added.  "We played hard and battled our way back, like Russia teams always do.  I told them in the locker room…I was proud to be out here with them tonight, and proud to be their coach."
In a game where percentages were secondary to the outcome, Corey Britton drew a sigh of relief when it was over…and found his dad in the stands to share a celebratory hug.  He had just gotten one step further than he had last year, and at this stage of the tournament hugs are hard to come by.
"It was a really good basketball game and I'm happy we survived;  and that's all that matters,"  he said.  "Doesn't matter how it's done…we're playing again on Friday night."
Dillon Braun, so responsible for the eventual legacy of this team, said the same…in his own words.
"It's exciting,"  he shared.  "Last year we got here but the outcome wasn't what we wanted.  So to come back tonight and win was good.  We knew they'd make a run.  Coach said that if they did we had to stop it as soon as we could, and just get our momentum back.  We did that a little late tonight, but we still came out with a 'W'."
In the meantime, they have a couple of days to prepare for Marion Local, a team they beat handily a month ago – a team they actually shut out in the third quarter of their 47-35 win in February.  But no one in Division IV, anywhere in Ohio, is playing better than Marion is presently.  Which in tournament terms simply means…if anything is tougher than beating a team three times in a season, it's beating a team that good twice when so much more is on the line!
*********************
And in the evening's first game…Marion (22-4) left no doubt that they're playing as well as anyone in Division IV, including Loramie, by pasting a determined Springfield Catholic Central (22-4), 55-33.
SCC fell behind early, 17-5, at the end of the first quarter, before battling back to trail by seven at the break, 23-16.
But Marion was simply too big, too strong, and too deep for the Irish to keep pace with in the second half – falling behind 37-25 at the end of three, and 55-33 by game's end.
Marion's Nate Bruns, as has been his habit lately, came out firing on all cylinders, offensively, hitting key three pointers in the first half that actually steadied and made the Flyers play with a level of comfort uncommon in the regional round of the tournament.  In the end, they made it look like just another day at the office.
"I don't know about that,"  said coach Kurt Goettemoeller.  "But we had a nice second half, I'll say that.  We got out to that nice first quarter lead and then they did a nice job of coming back because they've got some players who can really put the ball in the basket.  And the way we started, when we shoot the ball like that, it makes us a tough team to defend, because we can score inside and out.  I want kids who are confident on the floor, and we played that way tonight because of our start."

Bruns led all scorers with 20 points, while Tyler Mescher added 12 and Justin Albers finished with 10 points.  Nick Tangeman had 4 points, Matt Rethman hit a big three-pointer for his 3 points in the game, and Jack Buening and Collin Everman had 2 points each.
For SCC, Trey Dunn led them in scoring with 12 points.  But the impression left by Marion on more than one Irish player was…they're big, they're good, and we don't see teams like that in the Ohio Heritage Conference.  SCC was making its first regional appearance in almost a quarter century, last appearing in 1997!
"Marion is just too big, too tough, and they're so well-coached," said Irish coach Cody Sarenson.  "They're a very good basketball team."
And unlike Catholic Central, Marion Local is very familiar of late with being in the regional round of the tournament, making their fourth appearance this week in the last five years.
"You can't worry about what's happened in the past,"  says Goettemoeller, acknowledging that his program is 0-3 in their previous appearances.
"It's just one game and you have to forget about what's at stake.  You just have to come out and compete like crazy, no matter who you play.  Forget about the past, it's one game Friday night at 7 o'clock.  You play as hard as you can and see what happens."
And if there are such things as omens in sports – if you do believe that third times are supposed to be charmed,  you can't prove it by Spencer Cordonnier after Tuesday.
Nor, is Kurt Goettemoeller buying it, either.  He's already been there, and feels fortunate just to be back Friday…for one more try.