Something with a different fell, Bucks bullpen leads the way in a "confident" outing over North Carolina-Wilmington.  OSU now 10-6 for today's road trip finale.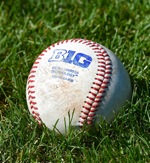 Wilmington, N.C.—Normally, it's been the other way around. Ohio State creates an opening—an error, a wild pitch, a lead off walk, something of that nature—and the opponent takes advantage of the slip and turns it into runs.
Today, here at Brooks Stadium it was a different story. This time Ohio State seized every opportunity offered them, created some of their own and walked away with a nice and easy 8-3 win over UNC-Wilmington (11-5).
"It was, well, comfortable," said Buckeye third baseman Conner Pohl, who was 2-for-5 with three RBI. "We just felt like we were in control of the game from the start."
They were, and for several reasons. Take your pick. They had 11 hits. The heart of the order—Brady Cherry, Noah McGowan, Pohl and Tyler Cowles—accounted for seven hits and five RBI.
"It's not one guy. It's up and down the line-up, guys just putting together good at-bats and wearing (opposing pitchers) down," Coach Greg Beals said.
DH Nate Roman, hitting in the seven-hole, is indicative of OSU's offensive distribution. He tripled down the right field line to start the two-run eighth.
"He (Romans) seems to be taking over the DH position," Beals said. "He had a big hit against a lefty Sunday against Coastal (Carolina) and he came up with another one today."
There's a confidence regarding offense among these Buckeyes, now 10-6, a confidence in their ability to hit and score.
"We feel," Pohl said, "like we will hit and we will score. If it's not one guy, it's the next. We never feel like we are out of a game."

The Buckeyes scored three runs in the first inning and never looked back. But while it was the offense that took center stage, Beals was most pleased with the pitching.
"I was really happy with the way we pitched," Beals said. "They did exactly what we needed them to do and wanted them to do.
"Our bullpen guys went as scripted. They met our expectations and made it easier for us…"
It was all bullpen, most of the way. What they did was gobble up innings, allowing starters to stay on schedule. Most important, they pitched very effectively.
Griffan Smith started and picked up the win. He worked 3.2 innings allowing two runs (one earned) on six hits and a walk.
Next came Austin Woodby. Woodby gave the Bucks 2.1 innings of scoreless ball. He didn't walk a batter and struck out three.
Kyle Michalik, Connor Curlis—yes, Connor Curlis—and Curtiss Irving each worked one inning. Irving gave up a meaningless run in the ninth, but no one rattled and UNCW never made a real run at the Bucks after the first.
"With the dynamic we have in our pitching staff, we were able to go with our bullpen guys piggy-backing off one another and getting it done," Beals said. "That kind of dynamic is rare and it's pretty cool."
With an 8-2 lead, Beals snuck Curlis in the game for his "bullpen", his prep work for his scheduled start Friday in the home opener against Cal State Northridge.
That's the kind of luxury this game provided. Instead of doing his work "on the side", Curlis went up against live hitting.
Ohio State took charge with one out in the first when Kobie Foppe reached on an error. Brady Cherry drew a walk and Noah McGowan, who continues to roll, singled to left scoring Foppe and took second on the throw.
With runners at second and third, Pohl hit a right-side grounder and it was 2-0 Buckeyes. Cowles followed with a single to center and OSU had a nice three-run cushion to start things.
Smith had some troubles in the first. He gave up four hits and a run, but got out the jam on a 6-4-3 DP.
The Buckeyes got another run in the third on consecutive singles by Cherry, McGowan and Pohl. Unfortunately, they left runners at second and third with less than two out. Romans struck out swinging and Dillon Dingler, who drew a start in right, went down on a routine fly ball.
"We tried Dingler in right," Beals said. "We really think he is going to be something special but we have to get him off the schneid."
UNCW picked up an unearned run in the third. Cherry didn't handle a ball that was cued off the end of the bat, but the Buckeyes kept after it.
Romans reached second on center fielder Noah Bridges' error, and advanced to third on a wild pitch. Jacob Barnwell's single made it 5-2 Ohio State.
The scenario was similar in the seventh. Cherry led off the inning and reached second on a throwing error by third baseman Cole Weiss. Pohl's single to right-center made it 6-2.
Romans opened the eighth with a triple down the right field line and scored on a wild pitch. The final run of the game was a comedy of errors.
Malik Jones pinch-hit for Dingler. He was at the plate when Romans came home the wild pitch. Jones promptly drew a walk. Barnwell moved him to second with a sac bunt. Dom Canzone's right-side ground out put Jones at third. He scored on another wild pitch.
When it was said and done, UNCW had permitted five unearned runs. They allowed 11 hits, only one for extra bases. They committed two errors compounded by three walks and four wild pitches.
On the other side of the ball, Ohio State—so often haunted by poor fielding—committed two errors, but the damage was limited.
"For the most part," Beals said, "after the first three innings we were pretty clean."
There was something about this game, as if—maybe after 16 games—OSU was beginning to find itself.
"This did feel different," Pohl said. "It felt different from the start. Everyone was at ease. We were confident. We were having fun, just playing ball…It was a good feeling."
NOTES: The Bucks go up against UNCW again Wednesday…Beals said he will go with Yianni Pavlopoulos and Ryan Feltner to start things…Pohl is acutely aware of the Buckeyes problems in the field. "Everyone says defense wins games but a lot of times our offense has made up for our defense," he said. "But I believe our defense is beginning to come around. When it does, it's just gonna be lights out."