Two MAC girls teams make the Final Four…and a MAC boys team, along with two long-time rivals from the Shelby County League, grace the championship slate for the final week of TWIB (This Week In Basketball).
(Ed. Note:  Our final installment of This Week In Basketball is brought to you by new Press Pros sponsor, Buschur Home Improvements, in Dayton.  Call Buschur for sales and installation of sun rooms, awnings, and much, much more.  Buschur's will be the presenting sponsor of TWIB going forward, in 2018-19.)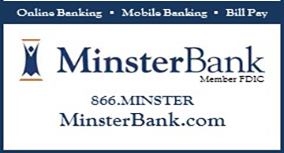 Depending on where you live, and where your loyalties lie, there cannot be a better weekend for area basketball interest.
Two girls teams, Versailles in Division III, and Minster in Division IV, will compete Thursday in the state Final Four, with the chance to bring home half of the state's championship honor in basketball.
And on the boys side…Marion Local (from the MAC) meets Springfield Catholic Central on Tuesday in the regional semi-finals…while a pair of long-time rivals from the Shelby County League, Russia and Fort Loramie, will meet on the other side of the bracket Tuesday at Kettering's Trent Arena.  Now in Shelby County, where basketball has long been king, I guarantee you there cannot be a better scenario.
In Division III Versailles (27-1) will be seeking its third girls title in a decade, when the Tigers take on Elyria Catholic (22-5) in Thursday's semi-final round.  Tip-off is scheduled (according to the OHSAA site) for 6 pm.
Versailles is ranked #1 in the state in Division III, while Elyria Catholic fell outside the top ten in the final February 12th poll.
Versailles previously won the Division III crown in 2008 and 2015, and finished runner-up last year to Gilmour Academy, 56-54.
Elyria has never won a state championship in girls basketball, and is making its second Final Four appearance, having previously come to Columbus for the 2011 semi-final round.  Elyria Catholic last that year to the eventual state runner-up, Oak Hill.
In Division IV Minster (24-3) punched its ticket with a regional final win last weekend over neighboring Fort Loramie, and makes its first appearance on the state tournament stage since 2010, when they lost to the eventual state runner-up, Berlin Hiland, 49-48.  Previous to 2010 the Wildcats won the Division IV title in 2008 (beating Mansfield St. Peter, 44-33), and in 1998 when the defeated Hopewell-Loudon, 68-62.  Both of those titles came under coach Nann Stechschulte.
Now coached by Mike Wiss, the 'Cats finished the season ranked #4 in the state, and will face another familiar name, Waterford in Thursday's 3 pm semi-final.  Waterford enters the tournament with a 26-1 mark and ranked #1 in the state.
Waterford is making its fourth trip to the Final Four, and previously won its only title in 2016 over Fostoria-Wendelin, 29-27.
And while they're just outside the coverage market of Press Pros, Bellbrook (20-8) will meet Gilmour Academy (24-3) in the Division II semi-final round on Friday at 1 pm.
In boys basketball…the talk in the Shelby County League is the highly anticipated match Division IV regional semi-final (they'll meet for the third time this season) between Fort Loramie and Russia, Tuesday night at 7:30 at Kettering's Trent Arena.
Loramie (24-2) won both league games this year against Russia (16-8) (47-32 on Jan. 5…and 52-35 on Feb. 16), but in the long history of the two programs records haven't meant that much with so much on the line.  It won't this time, either.  The two teams combined with Anna to split the SCAL crown three ways this year;  and Russia is a team that in the past, on a given night, always seems to find a way to bring down a favored opponent, as Loramie will be on Tuesday.
In Tuesday's other Division IV semi-final, Marion Local (21-4 and outright MAC champs) will take on Springfield Catholic Central at 5:30.  Marion will be favored, as the Flyers seek to return to the state finals next week for the first time since 2004, when the were runners-up to state champion, Holgate.  Previously the Flyers won titles in 2003 and 1975.
Springfield Catholic will seek to gain its sixth overall trip to Columbus, and won its only state title twenty two years ago, in 1996.  They've finished runner-up twice.
Great games this week – and the best you could ask for.  Hope to see you there, or here if you can't make it…on Press Pros.
Note:  This Week In Basketball is generously supported by the Bushchur Home Improvement Company.  Call Buschur's for all your home improvement needs…located at5784 Poe Avenue, in Dayton!  Call Buschur's today…329-9006.