They split a tough weekend series with High Point University and 2016 NCAA champs Coastal Carolina.  And after 15 games…a glimpse of what the next 41 games holds for the Ohio State Buckeyes in 2018.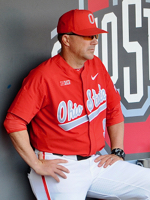 Fresh back from a weekend trip to Myrtle Beach and the Coastal Carolina 'Environmental' Chanticleer Baseball Classic.  It would have been nice had the host Chanticleers had provided some classic Myrtle Beach weather.  Br-r-r-r-r-r-r-r!
Nonetheless, the Ohio State Buckeyes entered the 'classic' with a 7-4 record, and exited with a 9-6 record, splitting a pair of games each with High Point (High Point, North Carolina) and #21-ranked Coastal Carolina, the 2016 NCAA champs.  And their win over Coastal was their second of the year against a nationally-ranked opponent (along with Southern Miss).
It all came down as many of their first 15 games have played out so far…offense ruled as OSU pitching gave up (in order of finish) 6 runs (8-6 win over High Point), 4 runs (8-4 loss to High Point), 8 runs (10-8 loss to Coastal), and 5 runs in a 7-5 Buckeyes win Sunday in the 'classic' finale.
The offensive stars:
Left fielder Tyler Cowles extended his team-high hit streak to career-high 11 games. He's reached base in all 15 games in 2018 (career-high).
Right fielder Noah McGowan clubbed two more homers, and now has a team-high five home runs, 19 runs scored, 25 hits, six doubles and 24 RBI through 15 games.  His two-run blast in the top of the ninth Sunday accounted for two huge insurance runs in the Bucks' 7-5 win.

Nate Romans had a pair of home runs in Saturday's 10-8 loss to Coastal, then came back with a key double in the eighth inning of Sunday's 7-5 win over Coastal.  Romans is a key utility player, and junior, out of Walsh Jesuit High School.
And six Buckeyes now have a batting average of .300 or better after 15 games:  Kobie Foppe (.300), Dominic Canzone (.313), Romans (.333), Noah West (.357 in limited at bats), Tyler Cowles (.404), and McGowan (.410 avg. with a slugging % of .787).
I wrote some weeks ago, as the Buckeyes opened their 2018 schedule by winning three of four games in the Port Charlotte Snowbird Classic, that if they could come home this weekend for their Bill Davis opener with nothing worse than a 11-6 record they'd be in pretty good shape, confidence-wise, to make a run at the Big Ten when they open in two weeks against Nebraska, also at Bill Davis Stadium.
They've got a shot at 11-6…with a pair of mid-week games this week, still in Carolina, against UNC-Wilmington on Tuesday and Wednesday.
I also wrote this.  That the offense, without having seen the first at bat, would score runs this year, and score them in bunches.  So far, that's been true.  They've put up several crooked numbers in the first 135 innings.  The issue would be…can the pitching (and defense) keep opposing teams under 5 runs per game.  And that has been an issue.
Pitching-wise, they're close, having a team ERA of 4.70 through their first 15 games, and thus, a 9-6 winning record.  To further bear out the offense, opposing pitching has a 6.87 ERA against the Buckeyes.  And if you go back and do the averages the winning margin in most of their games is within that margin between 4.70 and 6.87…about two runs a game.
Junior Conner Curlis, among the starters, has been the most consistent, compiling a 3-0 mark in his four starts, with a 3.68 ERA and 22 strikeouts.  The opposition is hitting .238 against the Findlay lefthander.
But they're looking for better numbers from weekend candidates Ryan Feltner, Adam Niemeyer, and Yianni Pavlopoulos.
Feltner, who throws flames in the mid-90s mph range, has a 1-0 record in four starts and a 7.60 ERA.  However, his four starts have come against four of the toughest opponents they've seen – Canisius, Oregon State, Southern Mississippi, and Coastal Carolina.  In 20.2 innings pitched Feltner has 21 strikeouts and 10 walks, and those four teams have hit .341 against him.  "He's competed every time out,"  says Greg Beals.
Niemeyer, a senior co-captain, is 0-2 in four starts with a 6.75 ERA in 17.1 innings, but pitched much better in Sunday's win over five-plus innings against Coastal.  He's struck out 16, walked 9, and the opposition is hitting .347 against him.
Pavlopoulos, who's moved back and forth for two years between starting and the bullpen, is 1-2 in three starts, with a 3.57 ERA, having struck out 10 and walked 9 in 17.2 innings.  He, too, had a good start in Saturday's loss to High Point, and opposing batters have hit .282 against the Chicago senior.
So, after 15 games the fact is at least magnified, if not borne out, that if the 'starting' pitching can hold team to under five runs per game…the offense is more often than not (a .600 winning pct. at this point) going to be sufficient.  And 'starting' pitching is highlighted because the bullpen has been consistent, if not impressive in most of their nine wins.  Seth Kinker, Curtiss Irving, and Andrew Magno are all under 3.00 ERAs, and co-captain Kyle Michalik is at 4.82 mostly because it's early, and it's going to take some time for his percentage to come down after five earned runs in 9.1 innings.
So, Tuesday's and Wednesday's games with UNC-Wilmington (11-4 overall, and 8-2 at home) will be another notable challenge to go with Oregon State, Southern Miss, and Coastal Carolina.  But the Buckeyes have backed down from no one so far.
"The thing I like the most is the fight in this team,"  said Greg Beals after Sunday's win over Coastal Carolina.  "It was very evident with six runs in the last two innings (Sunday) to bust open a ball game for us. Big win for us and I liked how we went about it. We got a lot of guys got in the ball game. We used a lot of pieces today, on the mound and on the offensive side. We showed the confidence we have in them and gave them shots to put them in an opportunities to help this ball club win."
And that, in a word, is another key – or glimpse – of what's in store for the 2018 Buckeyes.  How many more Nate Romans can they find among the Noah Wests, Dillon Dinglers, Ridge Winands, and Andrew Fishels.  Because there's always a bit of "committee" in every good team…and we haven't had to talk about injuries yet, or the inevitable issues that so often stand between teams of promise and a winning record.
But a split with High Point and Coastal is far better than just kissing your sister.  And it could have been better, and almost was, given that Coastal won Saturday's game in the bottom of the ninth on a walk-off home run.  All the more reason why Tuesday and Wednesday are so important.
Win 'em both (and it won't be easy) and they come back for the home opener…exactly 11-6!