The Minster Wildcats had been disappointed the last two seasons when they lost in the Regional. Saturday night, the Wildcats put that misery behind them and claimed their first state tournament berth since 2010.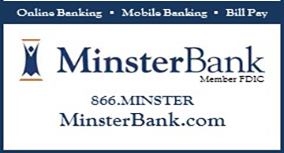 Vandalia—There were no open shots. Every pass was contested. Most dribbles were challenged.
The Fort Loramie Lady Redskins and Minster Lady Wildcats renewed their backyard rivalry Saturday night, though playing for much higher stakes than when they met in December.
Both teams had plenty of nervous moments early, and when the first half ended, the Redskins trailed the state's number 4-ranked team by just 2 despite 16 first half turnovers.
The second half was a completely different story.
Minster roared out of the locker room on a 13-0 run, forcing eight turnovers and allowing just one shot in the first five minutes of the third quarter. By the time the Redskins got their feet back on the ground it was too late. Minster claimed their first regional title since 2010 with a 44-28 win.
"We told the girls after Thursday night's win," said Minster coach Mike Wiss. "Two years ago we lost to Loramie here in the semifinals. Last year, we lost to Jackson Center in the finals. So we have been knocking at the door. Our job tonight was to kick the door down, because on the other side of the door was Columbus.

"We knew what kind of game it was going to be. It was going to be physical and in your face. It was going to be up-tempo because it was Minster-Loramie. That's why we had the crowd that we had. What a great division four setting."
"When you are playing the number 4 team in the state, and only down 2 at halftime, I thought our girls battled hard," said Loramie coach Carla Siegel. "It wasn't a clean first half by any means, but in the second half, Minster showed what they are made of, and we just didn't respond very well."
Minster led 8-2 early, but the game quickly settled into a defensive struggle at both ends of the floor. Five minutes into the second period, the only point that had been scored was a free throw by Loramie's Kennedi Gephart.
Taylor Raterman drilled a three to get Loramie even at 16, but Minster freshman Iny Wolf made a pair of free throws before the break to give Minster an 18-16 halftime lead.
"Our halftime talk was simple," explained Wiss. "Handle Loramie's pressure, control the glass, and make shots. We looked at the shot chart and only four shots in the first half were from further than ten feet. We weren't making our shots. We got that run to start the half, and in a game like this, that's huge."
The Redskins had possession to start the second half and turned it over. They had a turnover on their next possession as well. And the next, and the next, and the next. Six straight turnovers to open the half, and Minster took full advantage.
Finally getting the ball inside to Courtney Prenger and Demaris Wolf, the Wildcats ran of ten straight points in the first three minutes of the half. Both juniors, Prenger and Wolf each scored 6 points in the decisive quarter, which ended 33-22.
"We always say that we have to take charge the first 3-4 minutes of the third quarter," Prenger explained. "We got the ball inside, we played our game offensively, we were much more patient than we were in the first half, and we got after them defensively. We take a lot of pride in that."
The Redskins had one last chance to cut the deficit to single digits, but Kenzie Hoelscher missed a baseline drive before the buzzer, and the Wildcats were never threatened again.
Prenger, a 6-2 junior, talked about finally getting past the regional.
"The past two years we have played on this court and lost, two years ago to Loramie and last year to Jackson Center. To finally win and get past Vandalia Butler's gym and get a chance to play at the Schottenstein Center is really special, especially for us Buckeye fans."
Loramie didn't shoot badly but didn't get enough shots. The Redskins were 11 of 24 for 46% from the floor, 1 of 4 from the arc, and only 5 of 12 from the line. Fort Loramie's downfall was a whopping 33 turnovers, 16 in the first half, 17 more in the second.
Minster didn't exactly singe the nets, going 15 of 40 from the floor for 38%, 2 of 8 from the arc, and just 11 of 22 from the line for 50%. That figure will have o get better if the Wildcats are to get past top-ranked Waterford Thursday afternoon in the state semifinals at the Schottenstein Center.
Prenger and Wolf each finished with 12 points to lead the Wildcats, while Ivy Wolf added 8.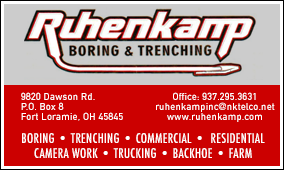 Fort Loramie, which finished 22-6 with 11 freshmen and sophomores on their tournament roster, got 10 points from Marissa Meiring, one of those sophomores.
"Our guards are unbelievably quick, and they get us into our transition game," Prenger praised. "It's fun playing defense. We run a lot in practice to be in shape to run up and down the court during games. Our defense leads to points, and when we are getting transition baskets, we are hard to beat."
"I think we had a lot of nerves show tonight," said Siegel. "It's a big stage. We tried to keep things light the last couple of nights and told the girls not to make the game bigger than it is. We had two freshmen and three or four sophomores playing. Experience is great, and we just don't have a lot of tournament experience with this team."
Wiss was asked if the win was sweeter because it came against the Redskins.
"It's sweeter because you know how hard you have to work against them to get it. Our girls know, our coaches know, our fans know, and Loramie knows it too. Whatever you get when we play, you earn. That's why the game is so intense. There were turnovers tonight because the girls simply got tired. There was so much pressure and intensity, it wears you down.
"A lot of respect for Carla Siegel and what Loramie is and what they do. Hats off to them for an outstanding season. Hats off to our girls because they work their tails off too. It's a credit to division four basketball in our area."
The Redskins were 5-4 after losing to Versailles on December 23, but had won 17 of their last 18 games heading into the regional final.
"We worked so hard to get here," Siegel said. "I have a great coaching staff. I have girls that listen and they battle. I'm overjoyed that we played tonight. It's  wonderful accomplishment for this team. Shelby county League champions, District champions, regional runners-up. It's nothing to hang your head about. They are upset now, but in a week or so we will realize what a great season we had."
Wiss has won three state baseball titles, so he knows a little about making the trip to Columbus.
"You want things to be normal, but you want the kids to enjoy it at the same time. This doesn't happen to everyone. The first thing is we'll go to school on Monday. We are very fortunate to be who we are and where we are to get these fortunate opportunities. We don't ever want the kids to take it for granted."