Versailles gets physical with Waynesville to win fourth regional title in five seasons…and punch another ticket to Columbus for the state tournament.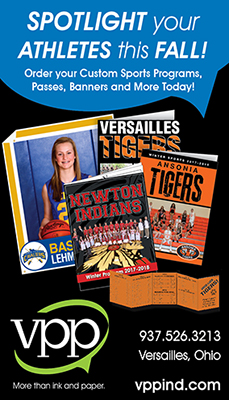 Springfield – As Waynesville High School parents, fans and players mingled in the hallway following the Spartans' elimination from the Division III regional tournament, the chatter centered around the game's physical play.
Had she been eavesdropping Versailles coach Jacki Stonebraker might have cracked a smile at the comments. Not so much as the sometimes rough-and-tumble action, but that her Tigers battled. And they battled. And they battled despite leading by double digits the final 21 minutes, 45 seconds of the 32-minute game.
Prior to Saturday's 59-32 regional championship victory over Waynesville at Springfield High School, Stonebraker said she gave her Tigers a "heart-to-heart talk" following the team's rather complacent reaction to beating Williamsburg 70-27 in the regional semifinals.
The Tigers responded by, well, playing their hearts out.
Waynesville tried but had no answer for quick 6-foot-2 senior Danielle Winner. The post player worked around and over the top of Spartans' defenders for 11 points. The play got chippy at times, including a couple of scrums for loose balls on the floor. That was nothing new for the Tigers, who play a meat-grinder schedule consisting of Midwest Athletic Conference and Shelby County Athletic League teams.
"It did (get physical)," Winner said. "But you can't control it and you have to play through everything."
Waynesville, which won the Buckeye Division of the Southwestern Buckeye League, wasn't as comfortable with the play. One player in the hallway was overheard saying Versailles players were smiling at the Spartans after fouling them.

"They had to work so hard just to end up with two free throws," Stonebraker said of the defensive effort on Waynesville. "That was kind of a testament to me that we were out there for blood. We wanted to keep going at them and keep knocking them down. Not that we wanted to hurt them. We just wanted to keep going at them."
Said Waynesville coach Tim Gabbard: "Their conference is much better than ours. All their games are physical games. Our league is more finesse. When you get to this point you have to be physical to play."
Waynesville (24-2) led twice in the game, the last time up 4-2 early in the first quarter. Versailles (27-1) used two free throws from junior Elizabeth Ording and consecutive 3-pointers from senior Kami McEldowney and sophomore Danielle Kunk to take the lead for good.
The Spartans pulled within 12-9 as Liana Webb opened the second quarter with a 3-pointer. Senior Hailey McEldowney scored and was fouled, Kunk hit another three, Winner scored inside, Hailey McEldowney dropped in a 3-pointer and Kami McEldowney added a basket. And just like that the Tigers were up 25-11 with 2:10 left before halftime.
Versailles' largest lead came at 59-28 with a minute left in the game on a pair of Kunk free throws.
Kami McEldowney led Versailles with 17 points, Kunk added 10 and Hailey McEldowney six. Junior Kelsey Custenborder and senior Mallory Marshal each scored four, senior Ellen Peters three, Ording and sophomore Caitlin McEldowney two each.
"We have 10 girls we can rotate in and out, and that's what it took," Stonebraker said. "We are so deep and we can brings kids off the bench and they can do just as much as what the kids coming to the bench are doing. I felt it worked to our favor with the foul trouble. They didn't really have as many kids available as we did today."

Waynesville junior Rachel Murray led her team with eight points, which tied her season low. Aubrey Rains scored five points (seven below her average) and Marcella Sizer four (eight below her average). As a team the Spartans entered Saturday averaging 61.5 points.
"They just play physical," Gabbard said. "They have so many people they can rotate in at the post and just beat on you the whole time. We were thin at the post and couldn't really do a lot. … Our girls were confident they could hang with them. When you get beat on that much it just wears you down in the second half."
The teams combined for 39 fouls, including a game-high 21 from a Waynesville team forced to gamble on defense late in the game. Versailles took advantage by hitting 23-of-26 free throws overall. Waynesville was 8-of-12.
So far this postseason, Versailles' biggest challenge has come from Purcell-Marian in the district final. Purcell-Marian led by 10 early in the fourth quarter before Versailles rallied for the 53-48 win.
"We really focus on our defense," Winner said. "We just practice defense every day because we know defense wins ball games."
This year's group of seniors have qualified for the state tournament three of the past four seasons. The Tigers lost in the state title game in 2017 and won the state title in 2015. This is Versailles' ninth state appearance overall. The Tigers also reached state in 2014.
It's also that success of four straight district championships and those trips to regional and state that had Stonebraker a little concerned the experience was becoming stale.
"I had a heart to heart with them the other day because I just didn't feel the excitement in the air," she said. "Are we just settling for getting to a regional? Is this ho-hum? I kind of got on them about it, especially the seniors. This is it. You have three more games (entering Saturday) if we keep winning. Once you're done, you're done. I think that proved it tonight with how much fire they played with."
Versailles plays Elyria Catholic in the D-III state semifinals 6 p.m. Thursday at Ohio State University's Jerome Schottenstein Center. The winner returns 2 p.m. Saturday for a shot at the state title.
"It's such an honor," Winner said. "You don't just get there without putting forth the effort. We always have each others backs and that's how we get places."
Columbus, here come the Versailles Tigers. Again.