The game was played with a running clock in the final 2:30 min. with Loramie holding a 30-point lead. Up next for the Redskins is a third time face-off match with fellow neighboring team… Shelby County Athletic League champion, the Russia Raider's.  A game that you won't want to miss.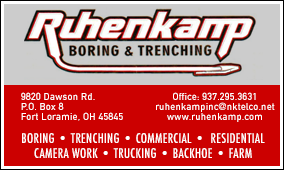 DAYTON – Moments after the Fort Loramie Redskins finished cutting down the net to celebrate their latest Division IV district title, parents tossed championship shirts at the players to wear for a team photo.
It wasn't arrogance that the Loramie faithful thought their beloved Redskins were going to win, especially against a Middletown Christian team that entered Friday night with a 6-18 record. Simply put, with another chance to play Russia – and in the regional tournament at that – there was no way these T-shirts were going be be boxed up and shipped to a Third World country like those from losing teams in the Super Bowl or World Series.
Fort Loramie (25-2) made sure of that early in the 68-33 victory at the University of Dayton Arena.
The Redskins drove to the rim almost at will in the first quarter for a 27-7 lead. They kept the pressure on in the second quarter and took an insurmountable 37-13 lead into halftime.
The game was played with a running clock for about the final 2:30 with Loramie holding a 30-point lead.

"I think anytime you can come down here and play on this stage it's a great opportunity for everybody," Fort Loramie coach Cory Britton said. "We were able to get all 15 guys in tonight. We got some youngsters some opportunities on this floor and it sets goals for years down the road."
Senior Tyler Siegel led the Redskins with an efficient 18 points, 12 rebounds, three blocks and three assists in 16 minutes of action. Senior Dillon Braun added 12 points as 11 different players scored.
Middletown Christian, which finished seventh in the eight-team Metro Buckeye Conference, rattled off two sectional victories including a 101-99 overtime win against Cincinnati College Preparatory Academy in the sectional final.
"We knew they scored over 100 points the last game they played." Siegel said. "We knew they had the ability to score. Coach told us we had to play some good defense."
Fort Loramie forced Middletown Christian into 22 turnovers. Sophomore Nick Brandewie led Loramie with five steals and junior Carter Mescher had four. The team finished with 17 steals total.
Next up for Fort Loramie is a third game with fellow Shelby County Athletic League champion Russia. The Raiders had a similar outing against Emmanuel Christian Academy, which finished sixth in the Metro Buckeye Conference. Russia won 65-33 behind 21 points from Jack Dapore.
"Russia again. Third time this year," Siegel said, grinning.
"It's exciting. It's as rival. It'll make the game that much more fun. That much more intense. … I'm sure (Shelby County) is going to be divided. There will be people rooting for Loramie and people rooting for Russia. May the best team win, I guess."
Fort Loramie and Russia play 8 p.m. Tuesday at Kettering Fairmont High School's Trent Arena. The winner returns 7 p.m. Friday for the regional final against either Marion Local or Springfield Catholic Central.
Fort Loramie won both regular season meetings against Russia 47-32 and 52-35. The Redskins have also knocked the Raiders out of the postseason the past two seasons with sectional final victories, 59-50 last season and 52-51 in 2016.
"It's going to be no holds barred," Britton said. "It's going to be physical and it's going to be rough. Whoever is able to do that will be playing again on Friday night.
"I think it's fantastic for our league. You're talking about one Shelby County League school that's going to be playing for a trip to Columbus. That says a lot about our league."

Fort Loramie played at Trent Arena back in January as part of the Flyin' To The Hoop invitational. That familiarity with the court could help Tuesday. The previous wins over Russia? Not so much.
"It's in the past," Britton said. "Nothing that happened tonight will help us on Tuesday. It's a whole new game."