Minster did what it does best – play strong defense and score enough points to win – to knock Tri-Village out of the Division IV regional tournament.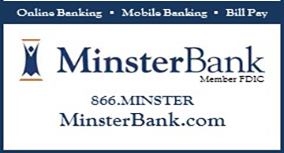 Vandalia – The Minster Wildcats' motto is 'Score, Stop, Score,' a nod to their in-your-face, up-tempo defense that often leads to instant offense.
Tri-Village girls basketball coach Brad Gray tagged the Wildcats' defense with a different moniker following their Division IV regional semifinal game Thursday night.
"It's a wow-factor defense," Gray said following Minster's 41-27 victory at Vandalia Butler High School's Student Activity Center.
In a match-up of state ranked teams, Minster's defense held a potent Tri-Village offense to 31.6 points below the Patriots' season average. At one point during the second half Minster held Tri-Village without a field goal for a span of 8 minutes, 36 seconds. Tri-Village sophomore Trisa Porter pulled her team to 33-23 with 59 seconds left in the third quarter. The Patriots didn't score again until junior Emma Printz hit a drive down the lane with 23 seconds left in the game.
"If you're sitting a few rows up in the stands watching you say they're a really good team defensively," Gray said. "You don't understand how good they are unless you're standing there on the sidelines and you're watching your kids struggle to get shots off. I know how good we are offensively. When we can't get shots off and execute things … they're an unbelievable Division IV girls basketball team. Unbelievable."
Minster plays for the D-IV regional championship against Fort Loramie 7:30 p.m. Saturday at Vandalia. Fort Loramie beat Covington 32-27 on Thursday.
Minster beat Fort Loramie 35-26 back on Dec. 5.

"(State) is the ultimate goal," Minster freshman Ivy Wolf said. "We're looking forward to Saturday and the next game. It'll be nice to play Loramie, just because they're a neighbor. A friendly rivalry is always fun."
On Thursday night, Wolf, a 5-foot-8 guard, shadowed Tri-Village sophomore Lissa Siler, a 5-7 guard and the team's leading scorer at 13.9 points per game. Wolf held Siler to a single field goal that came in the third quarter.
Tri-Village sophomore Trisa Porter, who averaged 10 points, finished with six.
"You think Ivy Wolf is not real big. When she's standing next to me – and I've only got a couple inches on her – physically the kid is put together," Gray said. "Every single one of their kids are that way. Even (5-4 freshman Janae) Hoying. She's probably their most frail player. But she's a strong, athletic kid who can move. We didn't have enough ball handlers to combat that. They were getting really gassed."
Minster (23-3) threw a wave of defenders at Tri-Village (21-6), which struggled to handle the pressure with two main ball handlers. The Wildcats can go about 10 players deep. That's key this time of the season. That depth gives Minster coach Mike Wiss a variety of options and allows him a chance to rest his starters.
"I'm not going to tell you that's anything I do," Wiss said. "That's what Minster basketball is. That started with Nan (Stechschulte) years ago. We want ball pressure everywhere. Right now it's an advantage to us. Sometimes you can't put all your subs on the floor, but when you have a little bit of a lead you get a couple of your starters out."
Both teams struggled to score early. The first points came 4:28 into the game on Wolf's basket. Tri-Village led just once and held the lead for a span of 53 seconds. Minster junior Demaris Wolf tied the game at 7-7, then senior Alli Fischer capped the first quarter with consecutive 3-pointers.
Ivy Wolf scored a pair of baskets and Danielle Barhorst hit a 3-pointer to push the lead to 20-10. The lead never fell below double digits in the second half.
"We want to pressure every pass and every passing lane," Ivy Wolf said. "We feel like if our defense is up our offense will come."
As for the Wildcats' offense, it was as balanced as it gets. Ivy Wolf led the team with eight points. Hoying added seven, Fischer six, junior Courtney Prenger and Demaris Wolf five each, Barhorst four and senior Paige Thobe and junior Jessica Falk three each.
"We have a great bench behind us. They can play with any team," Ivy Wolf said. "To be able to have the bench that we have, that's a big advantage over a lot of other teams. We're going to sub quick and we're really fortunate to have that."
While Tri-Village couldn't shake Minster's man defense, the Wildcats knocked down a few three-pointers over the Patriots' 2-3 zone. Fischer had two of the team's five 3-pointers, while Barhorst, Falk and Demaris Wolf each had one.
Gray said he should have switched from that zone to man defense sooner. But Minster's depth was again a worry.
"I was concerned whether or not we could maintain pressure on them for 32 minutes playing the amount of kids we play," Gray said. "Hindsight being 20-20, I feel like I should have given that a shot earlier than I did. It's just really tough for us to play half-court against them. We needed to create transition opportunities and we didn't do that."
Minster, ranked No. 4 in the final Associated Press state poll, advanced to the regional final for the second straight season. This is also the Wildcats third straight regional appearance.
As for Tri-Village, which finished No. 11 in the state poll, the Patriots reached the regional semis for the second straight year. Tri-
Village also fell to 0-4 against the Midwest Athletic Conference this season with losses to Versailles (62-44), St. Henry (53-39) and Fort Recovery (45-40).
Minster, meanwhile, has yet to lose to a D-IV program this season. The team's three losses have come to D-III Elyria Catholic, Versailles, and Anna.
"They're playing like nine or 10 kids that are really good. At this level you don't see that," Gray said of Minster. "That's Division I or Division II type stuff at the high school level. You see some teams trying to play that many kids but there's a tremendous drop off when they do that. Minster, there's not a real big drop off."