The Rockets were hard-pressed to match the quickness and depth of Purcell Marian.  "St. Henry was pretty quick, but nothing like that,"  said senior Wyatt Bensman.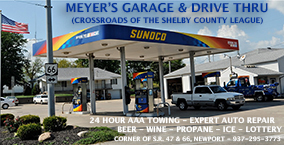 Dayton – At some point in the future the Anna Rockets will appreciate what they accomplished this boys basketball season.
At some point the sting from Tuesday's Division III district final loss will fade away. But on this night, even with medals around their necks and holding the D-III runner-up trophy, a 78-65 loss to Purcell Marian was little consolation.
"We finally made it here," Anna senior Wyatt Bensman said of the Rockets' first district final appearance since 2014. "But definitely would have liked a better outcome."
Anna's tough Shelby County League schedule, plus those physical battles with Midwest Athletic Conference teams, primed the Rockets for their district run. But few things could have prepared them for the Cavaliers' quickness.
Both coach Nate Barhorst and Bensman compared Purcell Marian to the Springfield Wildcats, a Division I program that plays in a district final Saturday night. The Rockets scrimmaged the Wildcats during the preseason.
"It was just like an AAU game out there," Bensman said. "I feel like we weren't as well prepared for that quickness and speed. Some of our guys never play that type of basketball. We play a little, but nothing that quick.  We've played quick guys but not all across the board athletic like that. St. Henry was pretty quick but nothing like that."
The Cavaliers (20-6) jumped out to a 9-3 lead and every time the Rockets (21-5) made a run the Cavs responded. That was the theme the next three quarters as well.
Anna struggled offensively in the first half shooting 4-of-16 (25 percent) from the field. Junior Griffin Doseck and senior Joel Cathcart combined to go 4-of-9. The rest of the Rockets were 0-for-7. But it wasn't for lack of effort. The Rockets drove the lane and baseline and consistently went to the free-throw line. Of the Rockets' 26 first-half points, 18 came on free throws (18-of-24).
They finished 28-of-38 (73 percent) overall.
Purcell Marian, though, shot 15-of-23 (70 percent) from the field in the first half. They led by as many as 14 points midway through the second quarter.

Anna slashed the lead to 46-40 on a Bensman 3-pointer with 3:24 left in the third quarter. But Purcell Marian quickly returned the deficit to double digits with a 7-0 run.
"Every time it seemed like we made a run and pulled within eight, all of the sudden they would push it back up to 11 or 12," Barhorst said. "Hats off to them for responding every time. They have 10 guys they can rotate in and never seemed to let up."
Bensman and Doseck both scored a team-high 15 points. Cathcart added 12. Doseck also led the Rockets with seven rebounds.
Purcell Marian's A.J. Garrett led all scorers with 23 points, including a pair of dunks in the fourth quarter. The Cavs used their quickness to dominate inside, outscoring the Rockets 40-24 in the paint.
Anna battled Purcell Marian on the boards nearly even, though, with the Cavs holding a slight 31-27 edge.
"It was very hard to guard five quick guys like they were," Barhorst said. "We thought if we really packed it in and helped off the drive it would have helped us out. It did from time to time. But they hit some key shots."
Added Bensman: "They're a great team. They finish well around the hoop. We'd be there with all of our hands up but they'd somehow put it in."
Anna entered the game with losses to Russia (twice), St. Henry and Versailles. Those four losses were by a combined eight points.
"Our schedule prepares us pretty well," Purcell Marian coach Scott Kerr said. "But you go look at who they play, not only in their league, it's not like their schedule isn't really good. That's what I tell people in Cincinnati. The people in Cincinnati don't know sometimes. People are like who's Anna? Let me tell you, Anna is pretty dang good."
Kerr singled out praise for both Bensman and Doseck, glad he doesn't have to face them again this postseason.

"(Bensman is) just a heck of a competitor. How would you like to coach a guy like that on your team?" Kerr said. "That team is a regional team. There's no doubt in my mind that's a regional team as well. It's just the way the brackets worked out we had to play now.
"Doseck, that kid can really play, too. That's just a good high school basketball game. I hate they had to lose because that's a heck of a basketball team."
And so are the Cavaliers. As he spoke about his team and the game, Kerr fought back tears describing what the past few days have been like for the Cavs. The school suffered a tragedy Friday night when 17-year old Gregory Thompson Jr., a student at the school, was shot and killed Friday night. It was the second time in three years a Purcell Marian student had been shot and killed.
"For them to be able to come back and focus … we just talk about the toughest team always wins. And I don't want to take one thing away from Anna because that is a hell of a basketball team," Kerr said. "We don't mean tough physically strong. We mean mentally tough. For these guys to go through what they did this weekend … I could not be more proud of those guys going through that."
Anna graduates Bensman, Cathcart, Austin Fogt, Mason Platfoot and Drew Brodman from this year's team. Getting to district serves as inspiration for next year's group. And just getting that district experience gives the Rockets a head start on next season.
"I have to give my kids so much credit in the world. To kept battling and never gave up, never hung their heads. They had an incredible season," Barhorst said. "That senior class, we're going to miss them. All five of those guys brought a lot to the table, not just on the court, but as leaders getting this program back to where we needed it. I felt they met the expectations, they just ran into a tough team tonight."