They proved why they're suspected as being two of the state's best in Division IV.  Marion Local and St. Henry advanced impressively in the Wapakoneta district semi-finals.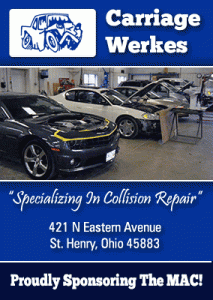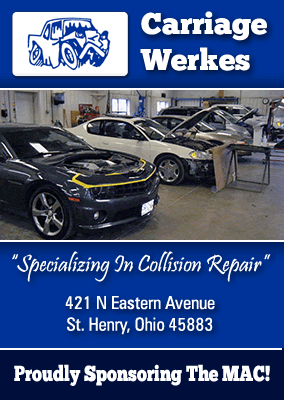 Wapakoneta – I was reminded again as I watched Marion Local play in Tuesday night's Division  IV semi-finals at Wapakoneta High School…why I don't snow ski.
The reason?  Fear of avalanches!  And that's exactly what the Flyers looked like as they swept by the New Bremen Cardinals by 30 points, 61-31.
An avalanche?  For the longest time – about 24 minutes – it resembled something capable of crushing anything in its path, so dominant was Marion Local on both ends of the floor.
The Flyers came out and jumped on New Bremen from the outset, hitting their first six shots to lead 20-3 at the end of the first quarter.  And from that point the momentum simply snowballed.
Tyler Mescher scored 18 of his game-high 20 points in the first half (he missed but one shot the entire game) as the Flyers cruised into the halftime dressing room with a 38-7 lead over the shell-shocked Cardinals.
And playing with a running clock for most of the second half (Marion had a 35-point advantage for nearly 12 of the 16 minutes) they handily added on, offensively, as their defense  smothered New Bremen's attempt to whittle away at the deficit.
"I never expected this, and you won't believe it but I was nervous coming into this game,"  said Marion coach Kurt Goettemoeller afterwards.  "I have a ton of respect for coach Dougherty and their program because they play and work really hard.  But tonight was just our night.  We got going on offense early and we really suffocated them defensively.  I thought our defense was the big story of the game."
Indeed, as the Flyers held New Bremen to just a fraction under 20% shooting from the floor…while Mescher and crew were hitting at a 68% clip for Marion.  That kind of disparity in numbers will get you beat every time.  And it goes without saying…if you could bottle that as a coach, you would.
"Oh sure,"  smiled Goettemoeller.  "If we could take 30 points over to Friday night's game we would, but I don't think you're allowed to do that.  We just played well.  It's a veteran team that's been through some tournament wars and it was good to get off to such a great start.  Give credit to the kids…they did a great job of preparing.  We knew a lot of what they were going to run and the kids did a great job of communicating on defense.  We really made it difficult for them to score."
Mescher led all scorers with 20 points, while teammate Nate Bruns added 14 to join Mescher in double figures.  In all, ten different Flyers scored….Collin Everman (6), Justin Albers (5), Jack Buening and Nick Tangeman (4 each), and Ryan Koenig, Sam Huelsman, Tyler Prenger and Matt Everman each had 2 points.
For New Bremen, Nolan Bornhorst had 6 points, while Brandon Heitkamp, Luke Vonderhaar and Levi Clem had 4 each, Caleb Alig, Bryce Bickle, Koby Paul and Grant Hoehne had 2 each, and Jacob Rindler finished with a point.
Tyler Mescher's efficiency, and tenacity to score in the paint made a big impression on New Bremen coach Adam Dougherty.
"I don't want to take anything away from Justin Ahrens (at Versailles)," said Dougherty.  "But Mescher gets my vote as the toughest to defend in the MAC.  He just knows what to do with what he's got and he does it well."
The night's second game was the antithesis of a blowout, as St. Henry and Minster played it close to the vest and left the court at halftime tied, 19-19.
But St. Henry came out in the second half and went on a 5-0 run that saw them take a lead they would build to as much as ten points…and never trailed for the rest of the game, eventually winning, 49-46.
The story, again, was St. Henry's defense.
The Redskins scrapped and clawed and held St. Henry to 38% shooting (14 of 38), and seemed to have their biggest moments when the biggest efforts were necessary.
"We had to grind in the first half until our offense got going,"  said Redskins coach Eric Rosenbeck.  "But to hold a high-scoring team like Minster to 19 points is testimony to our kids and their mental toughness."
Down ten midway through the fourth, Minster went on an 8-2 run to cut the lead to two points, aided by some clutch three-point shooting by Adam Knapke and Mike Ketner.  But on their final possession with just seconds remaining, St. Henry's defense rose to the occasion to stop Knapke from getting to the rim with what could have been the game-tying bucket.
"The guys just stayed into 'em.  They didn't get them anything clean,"  explained Rosenbeck.  "And then Ryan Luttmer went up and grabbed the ball out of the air.  He wanted the ball more than anyone else on court.  Big play that secured the victory."
But as good as the defense was, Minster had its moments – good and bad.
Ketner had a strong floor game with 11 points.  And despite a strong defensive effort by St. Henry, Isaac Schmiesing added 9 points, Cody Frericks had 8, Knapke kicked in 5, Jared Huelsman had 4, and Alex Lemkuhl finished the game with 3 points.
But the 'Cats, while losing by 3 points, hit just 14 of 24 attempts from the foul line…just 58%.
And defensively, they lost sight of St. Henry's Curtis Uhlenhake too often, allowing him get clean looks from three-point range and he hit five of them…in eight attempts.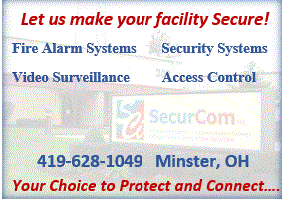 "We needed one more possession,"  said Minster coach Mike McClurg.  "But a lot of guys would have rolled over…because St. Henry's a good team.  I was just proud tonight of the way we fought back after we got down in the second half.  We played them strong in the first half, but ultimately the two biggest things were our inability to hit free throws…and Uhlenhake's three-point shooting.  You worry about Schlarman and so many of their other guys, and Uhlenhake just pops out and finds an open spot.  He's done that to us a couple of times."
And in fact, Uhlenhake led all scorer with 15 points, and all of them coming on three-point shots.
"I'm very proud of Curtis,"  added Rosenbeck.  "He's a young man that does everything right.  He's one of the vocal leaders on our team and with Schulze in the game we needed to stretch them out on defense.  And the only way you can stretch them out is make shots, and Curtis made some shots for us tonight.  Big-time props to him."
In addition, Zach Niekamp had 9 points for the Redskins, Devin Huelskamp had 7, Tyler Schlarman finished with 5, Caden Niekamp had 4, Ryan Luttmer had 4, and Ryan Bruening concluded their scoring with 2 points.
The win sets up a highly anticipated district final on Friday between Marion and St. Henry, a rematch with a much different flavor than the first game played between the two back on December 22nd.  St. Henry had one of their worst nights of the season on that occasion, losing to Marion on the road, 70-44.
"Well, Marion is an excellent basketball team for the way they defend the basketball,"  said Rosenbeck.  "So we'll have our hands full and we'll enjoy tonight for about a half hour.  Then we'll start getting ready for Marion Local."