Another baseball season, and another opportunity already for baseball fans to send their questions to Press Pros columnist and hall of famer Hal McCoy…regarding Reds baseball, baseball in general, or other matters that may have confused you for years. As always, address you questions to Sonny@staging.pressprosmagazine.com.
From Dave in Beavercreek: I have a closet full of Reds jerseys of former players including Bruce, Chapman, Cozart, and Cueto to name just a few, so are they worth anything to anyone?
DAVE: Do you wash your own car and need a drying rag? Do you have any extra large grandchildren? What are you wearing at your next Halloween Party? Where is the nearest Goodwill? Other than that, I suggest you either let them hang and gather dust or toss them into the trash. Those are all good guys, but their Reds jerseys aren't worth more than the cloth of which they are made.
From Joe B: Ahhhh, another spring training and now 27 years since the Reds last appeared in the World Series. That's longer than the days after the Black Sox scandal. Would you now call the Reds a 'journeyman' franchise?
JOE: Ah, baseball. As Ernie Banks once told me, "You know there is a God when baseball season begins." As for the Reds, I don't know about them being a journeyman franchise. Journeyman are guys who have been around a long time with a lot of experience and a well-traveled itinerary. That isn't what's going on in Cincinnati these days. The Reconstruction Era continues. The real Reconstruction Era involving the South after the Civil War lasted 12 years. The Reds may top that. I have given up hope about covering another World Series in Cincinnati before my demise.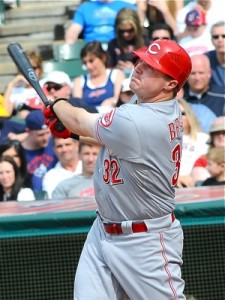 From Jack Struggs: Hal, why did the Cleveland Indians dump Jay Bruce after he played so well for them after the trade deadline last year?
JACK: Very good question and I wish I had the answer. Being a closet (with the door open) Indians fan, I had hoped they would keep Bruce. While he is susceptible to streaks, both good and bad, he is a solid player both offensively and defensively and their cannot be a better citizen in the clubhouse than Jay Bruce. You know the New York Mets thought highly of him or they wouldn't have re-signed him. It is the Tribe's loss almost as disconcerting as their loss of Chief Wahoo.
From Jonathan Grimes: Hey Hal, if Homer Bailey is truly healthy what would stand between him being the same Homer Bailey that won in double figures and pitched the two no-hitters? And do you think he's lost anything?
JONATHAN: Glad to see there are fans still in Homer's corner. He has taken a lot of guff because of his $105 million contract, as if he purposely hurt and his arm and shoulder and needed three surgeries over the last three seasons. Baseball fans can be truly fickle and always seem to ask, "What have you done for me lately?" If Homer stays healthy, he has the moxie and the stuff to win 15 games, even with the Reds, and maybe toss another no-hitter. He looked good in his first outing this spring with good velocity and good stuff. As anybody who follows me knows, I am a huge Homer Bailey fans. He is truly a great guy.
From David in Portsmouth: Hal, is Reds baseball, and baseball in general with replay and attempts to change the game, as interesting for you now as it was during the days of winning and the Big Red Machine?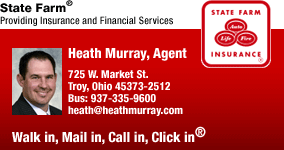 DAVID: Baseball of all types from tee ball to the majors, is more than interesting to me. It is my second religion and I love the sport. I hate it that they keep tinkering with the game because they think the game is too long, especially for today's youth and their short attention span and addiction to sit-in-a-chair devices. One of the reasons I love the game is that there is no clock and teams cannot run out of time. Every team has a chance until the last out is recorded, no matter how long it takes. They keep putting in these little gimmicks to speed up the game, but they aren't enforced. Remember the move to keep hitter's in the batter's box between pitches. Was it enforced? Nope. They put in the two-minute clock between innings, but it isn't enforced. I watched closely all last season and pitchers took their eight warm-up pitches no matter how long it took. It wasn't enforced. And you know what? I'm glad the umpires don't enforce those ticky-tacky moves to speed up the game.
From Boz (Greenup, Ky): A lot of big names have left their established clubs which I think affects the club's brand, overall. After all this time, has free agency been a good thing for baseball, and 'all' baseball players?
BOZ: It is a double-edged sword. It is terrible for the fans. You build up an allegiance and affection for a player and he leaves for another team through free agency. Teams used to be populated by the same players year-after-year and there was stability. Then came free agency. To me, it has been awful for the fans. But the players, of course, love it. And that's all players. Even the lowliest guy on the totem pole is paid handsomely, much more money than before free agency. And there is no way the players ever will let it go. Free agency is here to stay, so don't buy any jerseys of your favorite player because next year he may be wearing another team's jersey.
From James King (Columbus): Hal, do you consider Tucker Barnhart to be one of the top 10 catchers in baseball?
JAMES: Defensively, Tucker Barnhart is at the top. That's why he won the National League Gold Glove last year. It is great to see because Barnhart is small for a shortstop, let alone a catcher. People told him all his baseball life that he was too small to be a catcher. He has more than proved the wrong. Offensively, he is getting better and better. In the old days, most catchers didn't have to hit and most of them didn't, as long as they could play the position. Nowadays, catchers are some teams are outstanding offensive players. Barnhart will never hit for a lot of power, but he has good command of the strike zone and puts the ball in play. If the Reds offered him, 29 other teams would be calling.
From Rick Cione: If the Reds get off to a losing start is Price out as manager by June 1st?
RICK: Here we go again. The season hasn't even started and discussion about Price's longevity is under question. I say, no, he isn't on the hot spot. If the organization gave him the players, this question wouldn't come up. They've finished last three straight years, but Sparky Anderson or Miller Huggins couldn't have done better. Price does well with what he has and the players like and respect him. They play hard for him. They just aren't good enough. He'll survive the season and if the Reds improve, as they probably will, he'll probably be back for another season. What I fear, and this happens often, when the Reds are capable of contending, they'll bring somebody else in. That's what they did when Dave Bristol was the manager. Just when The Big Red Machine was in its embryonic stage, they fired Bristol and brought in Anderson.
From Kellen Fuller:  Of all the teams in major league baseball, which do you think has the best, or your favorite, logo?
KELLEN: Hopefully, Sonny Fulks has a photo of this in his archives and you won't believe my choice. I LOVE the old Milwaukee Brewers logo, which they still use part of the time. The logo is a baseball glove with a baseball in it and if you look closely the design is 'MB,' for Milwaukee Brewers. It is a classic and I sometimes wear a Brewers cap just because of the logo. And, of course, being a Cleveland Indians fan, I loved Chief Wahoo. But that's another story. I sympathize and understand the position of Native Americans. But it is just a logo, a caricature. I'm Irish but I don't have any problems with that goofy green-outfitted mascot that Notre Dame has jumping around the sidelines. I never wore a green suit or a green hat in my life.