Fort Loramie … after  rare stumble in sectional tourney last season … beats Cedarville to win 10th district title in past 11 seasons.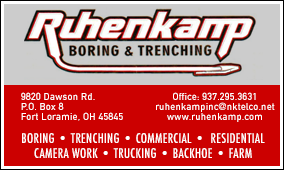 Troy – Chumbawamba's "Tubthumping" – a 1997 hit for the British rock band – filled the air at halftime at the Division IV district final. The music was for the fans to enjoy during a break in the action, of course. But Chumbawamba might as well have been dedicating it's song to the Fort Loramie Redskins.
"I get knocked down, but I get up again. You're never gonna keep me down."
And when the Redskins jogged out of the locker room after halftime, the Indians – trailing the Cedarville Indians 22-20 – did a little thumping themselves.
Faced with missing the regional tournament for the second straight season (Fort Loramie made a rare stumble in the sectional tournament last season), the Redskins hit the boards and took care of the basketball in the second half for a 57-45 victory over Cedarville for a D-IV district championship at Troy High School. The win puts Fort Loramie in the D-IV regional semifinals against Covington 8 pm Thursday at Vandalia Butler's Student Activity Center.
Fort Loramie's one-season absence from the district tournament might not seem like much for most programs. For the Redskins (21-5) it seemed like forever. That, after all, is close to the last time the program failed to make it out of the sectional tournament.
Prior to last season's early exit, you have to go back to the 2006-07 season to find the last time Fort Loramie lost in the sectional tournament. In between it was nine consecutive trips to the regional tournament and five trips to state (with a pair of titles).
Saturday that tradition emerged.
Five different players scored in the third quarter, including key three-pointers from sophomores Kennedi Gephart and Taylor Ratermann that gave Fort Loramie the lead for good early in the third quarter. Senior Abby Holthaus and sophomore Marissa Meiring both scored five points, including a traditional three-point play with a basket and free throw.
Freshman Kenzie Hoelscher scored a basket, too. She was just getting warmed up.
Hoelscher took over after Cedarville's Maggie Coe hit a three-pointer to pull the Indians to 38-33 to start the fourth quarter. Hoelscher scored on a pair of inside passes, then drove a wide open lane for a layup and 44-33 lead that never fell below double digits again.

"My team really helped me out with that. I was just taking the chance when I got it," Hoelscher said of her sprint and score. "I wasn't really thinking about it, it just happened. … The whole game I was thinking we're going to secure this title for our seniors, for the parents, for coach, for everyone because we worked hard to get to this point."
Hoelscher, a 5-foot-11 forward, was 6-of-12 from the field and finished with 14 points and six rebounds.
"You go from eighth grade – she's a fantastic player, don't get me wrong – but this game is so much faster," Fort Loramie coach Carla Siegel said of Hoelscher's development through the season. "Now you're playing in a tournament game with double the crowd and double the pressure. It took her awhile to get going. Once she got going that's the kind of player she can be for us. She can be a game changer with her length."
Fort Loramie out-rebounded Cedarville 33-21 behind Hoelscher, Meiring (7) and Holthaus (5). The boards also helped the Redskins outscore the Indians 17-6 on second-chance points.
"I thought the first quarter you saw a very young team, very nervous," Siegel said. "Our passes were terrible. I think three times we actually threw it to the other team. That's aggravating. The second quarter we settled down a little bit. We went in at halftime and I told the girls if you fix two things we're going to be okay – better passes and rebound better. Once we took are of those two issues we were a different team."

Cedarville (20-6) responded with senior Ise Bolender (14 points) and junior Maggie Coe (17 points). The perimeter-oriented Indians, though, struggled from the outside hitting 4-of-19 (21 percent) from three-point range. The Indians' bench was also outscored 18-0.
"They did what district final teams have to do," Cedarville coach Josh Mason said. "They executed at the end of the game. We pressed them, they beat it. We fouled them and they made free throws. If you want to win district and go on you have to do what they did. They're Shelby County League champs for a reason."
Fort Loramie closed out the fourth quarter hitting 7-of-8 free throws over the final 1:19. The Redskins were 15-of-19 (78 percent) overall. Cedarville finished 9-of-9 from the line.
Still, Cedarville felt confident going into halftime. And why not? The Indians' largest lead came at 19-12 midway through the second quarter. They took a 22-20 lead into halftime on Bolender's three free throws with 0.3 seconds left.
But Gephart and Ratermann opened the third with the three-pointers to ignite the offense.
"After last year everyone had a fire in their belly to get back (to district)," Holthaus said. "It was heartbreaking for us. Everyone put in a lot of time this summer to end it.
"When you have a tradition so great and to end that, it was really tough. Coming back this year and getting a district title and going to regionals, it's awesome. I couldn't ask for a better senior year. … I can't stop smiling. It's exciting and hopefully we can do well at regionals and keep this going."
Fort Loramie remains young, even after this season. The team will graduate seniors Heather Eilerman, Hattie Meyer, Grace Ruhenkamp and Holthaus.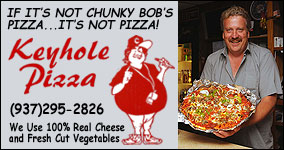 "This group wanted to get out of sectionals and get back to a district game," Siegel said. "Last year left a bad taste in their mouth. I can't credit Hattie and Abby enough. Even Heather and Grace, even though they don't play, they keep our practices going. We're here because of our seniors. They're driven and they're the ones that got us here today."
And back to the regional tournament.
Tri-Village 53, Russia 42: Russia had Tri-Village on upset alert in the first game at Troy.
Russia led 30-28 against Tri-Village, ranked No. 11 in the final AP state poll, on junior Jenna Cordonnier's basket with 6:01 left in the third quarter. But the Raiders went the next 8:04 without a point as Tri-Village rattled off a game-clinching 16-2 run and 44-32 lead. The Patriots pushed the advantage to 48-32 with 4:38 left in the game.
The game was a sharp contrast to the regular-season meeting which Tri-Village won 40-22 at Russia on Jan. 22.
Cordonnier led Russia with 12 points. Junior Laurissa Poling added eight points, eight rebounds and four blocks for the Raiders (20-6).
Tri-Village sophomore Lissa Siler led the Patriots (21-5) with 20 points, 16 of them on three-pointers. Sophomore Trisa Porter added 16 points and junior Emma Printz 11.
Russia shot 1-of-7 (14 percent) from the field in the third quarter and 5-of-19 (26 percent) in the second half.
"I'm very happy with the season," Russia coach Andy Tinnerman said of a second straight 20-win season and return to the district final. "They're setting the bar high for Russia basketball. … I can't thank them enough for my first two years coaching here. I hope the success continues and I think it will."
Tri-Village, making its third straight district appearance, plays the winner of Minster and Fort Recovery in the regional semifinal 6:15 p.m. Thursday at Vandalia Butler's Student Activity Center.
"We've got a team that can get out and go with it," Tri-Village coach Brad Gray said of that decisive second-half scoring run. "Sometimes our minds are working faster than our bodies making decisions a little too quick. The thing that's been so fun about this group of kids – I don't want to make it sound like we've had selfish teams in the past because we haven't – but this team really shares the ball as unselfish as any team I've had."
Covington 54, Legacy Christian 42: Junior Sammi Whiteman scored 23 points, grabbed nine rebounds and dished six assists – all game highs – to lift the Buccaneers into the regional semifinals. Senior Victoria Lyle added 12 points and eight rebounds and senior Jordan Crowell 10 points.
The Buccs out-rebounded the Knights 38-25 and dominated in the paint with 18 points. Freshman Emma Hess scored 22 points to lead Legacy Christian. The Knights struggled from 3-point range hitting 9-of-30 (30 percent) of their attempts. Hess was 6-of-11.
Covington (20-6) plays Fort Loramie in the regional semifinals 8 p.m. Thursday at Butler's SAC.