The Russia Raiders beat the Jackson Center Tigers at their own game, shutting down the Tigers offense to win their first sectional title in three years.
Piqua – Heading into Friday night's sectional final, the Jackson Center Tigers and the Russia Raiders had some impressive post-season credentials.
Jackson was making its 7th straight appearance in the finals and was seeking its fourth straight District Finals berth. Russia was in the finals for the fifth straight year but was trying to snap a two-game skid, having lost to Fort Loramie the past two years.
Before a large and raucous crowd, Russia used a big second half run and lock-down defense to beat the Tigers 37-21 and earn their first trip back to the District since 2015.
"I'm Especially happy for the guys who were on the team last year," said a relieved Russia coach Spencer Cordonnier. "Sitting in that locker room being disappointed. This feels great, and for those guys to get the opportunity to go down to UD Arena and play next week is just a great feeling for them."
"We just didn't score," Jackson Center coach Scott Elchert said after the Tigers had their 11-game winning streak at Garbry Gym snapped. "I thought we had some good shots that we normally make that just didn't go. I felt good when we got the lead in the third quarter, but they went on a big run and that was the key to the game.
"All the credit in the world to Russia. They played great and made it very difficult for us."
Russia had posted two tough wins over the Tigers during the regular season, winning at Jackson 47-39 and at Russia 46-44. The Tigers started the game determined to avoid that three game sweep.
Russia went the first seven minutes and ten seconds without a point, but only trailed 4-0 when Daniel Kearns finally got the Raiders on the board.
"It could have been a lot worse," explained Cordonnier. "We told the kids during a timeout to just relax. We knew they would come after us defensively, because that is the way they play. It took longer than I expected, but when we did score we were only down four. Our defense was great all night."
That basket started a quick 11 point run for the Raiders. Evan Monnier nailed a three at the first quarter horn, Jordan York completed a three-point play to open the second quarter, and sophomore  Mason Dapore nailed a three and suddenly the Raiders had an 11-4 advantage.
Jackson stayed in it and trailed 13-11 at the break. Both teams shot a miserable 5-17 from the floor (29%), but that was about to change drastically for the Raiders.

Christopher Elchert's only basket of the night, a three from way above the top of the key, gave Jackson a 14-13 lead, but the Raiders answered with back to back baskets for a 17-14 advantage. After Calvin Winner countered for the Tigers, the Raiders started a game-deciding run.
York started the run with back to back hoops, Kearns and Dion Puthoff scored, and Evan Monnier capped off the streak with a rare four-point play that pushed the lead to 29-16.
"Evan has really embraced coming off the bench," Cordonnier praised. "Since he came out of the lineup and started seeing things from the bench, he has really taken that role and run with it. I can't say enough about the job he has done for us."
The Tigers made one last push, but Jack Dapore hit an off-balance drive for the Raiders, then hit four straight free throws to nail down Russia's 15th win of the season.
The Raiders finished at 45% from the floor, including 10-14 in the second half. The Raiders were 3 for 7 behind the arc, and 6 of 9 at the line.
Jackson Center simply never found the mark. The Tigers were 8 of 35 from the field for 23%, 2 of 13 behind the arc and 3 of 6 at the line.
Jackson's leading scorer Bryce Sosby had a miserable night, making just two of 16 from the floor and finishing with 5 points.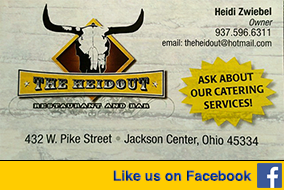 Elchert had nothing but praise for his senior leader.
"A lot of people don't know this but Bryce played for us a freshman and was a three year starter. Tonight was his only loss in 12 games in this gym, which is really remarkable. I know he is disappointed because he expects a lot out of himself, but he has had a tremendous career, and we aren't here without him. He is our catalyst because we asked him to do everything on both ends of the floor."
Russia out-rebounded the Tigers 28-20, out-scored the Tigers 20-6 in the paint, and 13-3 off turnovers.
"We have had a ton of ups and downs this season," Cordonnier explained. "We didn't get off to a very good start, but they just kept battling. They executed our game plan to a tee. Once we finally scored, we seemed to relax and let the game come to us. When we executed and got the ball moving, we played pretty well.
"This (Piqua sectional) is a tough place to get out of. The best team doesn't always win here. I give Scott and Jackson Center all the credit in the world. I can't stand playing against them. You know they are going to guard you like crazy and will know everything that you do. We battled for 32 minutes and deserved to win."
"Overall, for this group to get 15 wins with the pieces that we had to piece together, it's been a great season," Elchert acknowledged. "They have been a great group to coach. This is seven years in a row for us in the sectional finals and we have only stubbed our toes twice (The other loss also to the Raiders in 2014). We have had a great run."
Next up for the Raiders is a District final date with Emanuel Christian next Friday night at UD Arena. Cordonnier said that will be a different experience for his club.
"We hope to get a chance to go down there sometime this week and practice. We are just going to tell the kids that it's the same game they have been playing since November. It's just in a bigger place. We just have to embrace it and go down there and play basketball and have fun. We will take a good look at Emanuel Christian. They had a couple of big wins in their sectional. We'll work hard this week and go down there and try to get number 16."