It's week 3 of the college baseball season and the Buckeyes travel to the Florida panhandle in search of consistency on the mound, in the field, and more contact at home plate.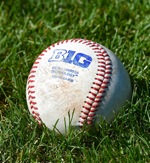 Pensacola, Florida is known for being the home of the U.S. Navy's Blue Angels demonstration flight team, where they put together all their tricks and perfect them.
The Ohio State Buckeyes are going there this weekend to hopefully perfect some tricks of their own…their third weekend of non-conference tests…against the likes of Nicholls State, Southern Mississippi, and Eastern Michigan in what's called the Cox Diamond Invitational.
The Buckeyes (5-3) will play Nicholls State (1-6) at 2 pm on Friday, Southern Miss (6-2) at 3 pm on Saturday, and conclude their three-game set with Eastern Michigan (1-7) on Sunday morning at the ungodly hour of 10 am – ungodly in terms of baseball, that is.
Collectively, their three opponents this week are 8-15 by way of record, and on paper at least, portend the perfectly laboratory for correction.  The Buckeyes, you see, by degrees are off to a good start, despite dropping a pair of disappointing games last weekend to #2-ranked Oregon State, in Phoenix.  Rome wasn't built in a day, and neither are cold weather baseball teams out of the Midwest.
By degrees?
It's hard to argue with their offense.  The Bucks are hitting, team-wise, at a .311 clip, led by Noah McGowan's incredible first two weeks at the plate, where he's destroyed everything in his path like another Ohioan, William Tecumseh Sherman, during his march to the sea in the summer of 1864.  McGowan is hitting .429 with 3 home runs and 19 RBIs.
He's had help.  Shortstop Kobie Foppe has found a way to just put the bat on the ball and put it in play – all over the field – hitting .387 in 31 plate appearances and 12 hits.
Leftfielder Tyler Cowles has backed off the bigger swing of a year ago to hit .379 in 29 at bats, and has driven in 10 runs.
Catcher Jacob Barnwell has hit .360 in 25 at bats;  and third baseman Conner Pohl caught fire last weekend in Arizona to raise his two-weekend total to .333 with a pair of home runs and 7 RBIs.
It's hoped the best is yet to come.  Rightfielder Dominic Canzone is just under the .300 mark at .294, just beginning to settle in – and the anticipated bounce back of second baseman Brady Cherry, who's struggled thus far at the plate and in the field.  Cherry is hitting .219, and has a team-leading six errors.
But there is an issue with all this thunder and lightning, and it's one with a familiar harkening to last year.  The Buckeyes strike out too much!  In 289 at bats thus far they've gone down swinging (or looking) 79 times, as opposed to opponents' 58 times in a similar number of plate appearances.  That's 27% of the time.  If you care to compare, for the season last year they struck 474 times in 1,880 at bats, a 25% clip.  And currently, there are four guys with more strikeouts than hits through eight games – Brady Cherry (13 and 7), Dillon Dingler (7 and 4), Nate Romans (5 and 2) and Malik Jones (5 and 3).
It's early, yes.  But it's a trend of which Greg Beals is keenly aware, and hopes that with time, mindfulness, and a determined approach it works itself out.  Outside of a conscious attempt to improve, there really isn't much you can do.
"Of course we're concerned about the strikeouts, and the number of strikeouts,"  said Beals this week.  "But from a coaching standpoint it's very difficult to address.  There's no easy solution, or universal fix."
He's right.
By degrees?
Their starting pitching, through two weeks, could perhaps use some time with Dr. Phil.  Again, it's early.  But three of the four weekend starter candidates have thus far pitched with an earned run average north of 4.00 and with the sense that they've yet to find their way.
Senior Yianni Pavlopoulos (1-1) is 4.00 after nine innings, having struck out 5 while walking 3.
Senior, and captain, Adam Niemeyer (0-1) is 5.00 after nine innings, with 8 strikeouts and three walks.
Junior Ryan Feltner is 6.55 in 11 innings, with 12 strikeouts and 5 walks.
Only junior Connor Curlis (1-0) is beneath the 4.00 mark, at 3.48 in 10.1 innings, with 9 strikeouts and a walk.
So while it may not be a concern at this point…there is room for improvement and an uptake in consistency.
The immediate good news for this weekend – Nicholls State pitching (out of Thibodaux, Louisiana) has given up 58 runs in 61 innings, have walked a ton of hitters, and owns a team ERA of 7.08.
Eastern Michigan has had its own pitching issues – 71 runs in 64 innings and and ERA of 9.09.
Only Southern Mississippi, favorably mentioned in some pre-season polls, comes into the weekend with respectable marks.  Their team ERA is 4.31, compared to the Buckeyes' 4.30.  And the Eagles have given up 42 runs in 71 innings, compared to the Buckeyes' mark of 50…in 69.
It's an opportunity to get on a right and more consistent path, playing in the home ballpark of the Pensacola Blue Wahoos, the Double A affiliate of the Cincinnati Reds.  It's still only eight games into the season, but like Yogi (Berra) used to say…"It sure gets late early in baseball."
They need to get some things fixed…while the fixin's good!