Fort Recovery made it look easy in their win over Ridgemont…and Minster, for a time, was frighteningly good in their win over New Bremen to advance to Saturday's Wapakoneta Division IV sectional finals.
Wapakoneta – Let's be honest.  It's what everyone in Auglaize and Mercer Counties wanted…an all-MAC sectional final in Division IV, and after Fort Recovery shot past Ridgemont – and Minster took out neighboring rival New Bremen on Thursday night – that's exactly what they're getting in Saturday's Wapakoneta Division IV sectional final.
In the first game of Thursday's semi-final round at Wapak's beautiful facility, Fort Recovery (19-5) literally schooled Ridgemont, out of the Northwest Central Conference, in how to run, shoot, and defend.  The Indians were bigger, more athletic, and flashed their ability to score inside and out as senior Grace Thien had a game-high 19 points (on four three-pointers) and sophomore Val Muhlenkamp complemented her effort with 11 points.
The Indians led 29-11 at the half…and then smoked Ridgemont in a second half highlighted by Thien's long-range shooting.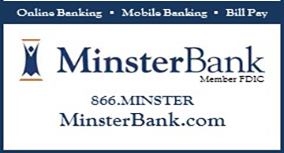 On three consecutive possessions to open the third quarter Ridgemont left the 5'9″ senior alone in the corner, behind the arc, and Thien drained three three-pointers in a row to quash any hopes of a Ridgemont comeback.
In one word…Recovery made it look 'easy' against a team that surprised many with their first-round win over St. Henry.
"It wasn't easy,"  said Recovery coach Brian Patch afterwards.  "But our kids played hard, they executed well for us, and defensively they set a tone for the game."
It didn't win the game for the Indians, but Thien's ability to shoot from the perimeter – and her consecutive three-pointers – more than defined Recovery's confidence with playing in the one-and-done scenario of tournament basketball.
"Well, we've had a good year and there's no reason not to be confident at this point,"  added Patch.  "Early on I think we showed some jitters, didn't execute so well, but as we progressed we cleaned some things up.  Grace is our all-time leading scorer,  so you're not surprised when she comes out and makes shots like she did tonight."
Recovery now moves on to play Minster, to whom they lost in regular season, 38-35, just three weeks ago.  And while the 'Cats flexed their defensive muscles in that win, Thursday they showed that they can run, and shoot, and score with anyone…if that's what it takes to win.  They eliminated their nearest, and questionably dearest, rival, 51-33.
Ranked #1 in the state's Division IV polls midway through the season, Minster (21-3) traded baskets with the scrappy and determined Cardinals (19-6) throughout the first half – largely benefiting on the three-point shooting of Demaris Wolf and Janae Hoying.
But it didn't look that way at the outset, as both teams seem determined to establish a defensive presence.  It was New Bremen 5, Minster 4, at the end of the first quarter.
Wolf and Hoying heated things up in the second for Minster, while New Bremen's Jane Hoying was the difference maker for the Cardinals, canning a pair of three-pointers that helped her team to a 21-19 halftime lead.
Then…Minster came out in the third with a vengeance, and established dominance on the first possession when Courtney Prenger ran down Abby Thieman on a transition layup attempt, blocked the shot, recovered the rebound, and took it to the other end for a Minster score – a four-point turnaround that set the tone for the second half.  Minster went on a 15-0 run, outscored New Bremen 17-6 for the quarter, and from that point on the outcome was academic.
There was plenty of contribution from Mike Wiss's lineup, but Thursday's win may have marked the coming out of freshman sensation Ivey Wolf, who scored a team-high 12 points, but more importantly showed a cool under tournament pressure that had to impress any and all future opponents.
"The atmosphere was crazy,"  said Wolf, eloquent beyond her years.  "The momentum in that third quarter was crazy because my team – everyone knew what they had to do – we turned the first half around with a good team effort."
Wiss had his own points on that turnaround.
"This was the game that we wanted to get back to,"  said Wiss.  The Wildcats were a regional finalist is 2017.  "To have a chance to go to the next round.  Everyone wants to get there and we're fortunate to be in a position to play for that.
"Take away our first half shooting, and the third quarter might have been our best eight minutes of basketball this year.  But I truly believe it started with the first possession of the half, when Courtney ran down their player, blocked the shot, and then brought it back and we scored.  We're up two to start the second half, and that was a four-point swing.  From that point on it seemed like we settled in.  We made the defense work, made some reversals, got some good looks, and made the shots.
"And rebounding,"  Wiss gushed.  "I'm elated at how well we rebounded tonight because New Bremen has been a good rebounding team late in the year.  The had 40 offensive rebounds alone in their last two games – not total rebounds, but offensive rebounds."
Some numbers:  Minster won it with Ivey Wolf's game-high 12 points…Courtney Prenger had 9…Demaris Wolf had 9…Alli Fischer had 8…Janae Hoying had 6…Taylor Kogge had 4…and Danielle Barhorst had 2 points.
For Bremen:  Kayla Bergman led the Cardinals with 9 points…Jane Homan had 7…Kelly Naylor had 4…Hanna Tenkman and Erin Smith had 3 each…Paige Jones finished her illustrious career with 5…and Macy Puthoff added two.
Minster now plays Recovery in Saturday's rematch, a game that both coaches look to with some relief…because there will be no surprises.  They know each other well, and expect a typical intense, physical struggle for the right to move on.
"They'll know us and we know them,"  said Brian Patch over the prospects for a Recovery-Minster final.  "That's the great thing about playing someone from your conference.  There's familiarity, and no one really has any kind of special advantage.  The game will be won on the court."