Tuesday's Division III double-header at Covington was a worst/best case scenario for a pair of sectional titles.  #1-ranked Versailles blasted past Dayton Christian, while Anna 'worked' its way to the district round with a win over Preble Shawnee.
Covington – Jacki Stonebraker, as per usual, was classy and gracious in her post-game remarks.  There really was nothing else TO say…when you win a sectional title by 42 points.  She's grown accustomed to it by now.
And questionably, her Versailles Tigers' win over out-manned Dayton Christian was one of those games that neither team benefited from – a 65-23 walloping that featured a running clock for all but the first two minutes of the third quarter.  It was, as I wrote about earlier this week, a game that probably shouldn't have been, but owing to DC's 14-9 record, it was inevitable.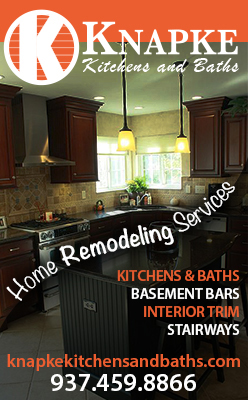 After a staggering start, it took #1-ranked Versailles (24-1) exactly four minutes to open up a double-digit lead…one that spread rapidly by halftime, 40-14.
"We had some balls go off our hands, and we weren't sharp at the beginning,"  said Stonebraker afterwards.  "But we were getting the shots and I knew it was just a matter of time.  Give them some credit, they gave us some foul trouble inside with our post players, but we were able to rotate players off the bench and it created some matchup problems for them."
That's the tactful way of saying it, of course.  The Warriors were simply no match for the size, physicality, and experience of Versailles…and the hardening brought on by a season's worth of play against the MAC and the best non-conference teams available in west-central Ohio.  And, there simply are no players in the Metro Buckeye League (Dayton Christian's conference) the likes of Kami McEldowney and Danielle Winner, to name two.
McEldowney led all scorers with a game-high 21 points – and 60% shooting from the floor – while eleven other Tigers scored:  Winner (5), Hailey McEldowney (8), Liz Ording and Lindsey Winner (6 each), Caitlin McEldowney (5), Mallory Marshall (4), Danielle Kunk (3), Hannah Barga and Brooke Stonebraker (2 each), and Ellen Peters finished the scoring with 1 point.
Kiana Klein scored 52% of Dayton Christian's total of 23 points…with 12.
It marked Versailles' third blowout win in consecutive fashion in these sectional round games – their third game with a running clock – and portends the question of whether a challenge, sooner rather than later, might be a good thing…just to stay sharp?
"We need to be ready to step it up and play,"  admits Stonebraker.  "We're trying to do it in practice everyday, against each other, and hopefully that pays off for us in the end.  It is a confidence builder to win this way, because of the mental toughness it takes to get through our season and now we're being rewarded for that.  But we also know upcoming games are not going to be as easy.  We have to step it up and play our style."

But in Tuesday's second game it was a different story, pitting Anna against Preble Shawnee, a team with 18 wins and a pair of quick guards, Nicole Sims and Jenna Lovely, that really knew how to clamp down with the Arrows' zone defense.
And more, Sims and Lovely, came out firing threes and quickly staked Preble to a 7-2 lead over the Rockets.
But like Versailles and its hardening against the likes of the MAC, Anna quickly leaned on its own Shelby County League pedigree, turned up its defense, and patiently attacked that zone with Macey Huelskamp and Abby Gaydosh shooting them into a 13-10 first quarter lead.
Patience…something often misplaced in the stress of one-and-done tournament pressure, became Anna's attribute on offense…that and exceptional ball movement round the perimeter of Shawnee's zone.  They worke the ball, they got good shots…and they took valuable time off the clock – on their way to their 19th win…36-24!
But defense travels, as well – the words of Anna coach Jeff Maurer – and the Rockets' experience of defending the likes of Minster, Loramie, Versailles, and Russia throughout the year quickly paid off.  They were physical, they made it hard for Shawnee to run its offense by forcing their guards farther away from the basket, and every player in green seemed to work harder for rebounds and loose balls.
Leading 30-22 entering the fourth quarter, they held Shawnee to just 2 points for the final eight minutes!
"We put a list of goals on the board at the beginning of the year,"  said Maurer.  "And at the top of the list the girls said they wanted to be known for their defense.  And that's the right attitude to have…because defense travels.  Especially when you get in the tournament.  Because you can go through some stretches where you're not shooting the ball well, but if you can play defense – the effort and communication it takes – well, I couldn't be more proud of the girls in that locker room."
Macey Huelskamp led them with 16 points, but she had timely help from Gaydosh (6) and Jayda Rowland (7), who seems to grow more in stature with each passing game.  Emma Freytag, Emily Aufterhaar, and Michaela Ambos each had 2 points, and Ella Doseck had 1.
Versailles will move on to Springfield this weekend to the district round, and meet the winner of Purcell Marian and East Clinton, yet to be determined at this writing.
And Anna (19-6) will move to the district to take on Williamsburg, a team like Preble Shawnee, with a fine guard and a formidable post player (Maurer's words).
But for better or worse, relative to who they (Williamsburg) has faced to get this far?  That would seem to be the advantage that both Versailles and Anna hold going into the weekend.
"We purposely play a tough schedule, and we want a tough schedule,"  said Maurer.  "Because there just aren't many teams on our schedule that we can take lightly.  If you want to be good you have to play against the good ones."
And it worked out well again for Versailles and Anna on Tuesday, a lopsided issue for the Tigers, and another night at the office for the Rockets.
And from this point on it really doesn't matter much who you play.  They're all gonna' have a good guard and post player…and you deal with it.
Now, you lean on your pedigree!