The first week of girls tournament play, and the first weekend of the boys, revealed little…outside of the continuing question of first-round blowouts of teams that probably shouldn't be there in the first place.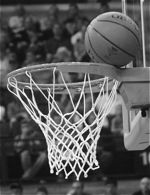 The first couple of rounds are in the books for the OHSAA girls tournament.
The first weekend, in some areas, has been played for the boys.
And with few exceptions, there was nothing news-worthy – no great surprises or 'upsets'.
Those that should have won…won.
And from those outcomes there seemed a more-than-usual number of games so lopsided in the outcome that even the new 'running clock' initiative could not hide the fact that there are simply teams in the tournament that have no legitimate shot at competing.  To put in more brusque terms…they shouldn't even be there.
Without naming them all (you can look it up) last week's girls sectionals contained some horrifying results…of winning margins in excess of forty, and even fifty points.  These were #1 and #2-seed teams playing the bottom teams in the bracket, knowing that those teams could not, or would not, come close.  But yet, the games went on.  In one particular Div. III matchup at Covington High School it was reported (and verified in photos) that the losing team had less than five fans in the stands by game's end.  So if the games are played for the sake of revenues, those five didn't cover the light bill.
And in the boys' opening weekend, the scores were better, but still…the running clock prevented the margin from being far more then 44 points, as #1 Loramie overwhelmed Mechanicsburg, that entered the game with a 1-21 record.
Again I make the point…and to the disagreement of some bluebloods who argue that denying 1 versus 'some' 12s from playing removes the opportunity for that once-in-a-lifetime upset…that if teams don't win a requisite number of games in the regular season (8 as an arbitrary number) they would not qualify to play in the tournament.  This would shorten the process of determining a champion by at least a week;  it would save fuel and busing expense;  and it would raise the overall standard of achievement regarding teams that qualify to play, like it does in football.  But the theory falls on deaf ears because there's a ton of contingencies raise to justify outcomes like last week's Versailles-Northridge girls game.
But the tradition goes on, even in some of this week's second round sectional games, and for lack of a better explanation…for the fact of gate receipts.  No mention of how it's a cherished memory for those on the losing end, or T-shirts commemorating the occasion.  It is what it is.  85-13 is 85-13.  Little is accomplished for the sake of the student athlete, and little is proven…except that there are some games that should never happen!
In the coming week the Piqua boys sectional stands out in Division IV, with the annual Shelby County League matchups taking center stage.  It stands out because all the significant teams in divisions I and II (Piqua, Troy, and Tipp City) fell this past weekend in their opening round games.
Sidney was the lone exception in Division I, besting Troy 55-35.  The Yellow Jackets, who have won 10 of their last 11 games, will now play Beavercreek on Tuesday, at Centerville, at 7:30.
Quietly, Jackson Center has evolved into a 14-9 record thus far and will take on league rival Fairlawn in the 7:30 game on Tuesday night at Piqua High School.  To give you an idea of the strength of the SCL, six of Jackson's losses this year have come to Fort Loramie, Russia, and Anna…all three still very involved after the first weekend.  Scott Elchert's Tigers don't have the offensive firepower of past years, but man…do they play defense!
In the other game at Piqua Tuesday Russia will take on Lehman at 6 pm.
In Wednesday's Piqua games, Bradford plays #1 seed Fort Loramie at 6 pm, followed by Ansonia and Botkins at 7:30 pm.  Plenty of good seats, as they say, are available…plus you get to hear Duane Bachman man the public address microphone.  It doesn't get any better!
And before we go on…congrats to the Troy Christian boys (Div. III) for a fine 20-2 regular season, but unfortunately shorter than they would have liked.  The Eagles fell in the first round on Saturday to Indian Lake, 56-49.  Among other highlights to their season…they were the winningest program in Miami County and set a school record for least number of points allowed in a season.  Defensively, the Eagles gave up just 39 points a game (average).
MAC teams open their tournament schedule this weekend in the northwest district, the primary games taking place at Lima Bath and Coldwater High School.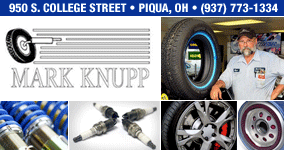 In Division IV, Marion Local takes on the winner of Temple Christian and Ridgemont this Friday at Lima.
St. Henry takes on the winner of Ada and Waynesfield-Goshen this Friday at Coldwater at 6 pm;  followed by Minster playing the winner of Allen East and New Knoxville at 8, also at Coldwater.
In Division III, Fort Recovery plays Liberty-Benton on Tuesday at Elida;  and Coldwater plays Jefferson on the 28th, also at Elida.
In Southwest district play Versailles beat Houston 73-40 in their first round game at Northmont, and now faces 2-20 Milton Union Tuesday at 7:30 pm at Northmont.
Bethel (17-5) will play Greenon on Wednesday at Northmont.  That game tips off at 7:30.
Anna (19-4) survived a first round match with Dixie (68-55) and moves on to play Northeastern on Wednesday at Butler High School.  That game tips at 7:30.
In girls play the attention centers around #1-ranked Versailles in Division III, of course.  The Tigers have cruised past Dixie and Northridge so far, and now play Dayton Christian on Tuesday in the sectional final at Covington High School.  That game tips at 6 pm.
In the second Division III game at Covington on Tuesday, Anna will meet Preble Shawnee at 7:30 pm.  The Rockets knocked out Bethel in the first round game to advance.
In Division II, Tipp, at 22-2, will meet old rival Kenton Ridge on Tuesday night at Tecumseh High School at 7:30 for that sectional final.  Kenton has a record of 14-10.
In Division IV, the focus is again on the Shelby County League teams, Fort Loramie and Russia.  Loramie bested Houston on Saturday to take one bracket title out of Sidney, while Russia knocked out Botkins in the other.  Loramie now plays Monroe this coming Saturday at Troy High School;  and Russia will meet the Newton-Tri-Village winner on the same court.  The Patriots and Indians meet tomorrow night at Brookville. Times for Saturday's District games have not been announced as of this writing.
A busy week with some good basketball.  Make it a point to see a game if you can.  If you can't…read about it on Press Pros.  We'll be there.