Errors and a sterling pitching effort by Oregon State's Grant Gambrell spelled doom for the Buckeyes on the final day of their Arizona weekend.  It could have been better, but they come home with a split!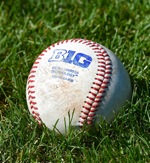 Surprise, AZ — There is no, and will never be, a replacement for clean baseball: simply catching and throwing the ball with efficiency; pitchers throwing strikes, avoiding walks, hit batsmen and wild pitches—all those things that lead to unearned runs and losses that shouldn't be.
Ohio State's 6-1 loss here Sunday to No. 2 Oregon State in the Big Ten/Pac 12 Challenge was a perfect example. The Buckeyes gave up four unearned runs.
"Eliminate those four runs," Buckeyes coach Greg Beals said, "and it is 2-nothing game, and we are fighting and clawing all day. Then, it's a whole different ballgame. It opens up a lot more things for everybody."
Oregon State (8-0) reached starter Yianni Pavlopoulos for a run in the first on a double by Jack Anderson and Trevor Larnach's run-scoring single up the middle.
Pavlopoulos, who picked up the win last year against Oregon State, ran into bigger problems in the second, and the problems weren't all his own making.
Bo Coolen's two errors led to a bases-loaded, no-out situation. Pavlopoulos struck out Andy Armstrong for the first out of the inning. But Steven Kwan drove a single up the middle scoring two runs and Ohio State was in a 3-0 hole.
With runners at first and second Cadyn Greiner doubled to left, clearing the bases and scoring two more runs and giving Oregon State a 5-0 lead.
Pavlopoulos got out of the inning without further damage, but Oregon State starter Grant Gambrell was dealing. He threw seven scoreless innings, allowing five hits. He struck out 12 and did not walk a batter. (OSU had a total of 13 K's.)
"Their starter (Gambrell) was really, really good today," Beals said. "He threw all three of his pitches (fastball, breaking ball and change-up) for strikes. He had a really, really good change-up, and the fact that he was hitting (corners) with all three pitches kept us off balance."
The Buckeyes performance at the plate was a far, far cry from Saturday night's attack on Utah. In that one which required four hours and 21 minutes to complete, Ohio State scored 20 runs on 24 hits. That was an alternative universe. This game was closer to reality.
Fatigue may have played a roll in Sunday's game. Ohio State, now 5-3, was back on the field in less than 12 hours after completing the game against the Utes.
Ohio State was shutout until the ninth, when they reached reliever Jordan Britton for a run, an unearned run. With one out Conner Pohl reached on an infield error. Tyler Cowles followed with a single to right-center and Pohl had to hold at second.
Dillon Dingler hit a slow roller to short for the second out of the inning, but the runners managed to advance to second and third. Pohl scored on a wild pitch, but the Buckeyes could make no more of it. Jacob Barnwell grounded out to second and that was game. The club that mashed Utah for 24 hits in Saturday's extravaganza had just six all day. Of course, Utah is winless this season. Oregon State is undefeated and there is the reality of short rest.
Saturday's game was over at 9:30 Mountain time, but be assured those body clocks were wound tighter than a Dollar Store clock and sleep didn't come easily.
However, Beals brushed aside questions regarding the lack of rest as a factor in Sunday's showing.
"You've got to answer the bell," he said.
He was far more concerned with efficiency. If Beals' coaching philosophy hinges on one factor more than any other it is clean baseball, nothing given away—absolutely nothing. Generosity is for Christmas and birthdays, not the baseball field.
Besides the three errors, Ohio State allowed four walks and hit four hitters. That's eight free bases in addition to 10 hits.
"Again," Beals said, "we fueled their fire on offense. (Friday's 10-8 loss to Oregon State turned on the Beavers' six-run eighth during which the Buckeyes committed two errors, hit a batter, walked another and added a wild pitch.)
"We've got to be cleaner against really good teams," Beals continued. "We've got to be cleaner—period. We can't give teams five outs in an inning. We do and they are gonna score runs. They will take advantage. Count on it."
Beals was not happy with a 2-2 split here and a pair of losses to Oregon State. He fully realizes even one win over the Beavers would have altered the perception of his team.
He was not satisfied by any means, but he was not discouraged either.
"We are certainly capable of playing better baseball and we will," he said. "We learned a lot about ourselves this weekend. We learned that we can play with anybody…We learned how critical it is to play cleanly.
"It's one thing for coach to say it and talk about it all off-season. But now we have experienced it as team. Now we know how important, how critical it is to play cleanly."
It's obvious where the emphasis will be during practice this week.
Ohio State will be back on the road this coming weekend, traveling to Pensacola, Florida, for the Cox Diamond Invitational at Blue Wahoos Stadium.
They meet Nicholls State Friday at 3 p.m. Eastern, Southern Miss, Friday at 4 o'clock and Eastern Michigan Sunday at 11 a.m.
Ohio State's approach will be much the same, but it's clear from what Beals says and doesn't say, that he is still figuring this team out: where the parts fit and where they don't.
He has said, and quite candidly, that he had four weeks, nearly five, to let matters flesh-out. Certainly, wins are important in this stretch, but finding the parts and learning just who's who—that's what is going on.
The process continues next week.