Behind Macy Huelskamp's 19 points, the Anna Rockets continued their second half streak of winning with a crushing sectional win Thursday over Bethel.
Covington – The Anna Rockets' 18-6 record may very well be the best kept secret in terms of impressive records, or win streaks,  you can find in area basketball.
Their 52-20 win over Bethel (11-12), out of the Cross County Conference, in Thursday's Division III sectional at Covington marked the Rockets' 18th win of the season, their 11th win in a row, and in coach Jeff Maurer's estimation…as good an 18-6 as you can find.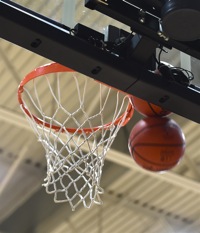 "Yeah, when you consider that at one time we were 7-6,"  said Maurer Thursday night.  "We were 7-6 and tonight makes eleven in a row.  I couldn't be more proud of how these girls have turned their season around."
If indeed there is anonymity to their accomplishment thus far, it comes from the fact of being in a league that features brutally competitive girls basketball between league champion Fort Loramie (19-5, and 11-1 in SCL play), Russia (19-5, and 10-2 in SCL play), and Anna on a year when the Rockets have kept pace in non-conference games, yes, but finished two games back of Loramie in the Shelby County League with a 10-3 mark.
But ask opponents in Shelby and Mercer Counties and there's nothing anonymous about them.  Outside their league record of 10-3 the Rockets own wins over Bellefontaine (CBC), Marion Local (MAC), and Minster (MAC, and ranked #1 in the state at the time they played).  Their last loss came on January 11th, a 32-29 decision at the hands of…Fort Loramie!

So they were favored entering Thursday's sectional match with Bethel, and they didn't disappoint.  They were bigger, they were quicker to the boards, and when their outside shooting finally emerged in the second half…the Bees had no chance.
Their defense was stifling, denying the Bees the entry pass to the post…and without inside buckets Bethel simply couldn't score.  They shot poorly from the perimeter, and the shots that they got and missed were all 'one-and-done'.  Anna dominated the rebounding numbers in lopsided fashion, particularly on the offensive boards where they routinely got three, four, and even five attempts at the rim on their own missed shots.
"We didn't shoot the ball very well at the start,"  said Maurer with concern over their own shooting woes in the first quarter.  "But the girls just stuck with it, and finally in the second half we turned our shooting issues around a little bit.
"I'm so proud of the girls because any time you come into the tournament you have to take things one game at a time.  And Bethel had some girls we knew we had to contain, and our girls played well.
"Plus, it was great that the score allowed us to get so many players into the game because that's going to help not only down the road in the tournament, but next year, as well.  It was great to get them some tournament experience."
To their credit Bethel hung around in the first quarter, trailing 11-3 at the end of eight minutes.
But little by little the turnovers mounted on the Bees, while Anna's pressure seemed to amp their own confidence to make shots and crash the boards.  By the end of the half they led 24-10 and Bethel showed little in terms of adjustment coming out of the locker room.
Anna immediately went on a 10-0 run to open the third quarter…and the matter was settled.  Bethel did not score until the 2:00 mark when Alaina Hawthorn made their only two buckets in the period.  Anna outscored them 14-4, and ultimately for the second half, 28-10.
For Anna, Macey Huelskamp led them with a game-high 19 points.  Jada Rowland added 11..Taylor Kauffman and Breah Kuck had 6 each..Emily Aufderhaar had 4…and Abby Gaydoshm, Taylor Noll, and Carey White each added 2.
For Bethel, the Bees were led by Liv Reittinger's 7 points.  Makenna Floyd had 6..Hawthorn had 4..Kenna Gray had 2…and Klaudia Lowery finsished with 1 point.
For Anna, their Division III path is optimistic in the short run, with a date next Tuesday with the winner of Thursday's Preble Shawnee – Greenon game…and then would likely come the state's #1-ranked team, Versailles, who plays Dayton Christian next Tuesday in the sectional semi-final.
But for now Jeff Maurer and Anna are basking in taking one game at a time…building on their second half success, and benefiting from the fact of playing in the shadow of Shelby County League champion, Fort Loramie.
"We played well tonight," concluded Maurer.  "But we're going to have to do a better job of rebounding and putting bodies on bodies.  Because the games coming up…if we don't do that those teams are just as big and quick as we are.  We have to be better."
But as long as they can play defense – and defense in the manner they showed Thursday;  and the manner they showed back in January against #1-ranked Minster – Anna will be viable and eventually come out in the open as the district round draws near.
"Well, our league is known for defense,"  he added.  "And early on we had some struggles against good teams in Shelby County and the MAC, so that's prepared us for anything we're going to see in the tournament."
That's a good thing.  After 24 games, and 18-6, there are no secrets anymore.