They stand 19-5 after Wednesday night's sectional semi-final win over Lehman.  But the question in upcoming opponent's minds over the perennial Division IV favorites…is a younger, less experienced Loramie, still Loramie?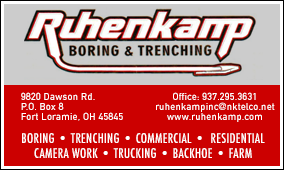 Sidney – For a while, at the outset and for about the first fourteen minutes of Wednesday night sectional tourney game against a scrappy Lehman team, Carla Siegel's Fort Loramie girls (18-5) appeared to be as young and inexperienced as she had cautioned about throughout the year.
Lehman, perhaps, surprised them with their 3-2 zone on defense, causing Loramie to looked tentative, and unsure of how to get to the rim on offense.
To their credit, Lehman, thanks to Grace Monnin (6 points), Alanna O'Leary (5 points), and Carly Edwards (4 points), hung right with the heavily-favored Redskins, trailing by just five points at the end of the first quarter…14-9.
And for the first four minutes of the second quarter nothing changed.  Lehman would trap, cause confusion with their zone, and create a turnover…and ultimately a transition basket on the other end.  All the while Siegel was fuming as she summoned for more motion, movement, and life on offense.  Loramie just isn't Loramie when they're standing still!
The score was 23-19 with just under two minutes remaining before the half…when Lehman had a pair of empty possessions – turnovers – that suddenly brought Loramie to life.  They went on a 6-1 run before the half and their biggest margin of the half, and went to the locker room with a 29-20 lead.
"We weren't doing much of anything,"  said Siegel afterwards.  "I thought our first six girls pretty much muddled through the first half.  It wasn't crisp, it wasn't clean.  It wasn't Loramie basketball."
But as happened so often in the past, that ten minutes between halves transformed Loramie into a different team.  They came out energized, more focused, and immediately went on a 13-0 run to extend their lead to 42-20 before Lehman even scored…with 20 seconds remaining in the quarter.  That was pretty much the end of things, as Loramie won the fourth quarter, as well, (16-13) to win 58-33.
In a matter of a different 16 minutes of basketball Siegel's young Redskins, that has featured three sophomores, two freshmen, and two seniors throughout the season, answered the season-long question of how youth is served…when so much is expected.  Winners of two state titles in the past six seasons, and the regional tournament as their yearly standard, people wondered, openly, if there was enough talent and leadership in 2018 to maintain that standard?

They came out in the second half like sharks in the presence of blood – hustling, trapping, creating turnovers – and within the first five possessions put to rest any thoughts of a comeback or upset.
"The third quarter was the team that I had planned to bring on the bus today,"  said Siegel with a smile.  "We just started playing basketball.  Their entire offense is in the paint, and I told them we had to buckle down and keep them out of the paint.  They made one outside shot the entire first half.  We got our butts down, our hands up, and created some steals.  We got going…finally!
"Look, they're a .500 team (11-11) and a nice ball club,"  added Siegel.  "They've got a couple of nice players, but I felt we spent the whole first half standing.  It was so frustrating I can't even put it in words.  We addressed it in the locker room and when the girls came out we just moved better in the second half."
Loramie (19-5) won it with balanced scoring:  Marissa Miering had 17 points..Taylor Raterman (12)..Kenzie Hoelscher and Dana Rose (8 each)..Kennedi Gephart (6)..Jadyn Puthoff (4)..and Macy Imwalle and Caitlyn Gasson had 2 each.
Lehman (11-12) lost with Alanna O'Leary leading them with 9 points..Carly Edwards had 7..Lauren McFarland and Monnin had 6 each..Maddy McFarland had 3..and Rylie McIver had 2.
Loramie now moves on to Saturday's final round to face the winner of Wednesday's second game between Triad and Houston.  And as to whether Loramie, on February 22nd, is the Loramie we've become accustomed to come tournament time, Siegel wasn't looking beyond Saturday to anyone, or making any promises.
"I thought we had outgrown the inexperienced part,"  said Siegel.  "But today it showed again.  Look, I'm not looking beyond the next game.  We can't look too far ahead.  I hate to say it but we're young.  We're young, but we're still growing.  That makes it fun, but next game is the most important and that's all we're looking to."
As it turns out her next game will be against Houston in Saturday's final round, a team Loramie beat 60-34 in December, and 65-35 in the February league rematch.
And to the question, is Loramie, Loramie?
They're now 19-5.  That accounts for part of the answer – the second half of Wednesday's win certainly says something.
The other part is  this.  How many other teams, or coaches, could win 19 games with four sophomores…and three freshmen?
Answered?