For the most part the first weekend of Buckeyes baseball looked exactly how Greg Beals might have envisioned it.  After four games, the 'retooling' of the lineup shows promise.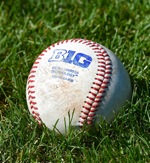 Last Friday during OSU's opening double-header with Wisconsin-Milwaukee, I found a scout sitting behind home plate with whom I've had a relationship going back some thirty years – back to the days of the old American Association (AAA) and the  Omaha Royals.
We exchanged pleasantries, endured photos of each other's kids, and then the talk turned to baseball…hard-core.
Interested to learn more about Press Pros and our coverage of college baseball, specifically Ohio State, he asked,   "What you think of them?"
"More important,"  I countered.  "What do you think of them?"
He smiled.  Scouts rarely show their hand.
"They have potential,"  he offered.  "They're interesting."
And of course, they're young, the bane of every college baseball program.  Talent comes, and talent goes.  It graduates, it gets drafted, and sometimes…it just drops out.
But to read into his words, the early returns of opening weekend looked fine, "interesting".  The 'retooling' of the lineup on the field – the moves made by Greg Beals and his staff over the winter – appeared to be in line to play dividends over the next three weeks, and beyond, into the Big Ten Conference season that starts in late March.
In particular…the move of Brady Cherry, last year's third baseman, to second base looked as natural as oranges and sun screen over the Florida weekend.  As predicted by Beals during fall ball, Cherry (6'2″ and 200 pounds) caught every ball hit to him, showed enough range at the position, and turned a couple of double plays with a strong throwing arm.  More, his bat was solid.  Cherry went 5 for 17 in the four-game series with UW-M and Canisius (.295).
If the core of your infield is indeed the core of your success, that bodes well for the Buckeyes because new shortstop Kobie Foppe made a very strong first impression, as well.  The JUCO transfer from South Mountain Community College (Phoenix) showed range and a dependable glove, and hitting out of the second spot in the batting order, Foppe went 6 for 12 in the four games and seemed to be on base constantly.
The two corner infield positions will take some time to settle in, but at first base Noah McGowan's thunderous bat will make any defensive break-in period a little more tasteful.  The senior from Houston, Texas pounded a pair of home runs over the weekend, and had 10 RBIs in Friday's double-header opener, 13 for the weekend…and for his effort was named the collegiate baseball national player of the week with a .400 average, 13 RBIs, two home runs and a pair of doubles.
At third, Conner Pohl is a work in progress, where it's hoped he can adjust his 6'5″ frame to the quickness required to play the position.  They don't call it the "hot corner" for no reason.  He had a pair of throwing errors over the weekend, but otherwise caught what was hit to him.  And more…after a slow start at the plate in the first three games, Pohl rebounded to go 3 for 5 in Sunday's finale win;  and finished 4 for 15 for the weekend.
Malik Jones, another JUCO transfer, had a pair of hits in Game 2 of the weekend, and his sample size in center field was simply too small to calculate.  But his ability to cover ground is obvious.
Other notables…included the play of Jacob Barnwell and Dillon Dingler behind the plate, and the fact that Dingler can play at least three other positions in the field if needed.
Tyler Cowles, in left field, showed immediate turnaround from 2017, with four knocks in Friday's double-header.
And the bullpen…was better than one can realistically expect this early, allowing just five runs in 15 combined innings – and just one run in 11 innings over the final three games.
The one position to yet manifest…is starting pitching.  Of the four starters over the weekend – Connor Curlis, Ryan Feltner, Adam Niemeyer, and Yianni Pavlopoulos – only Pavlopoulos pitched with consistent command, working five innings Sunday while allowing a pair of runs on four hits.  He struck out four and walked one.  The other three showed plenty, but in Greg Beals' words, they just lacked sharpness.
But baseball at every level has questions about starting pitching.  IT'S EARLY…just four games, and there's no greater percentage of improvement in sports than that between the first and second outings.
Now, they turn the page.  A bigger trip out west this weekend against bigger opponents – Utah and #2-ranked Oregon State, a CWS semi-finalist last June.  The Buckeyes dropped three of four in this very same series a year ago, and a reversal would do wonders as they look beyond to upcoming opponents like Southern Mississippi and 2016 NCAA champion Coastal Carolina.
It's easier said than done, of course.  And the sample size is small.  But the parts looked right for the first time out.
Just keep winning three out of four, and like the man said, "They should be interesting."