Loramie's fourth-quarter surge gives the Redskins' a season sweep over Russia, helps forge three-way tie for SCAL title along with Anna.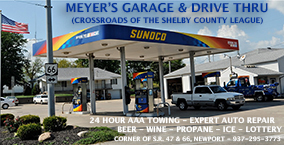 Russia –
The parking lots surrounding Russia High School were nearly full by 6 pm.  Finding a seat in the gym?  That was even tougher.
Those who managed to squeeze into Russia's cozy court on Friday night for a
Shelby County Athletic League showdown didn't mind the packed bleachers. This one was worth it.
Russia , already guaranteed a share of its fifth straight SCAL title following Monday's win over Houston, needed a win to claim this one outright.
Fort Loramie, its league title hopes in jeopardy following its loss to Anna last Saturday, needed a win to clinch a share of the title.
In the end, thanks to a fourth-quarter surge, it was the Fort Loramie Redskins that came away with a closer-than-it looks 52-35 victory on Friday night. The Redskins led 39-35 with 3:39 left in the fourth quarter before ending the game on a 13-0 run.
And that, coupled with Anna's 61-50 win over Fairlawn, resulted in the SCAL's first three-way tie for the league championship since the 1975-76 season, when Fort Loramie (20-2), Russia (13-7) and Anna (18-4) all shared the title. All three finished 10-2 in the SCAL this season.
"We haven't had a conference championship in seven years so this one means a lot to us," said Fort Loramie junior Nathan Raterman, who led the Redskins with 16 points including a pair of clutch baskets in the fourth quarter.
"I'm just glad we got it. To get a conference championship meant a lot. Everyone wanted it."
The title was Fort Loramie's first since 2011. Russia, which celebrated its share by cutting down the nets after the game, won its fifth straight league title.  Russia led once and that came on the game's first basket. Senior Jack Dapore knocked down the first of his four 3-pointers to give the Raiders a quick 3-0 lead.
Though the Raiders never led again, they kept the deficit within one or two possessions most of the first half.
Until the fourth quarter.
Fort Loramie, which led 33-28 after three quarters, pushed the lead to 10 on senior Tyler Siegel's basket and free throw and senior Dillon Braun's reverse layup.
Russia never relented, though, and cut the lead to 39-35 on junior Evan Monnier's three-pointer with 3:39 left.
Raterman answered with a three of his own, then scored again with 2:26 for the 44-35 lead. Senior Evan Berning added a pair of free throws and Braun added two more baskets, the last coming with 1:00 remaining, for the 50-35 lead.
Russia took several defensive gambles in the fourth quarter and Fort Loramie benefited offensively with several scores.
"We had a stretch to start the fourth quarter where a couple things didn't go ourway," Russia coach Spencer Cordonnier said. "It snowballed on us. It was going for broke. We had to do it or they were just going to run their offense and run time off. They battled. That's all that matters.  I was very proud of our guys' effort tonight. I couldn't ask for them to do much more, other than take care of the basketball a little bit better."
"I thought the way we played, especially the fourth quarter, we started playing our best basketball," Fort Loramie coach Corey Britton said. "The kids executed, we stayed in attack mode and played really, really well."
Key to that was a pep talk with Raterman. He suffered an ankle injury and missed a little more than two weeks. When he returned Britton didn't think his best shooter was being aggressive enough.
"We told him on Tuesday if you're not going to play with aggression and you're not going to shoot the basketball, then don't go in the game," Britton said. "He played like Nathan Raterman can play. He's a big-time player for us. I was proud of the way he came through for us tonight.
Said Raterman: "All week he told me to let it fly. I was struggling the past few games but he had confidence in me to keep shooting. That was huge for me. He had trust in me and my teammates had trust in me. The whole atmosphere was amazing. To do it here was even better. Our fans were going hard and our team executed awesome at the end. We stuck together and trusted one another."
Siegel added 13 points and Braun 12. Siegel left the game with 43 seconds left when he fell hard on his back after attempting to score on a fast break. Siegel was alone with Russia junior Daniel Kearns trailing. As Siegel went up Kearns appeared to tap him in the back. Siegel then landed awkwardly. He was sporting an ice pack on his wrist after the game.
Kearns was booed by Fort Loramie fans as Cordonnier replaced his starters with the bench.
"I wish it hadn't ended that way," Britton said. "There was no intent behind that. It was a basketball play. Both players were playing hard. Daniel Kearns didn't deserve what he got at the end of the game tonight. I wish that hadn't happened."
Dapore led Russia with 15 points and Monnier added 10.
The victory over Russia was the second for Fort Loramie this season. The Redskins won 47-32 on Jan. 5. Anna forged that three-way SCAL tie by sweeping the season series with Fort Loramie.
"We talked all week about it was a game where they had an opportunity to put numerals on the banner," Britton said. "We didn't have much of a choice. We had to get it done if we wanted a piece of the league crown. All the credit goes to our
kids. It's been a long journey but 20-2 and a league championship is a nice regular season. It starts with our five seniors. I'm really happy they were able to get this done tonight."
Fort Loramie and Anna were pegged as the league favorites prior to the season. If Russia had any pre-season doubts they could compete with those two teams, then all Cordonnier had to do was take his team into the gym and point to those four straight league banners hanging on the gym wall.
"We talked before the season – and I don't know if many people believe this – but I told a couple people I really believe we can win the Shelby County League," Cordonnier said. "A lot of people talked about Fort Loramie and Anna. Don't get me wrong, those are two fantastic basketball teams. And I told our guys all year – they have better players than we have. Man for man. I asked my players, do you guys agree and tell me the truth. They shook their heads, yeah. I told them don't count us out. Don't count yourselves out. We just fought all year. I couldn't be more proud of them. Five in a row? And the last one being a share? That's fine.
"I'll go down fighting with those guys any time. That's what kind of heart they have. They're not the most talented and they know it. But they battled to 13 wins. We've had a phenomenal season."
And it's not over yet. Following a tough non-conference game with Marion Local on Saturday, Russia takes on the winner of Covington and Lehman Catholic in the Division IV sectional tournament on Feb. 27. Fort Loramie plays Mechanicsburg on Feb. 24. Both games are at Piqua High School.
A third meeting between Fort Loramie and Russia wouldn't come until the regional semifinals.
"These guys are a great opponent and we could potentially play them in the tournament," Raterman said. "This game was huge to show them what we're made of.  I give them a lot of respect. They're a really good team.